#FreeMattJones Trends After Republicans File Complaint Against Potential Mitch McConnell Challenger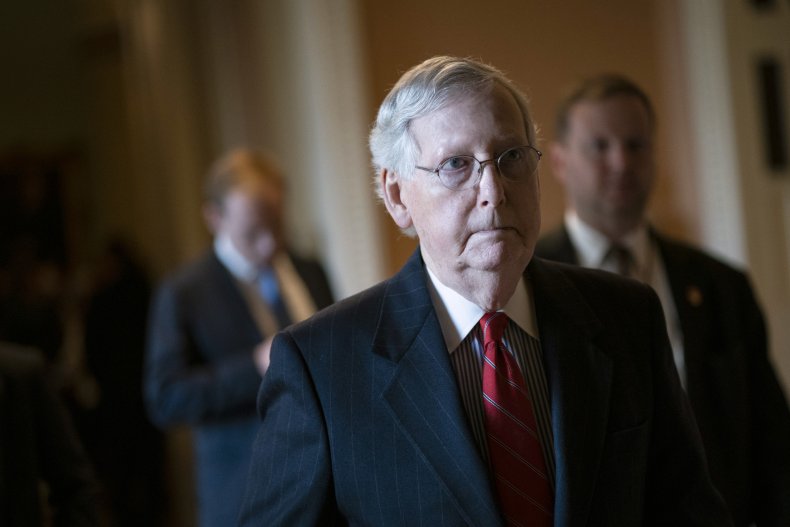 #FreeMattJones trended on Twitter Thursday after a complaint by Republicans forced a sports radio host to take a leave of absence from Kentucky Sports Radio.
On Wednesday, the Kentucky Republican Party filed a complaint to the Federal Election Commission (FEC) claiming that host Matt Jones is in "serious violations" of campaign regulations. As a host of Kentucky Sports Radio, Jones has discussed the possibility of running against Senate Majority Leader Mitch McConnell.
According to WLKY.com, the complaint states that Jones is using his radio show as a way to promote himself. The complaint also brings up Jones' upcoming book Mitch, Please and how the publisher, Simon & Schuster, is paying for his campaign.
"Mr. Jones' 'book tour' and promotion of his forthcoming work is targeted directly at the relevant electorate, Kentucky voters," the complaint stated. "Accordingly, there can be no commercial purpose for Simon & Schuster financing such a tour; the only conceivable purpose such activity can have is to influence the outcome of an election.… The expenses paid for by Simon & Schuster, with no cost to Mr. Jones' campaign, can be described as nothing other than in-kind contributions."
"Matt Jones must be held accountable immediately for misusing multiple platforms paid for by his corporate sponsors to unlawfully promote his US Senate candidacy," Republican Party of Kentucky Chairman J. McCauley Brown said in the complaint. "RPK's complaint is an important first step in stopping Jones' flagrant failure to comply with federal regulations, and we urge the FEC to deliver a swift a strong penalty."
Following the complaint, Jones took to KentuckySportsRadio.com to explain his side of the story as well as his leave of absence. "Due to the Mitch McConnell complaint filed this morning with the FEC against me, iHeartRadio has asked that I not be on the show in the upcoming days," Jones wrote.
"I have said repeatedly in public and in filings with the FEC that I am not yet a candidate and I haven't used the show to raise money or talk about my exploratory Committee in any way. Nevertheless, Senator McConnell has complained that having me on air is unfair and the man who speaks about the importance of free speech and the exchange of ideas has decided to cut off mine," Jones added.
Amid the complaint as well as Jones suspension from the radio show, people took to Twitter to express their views on the issue.
"First 2 callers into KSR today were Republicans who have stated that they will now NEVER vote for Mitch McConnell. The exact thing I thought would happen. Picked a fight with the wrong dude, Mitch. #FreeMatt #FreeMattJones," wrote Twitter user Danny Palmer.
"I am a daily listener to KSR and I completely support Matt Jones. The Republican party (Mitch McConnell) filing this FEC complaint is utterly ridiculous. Lets hope they retract this petty attempt to censor one of the states best radio shows #FreeMattJones," said Twitter user Derek Combs.
Despite being asked to take a leave of absence by iHeart Radio, Jones did not blame the company for the situation. "I understand iHeart Radio's decision and don't blame them," he wrote on his blog.
"If I choose in the coming days not to run, I hope to extend my deal with iHeart Radio and continue KSR into the future," Jones added.