Freezing, Hungry Migrants Trapped Between East and West, Belarus and Poland
Lured by a dictator, barred by a democracy, thousands of hungry, cold and exhausted migrants are trapped in the forests of Belarus as winter approaches.
After arriving with the support of the Belarusian government, they are now stranded at the border, barred from entering Poland, going back into Belarus or safely returning home.
The migrants are caught between two countries with opposing loyalties: Belarus, a former member state of the USSR, which has a formal alliance with neighboring Russia on its eastern border; and Poland, its neighbor to the west, a former Warsaw Pact satellite nation of the USSR, now a member of EU and NATO.
There have been 12 confirmed deaths, including Ahmad al-Hasan, a 19-year-old Syrian teen whom eyewitnesses report drowned because he was forced by Belarusian guards to try to cross the river to Poland after telling guards he could not swim.
Migrants describe the border as a cold and dangerous place, where they feel threatened and have been forcibly kept without shelter, food, or water for weeks. As temperatures decline to below freezing and essential supplies grow scarce, these migrant families are in an increasingly dire position.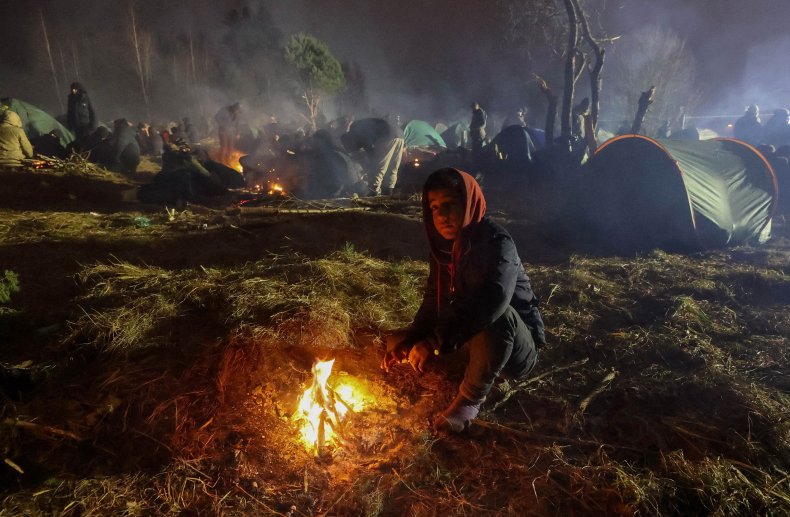 "All sides must uphold their obligations under international law and guarantee the safety, dignity and protection of the rights of people stranded at the border," Shabia Mantoo, spokesperson for the United Nations Refugee Agency, told Newsweek.
She said most of the migrants come from nations including Syria, Iraq, Yemen and Afghanistan, and have "compelling reasons to move." Unfortunately, many migrants who left to find refuge are facing even harsher conditions at the border than those in their home countries, according to eyewitness accounts.
Human rights groups and other nations have raised concerns for their wellbeing, pointing to reports of death and violence as evidence of the inhumane conditions they face. The situation has escalated to the level of an international crisis, leading Polish policymakers to continue a state of emergency originally declared in early September.
They, along with other European officials, have accused the Belarusian autocrat, Aleksandr G. Lukashenko, of encouraging migrants to come to the border as retaliation against previous sanctions, essentially creating a "manufactured crisis."
"It instrumentalizes refugees and migrants in a way that's politically, and from a humanitarian point of view, condemnable," said Steffen Seibert, spokesperson for German Chancellor Angela Merkel. "Europe will make a united stand against this continuous hybrid attack."
Germany and other EU member countries have publicly condemned Lukashenko's actions, criticizing him for providing false hopes to migrants and using them as political tools.
Polish officials see the migration surge as an attempt by Belarus to threaten their border security. In response, their defense ministry is cracking down, sending thousands of troops to the border and installing miles of razor-wire fencing.
"The instrumentalization of migrants and refugees to achieve political ends is deplorable and must stop," the United Nations Higher Commissioner on Refugees wrote in an official joint statement published last week.
"Both sides must uphold their obligations under international law and guarantee the safety, dignity, and protection of the rights of people stranded at the border," the statement said.
Speaking to troops stationed near the border last week, Polish President Andrzej Duda put full blame on Belarus for the crisis.
"We know that this is a fully planned operation that aims to disrupt the sovereignty of our country," he said. "Lukashenko's regime uses civilians as weapons in a hybrid war."
As accusations are exchanged information is hard to verify, because aid workers, journalists and lawyers have all been restricted from accessing critical areas on both sides of the border. But despite public statements condemning the abuse, both Polish and Balarusian authorities have been accused of violating the human rights of the migrants.
Belarus denies the accusations, with its defense ministry calling them "unfounded and unsubstantiated" in a statement on Tuesday. Polish officials echo a similar tone, despite videos to the contrary.
"Due to the risk of escalation of violence, we want to remind all parties that migrants are not aggressors but hostages of Lukashenko's regime," Grupa Granica, a Polish NGO dedicated to international cooperation and humanitarian aid, wrote in a statement.
While both nations are busy denying allegations of mistreatment, the migrants remained trapped and suffering at the border between them.
"We were there for 15 days without food, without anything," an unnamed migrant told reporters. "The Belarusian government said, 'If we see you again, we will kill you.'"
To prevent escalation, global organizations like the United Nations have engaged diplomatically, securing pledges from both governments to continue allowing the distribution of humanitarian aid, which will become increasingly vital in a conflict that "could stretch out for months," according to Poland's Secretary of State Piotr Muller.
UPDATE - November 18 @ 11:41 a.m.: Belarus emptied the migrant camps along its border with Poland this morning, transferring the migrants "to a warehouse in Belarus away from the frontier," according to Reuters.