Freida Pinto: #MeToo Needs Men and Women to Fight Together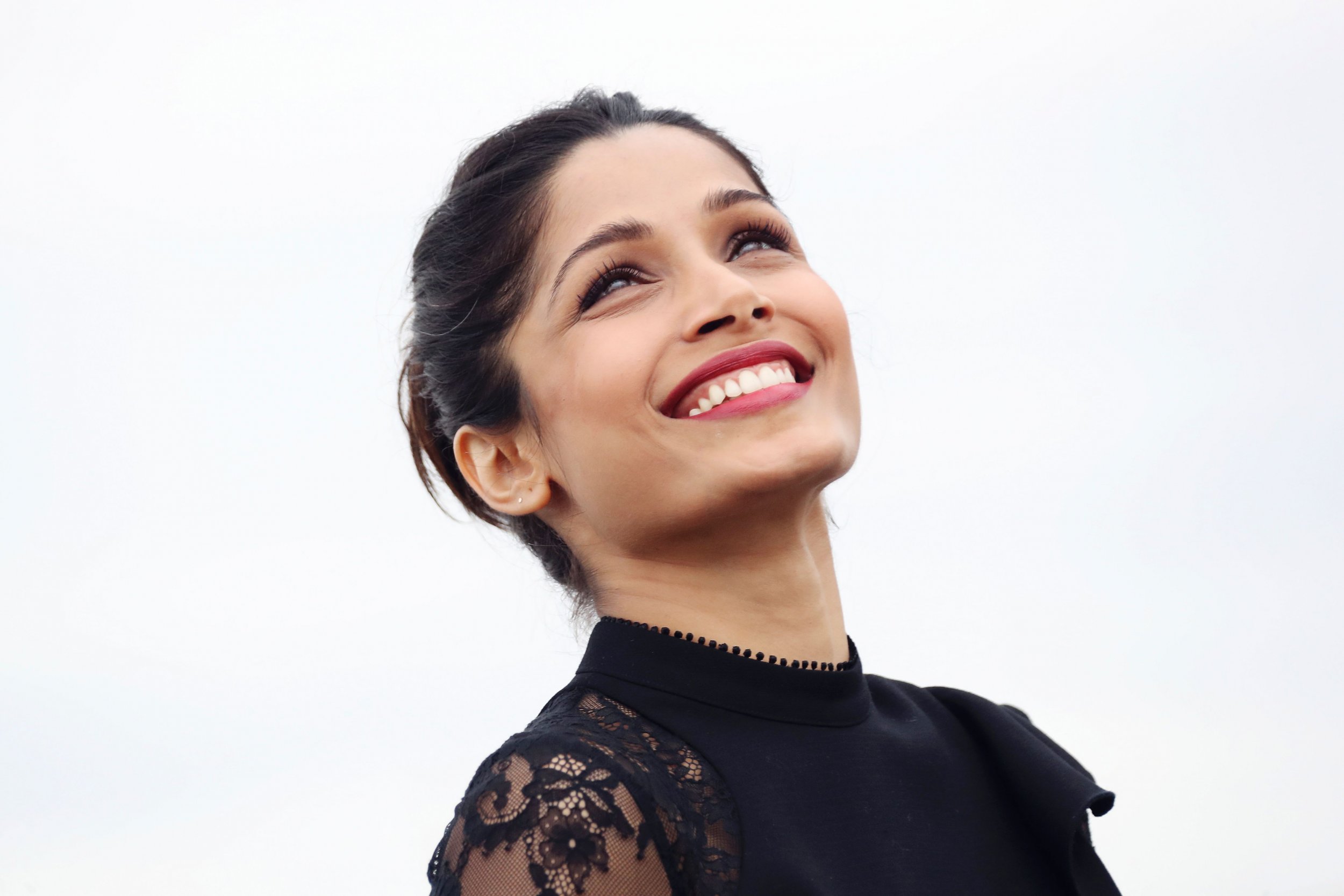 Frank. Compassionate. Self-proclaimed rebel. You could use many words to describe Freida Pinto, but prolific is not one of them - at least not by Holywood's typical standards.
In the decade since she played Latika in the Oscar-winning Slumdog Millionaire and was propelled from a little-known Indian actress to a global household name overnight, she has collected little more than a dozen or so film and TV acting credits.
It's not for want of offers, though, but because the 33-year-old has been playing the long game. Apparently aware of how the careers of Hollywood actresses snuff out as quickly as they become stratospheric, she has rejected puritanical, one-dimensional characters in favor of those with grit, she told Newsweek. Take her latest role as a rattled sex worker in the upcoming film Love Sonia: a role which she planted the seeds in Slumdog Millionaire in 2008—and is set to be her bravest yet.
Scheduled for its world premiere at the London Indian Film Festival on June 21, Love Sonia sees Pinto return to the site of her Hollywood debut in the slums of Mumbai, as the desperate and erratic Rashmi. Also starring Demi Moore, Love Sonia tells the story of a naive farmer's teenage daughter sold into sex trafficking. Its director Tabreez Noorani was inspired by true events after a group of women were found in a shipping container from China in Los Angeles in 2003. Sonia, the protagonist, meets Rashmi when she is sold to a brothel in Mumbai.
Noorani first floated Love Sonia to Pinto while worked on Slumdog Millionaire as a producer. Aged 23 at the time, Pinto was already too young to play the lead role of Sonia and not yet old enough to be cast as a jaded sex worker in her 30s. But she immediately knew she had to be a part of it, she told Newsweek.
While Noorani fought to get his film made, Pinto sank her teeth into other hard-hitting roles, most recently Jas Mitra, a fictional member of the British Black Panther group in Guerilla alongside Idris Elba. She has also become an advocate of women's rights, including by launching a non-profit, female-led production company We Do It Together and attending the most recent Women's March.
Ahead of the premiere of Love Sonia, Pinto spoke to Newsweek about Time's Up, activism, and why she never settles when it comes to choosing roles.
Congratulations on Love Sonia. How did you land the role?
It's been a work of passion for the past 11 years. Tabrez Noorani, the director of the film, is a very good friend of mine and he was also one of the producers of Slumdog Millionaire. When we were working on that project he mentioned Love Sonia to me, and at that point it was in its very nascent stages. The script was ready and I remember reading it on a flight from Bombay to Los Angeles and being so deeply disturbed and moved. It was just such a gritty story that I immediately knew I wanted to be a part of it. At that time I was 23 years old and I wasn't old enough to play Rashmi.
When it was finally funded and ready to shoot he called me and was like 'we are ready to go I still want you to play a part' and I was like 'absolutely, yes.'
11 years ago Tabrez did a test shoot with another actress and I came in to help them by reading all the other parts. He noticed that I loved playing Rashmi so much that he asked me if I'd play Rashmi again. A few changes were made to the character, and that was it!
How did you prepare yourself to play the role?
I knew that at the end of the day I wanted to tell her story and for her to be as human as possible. She's not just unpredictable but you don't know whether you want to love her or hate her. At the same time there's a human side to her, and she's got her own story to tell.
It was just experience that helped me bring life to Rashmi. And a little bit was interacting with real-life 'Rashmis' as well. Tabreez works with a bunch of organizations in India who help women who have been rescued from sexual slavery, or women who are in the trade looking for a better life.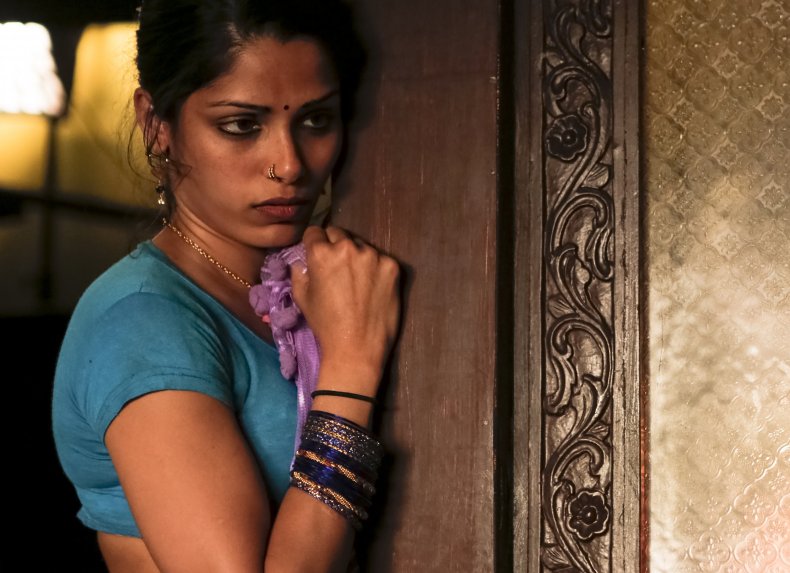 It's interesting that you say you wanted to make Rashmi human because in the past you have rejected characters you thought too much were like cardboard cutouts. Do you have a criteria for what you look for in a role?
I think they need to be conflicted, because playing a puritan woman and a one dimensional character gets boring for audiences to watch and boring for actors to perform. I prefer characters who have conflict, have got the light and the dark, and the good and the bad.
I don't live in a utopian world where everyone and everything is perfect, so playing those characters where everything is perfect doesn't make sense to me. The imperfections are really what drives my decision making, and with Rashmi's character she's so imperfect that it makes her perfect to play.
There are several scenes in the film where impoverished women, including those in the brothel, fawn over photos of movie stars stuck to their bedroom walls. As someone with a high profile, how do those scenes make you feel?
Whether it's women who work in the sex trade or have a nine to five job in the office, there is a fascination with actors who are on the big screen or TV. There's this desire to emulate their lives because...I feel like there is in their mind some glamour attached to it, right? Obviously I see it very differently because I am in that world, so I don't see so much glamour—but I am aware that other people see it is as that.
My reaction to something like that is if you've got clout and influence that can be used to for good then why not, but if I'm just going to be objectified by young women and young girls because they want to look the way I look or dress the way I dress, I am not comfortable with that.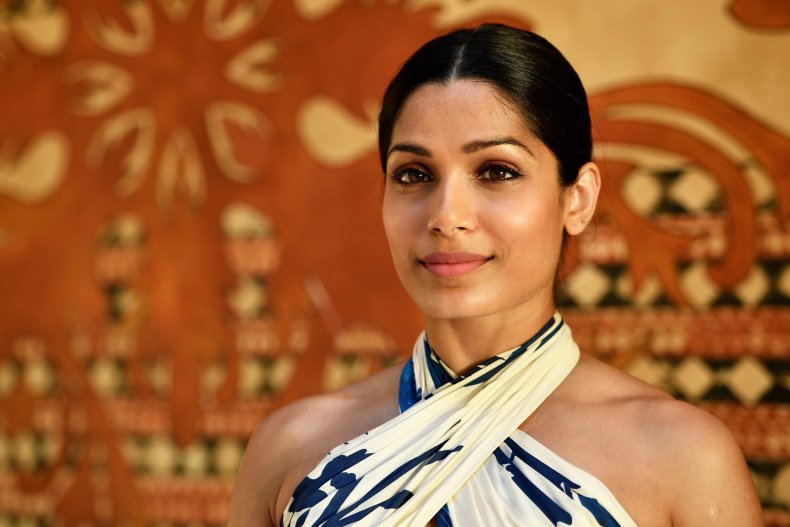 Sex trafficking is one of many issues that women face.Last year, the #MeToo and Time's Up movements exploded, but they seems to have slipped out the news cycle and fewer people are coming forward with their stories. Do you think it was a lost opportunity? What do you hope the movements will achieve?
With every revolution or movement there's always a cycle. There will be a lot of noise or protests that come out in large numbers. You can't sustain that in the same volume, but it sustains itself in other ways. If through that revolution and protest a certain projects can be generated and certain laws can be affected, then that is the way the movement continues to live on.
But we have been doing and talking about this for way longer than the past six months. I feel like the work needs to continue, irrespective of whether there was a #MeToo movement or not.
What concrete things need to happen?
In the film industry there has to be a lot more importance given to the talent behind the camera, whether it's writers, directors, editors, decision-makers, or storytellers. The people who can give them a chance are the execs, and the studio heads need to be able to find marketable ways to make room for such talent to rise up. There is no point in just having actors of diverse ethnicities on TV or in film and then saying that you succeeded at doing something.
Middle class, white women have largely been the most visible members of the #MeToo and Time's Up movements. Are women like sex workers, women of color, and those who aren't famous being forgotten?
Those movements and changes can't happen overnight, and as storytellers what we can do, especially if we are being benefited by movements like Time's Up, is take on the responsibility to continue adding our voices for those forgotten people who don't get included in the forefront of these movements. There is no right or wrong, there is no point looking down upon a certain group of people because we think they have privilege. But there has to be a way to incorporate those not being given an opportunity into a space where everyone feels like they are being heard.
On a personal level, have you been affected by sexism or racism, especially as you get older and it can be harder for actresses to find roles?
I know all of it exists: sexism, racism, all of it 100 percent exists. But if it does affect me I think I'm quite oblivious to it. I live in my own world when it comes to those issues, simply because I don't define my success by the way Hollywood or a critic or an agent would like to define my success. I'm kind of a rebel when it comes to letting other people define my success. And it also comes from experience because I did allow a lot of other people to define my success until I realized 'oh my god this is not how I see myself.'
You mention 'experience.' Slumdog Millionaire—your big break—was 10 years ago. What are the biggest lessons you have learned since then?
There's nothing I would change, there are no regrets whatsoever. The thing that I did learn and continue having to put into practice is how I think about myself and feel about myself is really what matters at the end of the day, and that's what I'm taking to my grave. Not other peoples' opinions.
And that is truly something we all have to learn - it's really hard!
It is really hard! It's very hard given the time and age we live in, when everyone has an access to phone and 140 characters...of mostly worthlessness. It's sad this generation has to live through it, but good in other ways where you can use it for influencing good.
Speaking of good, why are you so outspoken and open about your beliefs, particularly in comparison to a lot of other actors and high profile figures? You associated yourself with feminism before it was "fashionable". What gave you that fire?
First things first I never thought of it as a trend or a fashion, I literally grew up thinking about is as a responsibility. Maybe it was growing up in India that made me outspoken. Maybe it's just the person I am or the person I was born to be. I've always been like this.
You use this word 'fashionable' and I find it very interesting because it has become fashionable as opposed to responsible to be an activist, and I feel authenticity plays a big part in it.
And I actually enjoy doing it. It's actually not a job, it doesn't pay me anything being an activist. But I take pleasure from learning these things and being able to share them with the rest of the world. There is a sense of satisfaction and achievement that you can get with activism.
Would you say you identify as a feminist?
I think we all are, even the one's who are afraid of saying they are. I mean, what is a feminist at the end fo the day? It's not just standing up for women's rights, it's standing up for equality, standing up for men's rights as well.
The character of Amar in Love Sonia was interesting because he was portrayed as one of the few "good men" in the film. Should more men get involed in feminism and movements like #MeToo?
I think it's really important and the good thing is that there have been a lot of men that have come up. A lot of men with #MeToo and the Time's Up movement are afraid of taking the moment away from the women who have finally been given the chance to speak up on a public platform, without fear of being ridiculed or sidelined or shunned for having a point of view. I see that as counterproductive because the whole point of a movement like this is to watch men walk with women for once, and not one ahead of the other. I love watching men and women fight this fight together.
One final question - what do you want people to take from the movie?
I hope it can speak to our human side so we can continue spreading the word, continue being aware, and helping in the local way possible. You don't have to go all the way to India to start affecting change, you don't have to go to the countries of Africa to work there. You can do something locally, you can find something to do in your own community: your neighbor, even. I think if it sparks some kind of empathy in people so they can find ways to help others that would be a dream. I really don't think we can end this racket with just one movie, but hopefully it will affect the right people, the lawmakers and policy makers, and some kind of change.
Love Sonia premieres at the London Indian Film Festival, running from 21st June to 1st July.