The French Attacks Bring the Battlefield Home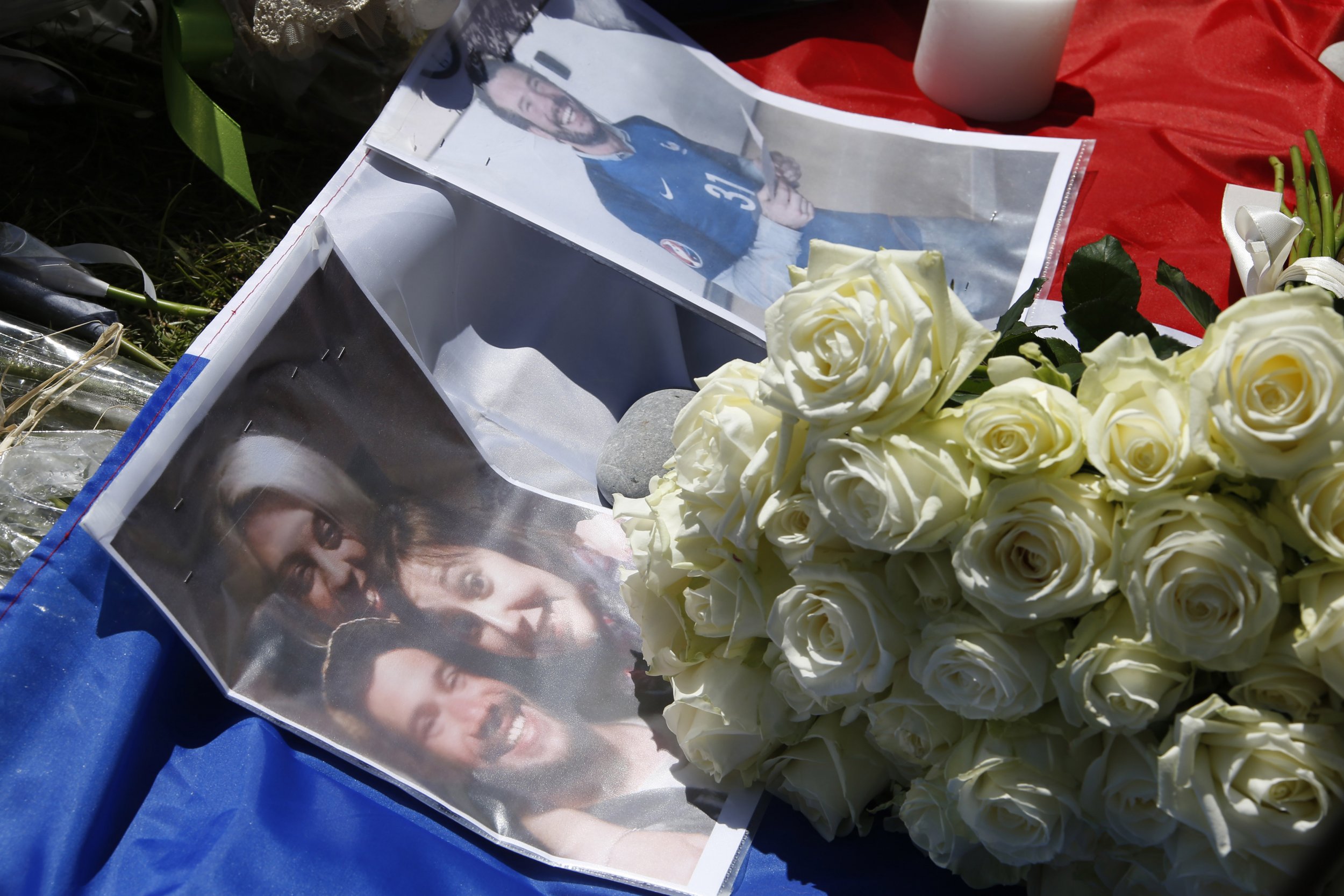 It was a warm night in Nice on Thursday—so warm that many in the French Riviera town decided to dine outside or enjoy the night air. More than 80 of those people died and hundreds more were injured by Mohamed Lahouaiej-Bouhlel, a deranged terrorist who rammed his truck into the crowds.
It was a shocking conclusion to an otherwise celebratory day in France: July 14 is a national holiday commemorating the storming of the Bastille prison and the beginning of the French revolution. By 10 a.m. on Thursday, crowds were gathered at the Champs d'Elysee to watch Europe's oldest military parade; jets flew in unison overhead, dispersing clouds of red, blue and white smoke, matching the colors of the French flag. The president, François Hollande, joined the many people who were singing La Marseillaise, the national anthem of France.
A crowd of schoolchildren dressed in flag-colored T-shirts led the verses—coined after France's declaration of war against Austria in 1792. The words are particularly violent but also deeply stirring—a kind of rallying, patriotic call to citizens to fight against foreign invasion. Hollande looked moved, at one point appearing to have tears in his eyes. I remember thinking that the dead from the November 13 attacks must be on his mind. The words are eerily prophetic of what would happen a few hours later:
They're coming right into your arms
To cut the throats of your sons, your women!
To arms, citizens!
Form your battalions!
Let's march, let's march!
Before the horror in Nice, there were the celebrations of Bastille Day. All across France, in villages, in seaside resorts and in the larger cities, people were celebrating and gearing up for the traditional fireworks shows.
In Nice, a lovely coastal city that was a haven for British and American ex-pats in the Jazz Age era, people were leaving the beach and gathering near the Promenade des Anglais to wait for nightfall and the fireworks. Some of them would later be mowed down on the Promenade by an 18-ton truck driven by Mohamed Lahouaiej-Bouhlel, a Tunisian truck driver who had been in France for some time.
To live in France right now is to live in an age of anxiety. I remember walking my son to school after the November 13 attacks and seeing heavily armed, flak-jacketed police at every corner. Was I relieved to see my son being protected? No, I felt invaded—that my city had become a war zone.
Last night, I was waiting for the fireworks on a terrace in the 7th arrondissement, overlooking the Eiffel Tower. When they started, a group of us gathered to watch, stunned by the beauty of the light show. I remember feeling proud—despite our loss to Portugal in the Euro Cup soccer final the week before—to be French, a nationality I adopted in 2005. "When the French do it right, they do it right," a British friend who was standing near me said.
Lahouaiej-Bouhlel drove into a celebrating crowd at around 10:35 p.m. It seemed unreal to us in Paris, where the fireworks show was ongoing, even though many of us were aware and had been warned by intelligence reports that another attack might be likely in France. (Though the state of emergency put in place after November 13 was about to be lifted.)
A month ago, just around the time the Seine flooded, the Ministry of Interior urged citizens to download an App on their smartphones called SAIP—an alert system meant "to inform populations."
The guidelines on how to react in case of an alert—whether it be due to attacks, a nuclear or dam failure or hazardous materials—include "good practices" such as "do not expose yourself, take cover." In every hostile-environment course I have taken to prepare me for battlefront reporting, we are told to not expose ourselves. But how, I wonder, could the people crowded on the Promenade Thursday night have known a man with serious mental issues would try to plow them down with a truck, try to kill as many people as possible? Somehow, advice such as "Do not overcrowd telephone networks" and "Limit your movements to facilitate intervention of security forces" doesn't seem to cut it.
I once went to live in the Ivory Coast after a decade of reporting on war in Africa. I chose Abidjan because it was meant to be a beacon of peace in a bloody region—with neighbors like Sierra Leone, Liberia and Nigeria. A few months into my residency, war broke out literally overnight. I ran to my window and saw child soldiers with Kalashnikovs running through my lush garden of mango trees, and tracers lighting up the sky. I was evacuated shortly after by the American Embassy, which made all citizens leave.
That experience scarred me somewhat, into never really feeling safe anywhere. Even so, when I moved to Paris in 2004 to start a family, I believed that nothing bad could happen here. But still, I kept my old war reporter habits of stockpiling bottles (and I do mean bottles—literally hundreds) of water, along with flashlights, batteries, medical supplies and, yes, a satellite phone. People thought I was crazy, or suffering from Post Traumatic Stress Disorder. "This is Paris!" one French friend laughed. "Not Baghdad!"
But today, Nice is Baghdad. And last November, Paris became Kosovo, Bosnia, Afghanistan, Syria and every other war zone I worked in. My home had become another battlefield.
Raising a child in this environment is not easy—I call it parenting in the age of anxiety. But I am also aware of how lucky we are—Paris or Brussels get hit brutally once or twice, but Baghdad and Aleppo are hit every single day. Every day, someone loses a child, an aunt, a wife, a husband, a brother, a friend.
Friday was the saddest day in Paris. Everywhere I went, people dropped their eyes with sorrow. "Why? Why? Why? WHY?" said one friend I saw on the street near Blvd. St Michel. "They died because they wanted to have FUN?"
I am not sure my French friends or family see this country at war—the way Donald Trump sees it, or even Hillary Clinton. But we see it embattled, saddened, and vulnerable. I would be lying if I said I am not waiting for the next attack—every time I take the steps to the metro, every time I get on a train or a bus, I look around at people near me, and I wonder: "Are we going to have to save each other?"
It took me years, and it was painful at times, to understand the French character, but I think I do understand it now (having a French child helped). It's resilient and proud, and able to make the best of a dire situation. In a sense, we are facing a dark abyss, and everyone knows it. But no one is leaving, no one is fleeing—we are all in it together.