French Cathedral Volunteer Arrested on Suspicion of Arson in Church Fire
A 39-year-old man has been arrested in connection with a fire that broke out in a historic gothic cathedral in Nantes, western France, in the early hours of Saturday, causing significant damage.
A public prosecutor for the city, Pierres Sennès, said a Rwandan refugee who volunteers at the cathedral was detained by police.
The man, who has yet to be identified, was responsible for locking up the cathedral on Friday night and investigators wanted "to clarify certain elements of this person's schedule," Sennès told Agence France-Presse.
However, the prosecutor said that "any interpretation which could implicate this person in the commission of the facts is premature and hasty. We must remain cautious about the interpretation of this custody, it is a normal procedure."
An investigation into possible arson is currently underway after blazes broke out in three different parts of the gothic Cathedral of St. Peter and St. Paul, which was built between the 15th and 19th centuries. According to the prosecutor, there was no sign of a break-in.
"When we arrive at a place where a fire has taken place, when you see three separate fire outbreaks, it's a question of common sense, you open an investigation," Sennès told AFP.
An "electric counter" may be linked to one of the fires that broke out at the cathedral, and investigators are also looking at the possibility of a short circuit, French newspaper Le Parisien reported.
Jean-Charles Nowak, a clerk at the cathedral, said he did not think that the volunteer started the fire, describing him as a "man of duty."
"I don't believe for a second that he could have set the cathedral on fire. It's a place he adores," Nowak told French newspaper Le Figaro.
Around 100 firefighters responded to the fire on Saturday morning, managing to save the main structure, with French Prime Minister Jean Castex praising their "professionalism, courage and self-control," the BBC reported.
But despite their efforts, the fire destroyed a grand 17th century organ and several priceless artifacts, as well as blowing out stained glass windows.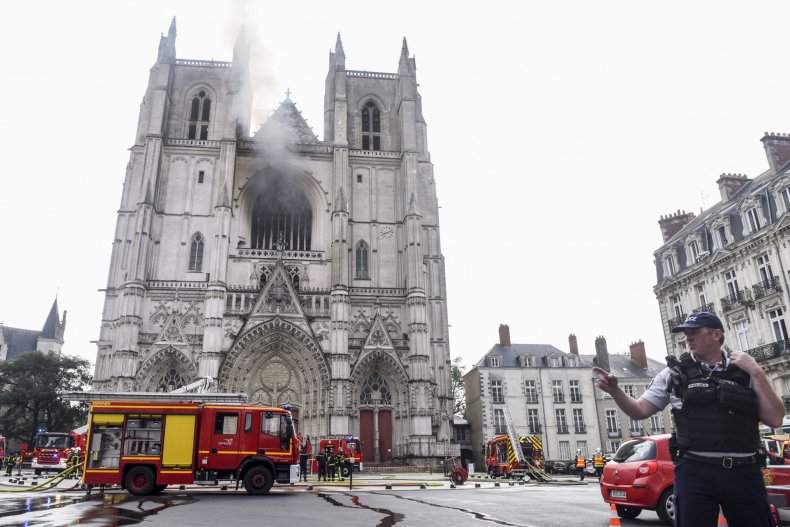 Father François Renaud, the Catholic priest who oversees the cathedral, told AFP that the organ console "had completely disappeared," describing it as an "unimaginable loss."
"The console of the choir organ has gone up in smoke along with the adjoining wooden choir stalls. Original stained glass windows behind the great organ have all shattered," Renaud said.
However, regional fire chief Laurent Ferlay, said the damage was not comparable to the catastrophic fire at Notre-Dame cathedral in Paris in April last year, which destroyed the famous landmark's roof and caused its iconic spire to collapse.