French Court May Fine Little-Known Rapper For Alleged Racist Song, 'Hang White People,' And Accompanying Music Video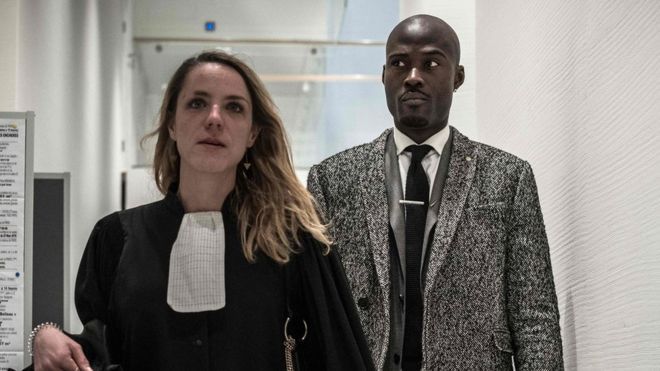 French rapper Nick Conrad is on trial for incitement to murder in Paris after a releasing a music video on Youtube for a song titled "Hang White People" in September.
Anti-racism groups have called the clip an incitement to violence and racial hatred, but the rapper's lawyer said otherwise.
As Conrad's attorney argued in court that Conrad, 35, was merely exercising his artistic freedom, as the BBC reported. The song's lyrics have drawn huge rebuke from the public.
Within the lyrics is a call for white babies to be killed. YouTube suspended the 9-minute video after the rapper published it, saying it violated its terms of service agreement.
The music video shows the rapper acting out the kidnap, torture and hanging of a white man, as the BBC described it. Some of the lyrics include: "I go to the nurseries, I kill the white babies. Catch them quick and hang their parents!"
In the video, the rapper and an accomplice shoot and torture a white man, who is forced to the pavement, kicked in the head and hanged.
'Nick Conrad' is a pseudonym for the French rapper who has Cameroon heritage, reported the BBC. Reportedly, the French public knew little about Conrad until he released the video.
The charge against Conrad could result in up to five years in prison and about $52,000 in fines. However, prosecutors have reportedly requested a suspended fine of about $5,800, saying he has "already to a certain extent paid the consequences."
In court Wednesday, the rapper said the video represented a fictional depiction of racism and that the purpose for switching roles was for shock value. Seemingly, the video references the film American History X, which includes scenes of white neo-Nazis violating a black man in similar ways.
To counter, the prosecution reportedly said there are no exceptions, as "incitement to violence does not stop just because the intended victim is white."
One fan, Aude Konan, defended the rapper on Twitter and posted:
"There is no way the music video could happen in real life. There's no realism whatsoever in it. #NickConrad is being judged for facts that don't exist. And the prosecution deliberately ignores that the Ku Klux Klan is alive and thriving. How can they not see it's a role reversal?"
The trial resumes on March 19.
When the video was posted online, the International League Against Racism and Anti-Semitism, a French anti-racism organization, said in a BBC report: "The incitement to murder in Nick Conrad's video is despicable and unbelievably violent."
French Interior Minister Gerard Collomb also condemned the video.
The rapper is a self-described "black artist, and a proud, sophisticated Parisian."