Almost 30 Years Later, America Finally Catches Up with Agnès Varda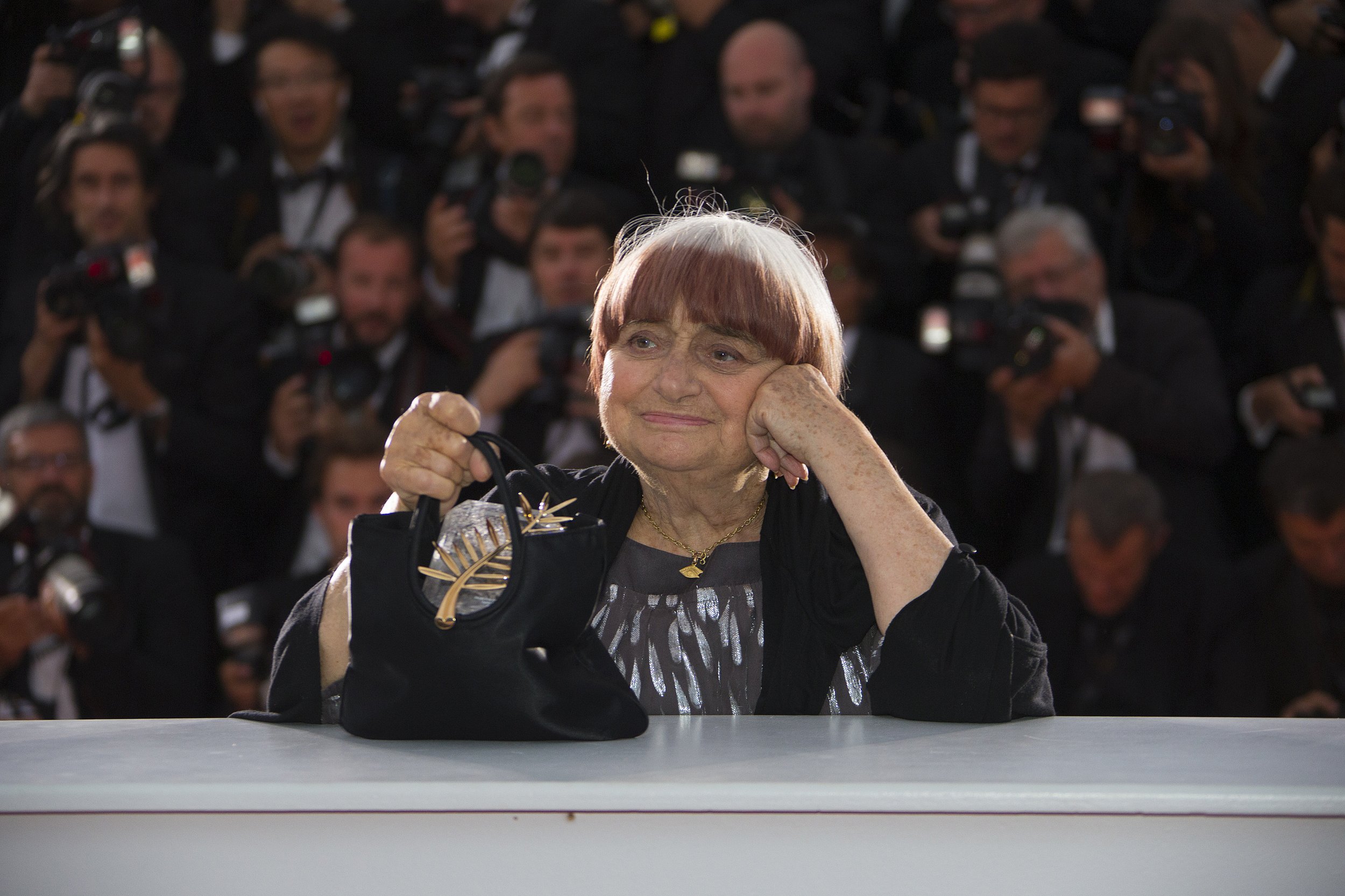 A camera follows a self-fashioned star as she simultaneously invites and shies away from the attention, blending fame and anonymity. Behind the camera, the operator's clear objective is to assemble some character study of this subject, but to the audience it remains unclear just how much of a hand the subject herself has. What's to be trusted? What's performance, and what's real? Can we really know a person through vaguely voyeuristic documentation?
These have become crucial questions in a culture besotted with reality TV programs that reinvent public figures—or even regular folks who happen to do interesting things in front of the camera—as A-listers. Maybe it's surprising, then, that the many-headed media behemoth that wrought the Kardashians may very well be the mutated spawn of a revolutionary, feminist giant of the French New Wave.
Agnès Varda released the docu-fiction hybrid Jane B. par Agnes V. in 1988 in France, where it got a rapturous reception from critics and art house audiences in her home nation. But this unorthodox profile of the actress and singer Jane Birkin (most famous stateside as the namesake for the iconic Hermès bag) never made the arduous journey across the Atlantic, going nearly 30 years without a proper release.
"Sometimes I wonder, because the distribution of films is very odd," Varda tells Newsweek over the phone from her home in France. "I've been getting very good success with my films in the States since 1962 with Cleo from 5 to 7. I get the Palme d'Or, but can't get American distribution. All my films have been, from what I understand, well-received.… So what happened? I don't know."
Jane B. par Agnès V. is a dense, theoretical examination of fame, womanhood and style that seems tailor-made for today's think piece–driven America, and yet the internationally acclaimed Varda couldn't secure overseas distribution—that is, until now. Both Jane B. par Agnes V. and Kung Fu Master!, Varda's second collaboration with Birkin, received a gorgeous restoration that played for a short engagement in New York and Los Angeles last fall, and are available this week on Blu-ray and DVD, courtesy of Cinelicious Pictures. They're not only major components of an essential artist's filmography but also eerily prescient meditations on timely themes.
Jane B.'s quietly radical depiction of one woman's life arrives in America at a pivotal time for the national film industry. It performs the basic work of a biopic, the genre most seemingly intent on cannibalizing itself in Hollywood. This year's bland Trumbo unfortunately typified the sort of character study studio executives can't get enough of, where complex historical figures are boiled down into easily understood collections of tics and flaws. "I had a feeling that you could make a portrait with a different approach, " Varda says. " I started with the idea Jane B. was another artist, and that I could make a film with interviews from the archives and intercut that with film she and I would make. This is the pinnacle of homage to the actor. "
In the film, Varda shies away from easy answers and concrete conclusions. Instead of treating her subject like an equation to be solved, Varda embraces the contradictions and complexities that define Birkin as a human being, a woman and an artist. The most refreshing aspect of Varda's observance of Birkin, in fact, is its tantalizing incompleteness.
" Jane says, 'I don't know how you make a film with one piece here, another there. How do you handle that?' And I said that it's always the theory of the jigsaw puzzle. You work to complete the puzzle, to make a portrait that will appear, but some pieces are missing. I accept the missing pieces, I accept that every portrait, every approach, is building a puzzle missing pieces. Even in love, even in friendship. To me, that is very clear. "
That Zen-like acceptance of things unknown and unknowable directly ties into this film's approach to feminism, always a pet theme of Varda's. Identifying and dismantling misogyny has become something of a national pastime in recent years, with vast swaths of the media landscape devoted to sounding the alarm at the first sign of disrespectful treatment to female public figures. Varda, ever the forward-thinker, attempted to communicate these same principles using images and symbols, trusting her audience to pick up what she was putting down. In one of the film's most memorable scenes, Varda taps into the primal elements of ancient mythology to expose the long, ingrained history of sexism. "I take the myth of Ariadne in the labyrinth, who drew a thread to guide herself," Varda explains, "but I made Jane B. like a Greek goddess, and the camera into the monster. I'm touching on myths relating to being a woman.… I'm using Jane to make say something about what it means to film a woman. It is to track her down, like a monster trying to capture a young woman. "
It would seem the world has finally caught up with Varda, and only a few decades behind schedule. In every direction, bold and creatively uncompromising young female artists travel the path cleared for them by Varda and films like Jane B. She speaks positively of Lena Dunham and Miranda July—the latter interviewed Varda in a standout special feature on the new home video release—neither of whom would have a career without the precedents set by this time-honored filmmaker. "They see the situation, and they invent how to treat it," Varda says of the new generation of filmmakers. "Our work is to see the reality and reinvent it in a shape that other people understand, that they laugh or cry at. It's a talent to observe the way people behave, to see how telling it can be."
As American mainstream culture slowly gets ahold of intersectional feminism, the 87-year-old Varda talks about the dignity of women in middle age: "40 is the glory time of the woman…the height of her youth, her beauty, her life and her talent." She also acknowledges the fundamentally predatory nature of mass media: "Beauty is fragile. Beauty will be attacked."
Jane B. par Agnès V. shocks viewers with its urgency once the enchanting effects of Varda's unusual portraiture wear off. Presaging a world fixated on celebrity and intent on imposing definitions of womanhood, Varda shrugged it all off, effectively championing Birkin, herself and women everywhere. Or in her words: "It's Jane B. by Agnes V., but it's also Agnes V. by Jane B."