When 'The French Dispatch' Is Streaming – and How to Watch All Wes Anderson Films Online
Wes Anderson is back with The French Dispatch, his love letter to old-school journalism. The film is in theaters now across the world.
Those cinemas, however, are the only place to watch it right now. Unlike Dune (released to theaters and streaming on the same day), The French Dispatch isn't coming to a streaming service at the same time it comes to theaters.
Fans waiting to stream the movie online are in for a fairly long wait of a least a few months. However, industry conventions and existing contracts mean we have a pretty good idea of when exactly we can expect the film to be streaming.
In the meantime, all of Wes Anderson's eight other films are streaming now on services like Netflix, Disney+ and Amazon Prime Video.
When Can You Watch The French Dispatch Online?
To understand when the film will be available online, you have to understand a little of how theatrical windows work.
Traditionally, theaters have been given a 90-day window where they are the only ones showing the latest big films. This means that movies wouldn't come to home media like DVDs and Blu-Rays and onto video on demand (VoD) for three months from the first release date.
That would mean The French Dispatch wouldn't be on VoD until January 22, 2022.
However, the pandemic has changed the reality of the film industry a little, with streaming services bypassing the theaters. This gave them a bargaining tool that allowed the big entertainment companies to renegotiate for smaller release windows, cut from 90 days to 45.
Among the companies that did this was Disney. This is relevant to The French Dispatch, as it is being distributed by Searchlight Pictures, which Disney bought as part of its purchase of Fox. As such, the movie should be available on home video and on VoD 45 days after its release date, which would be Monday, December 6.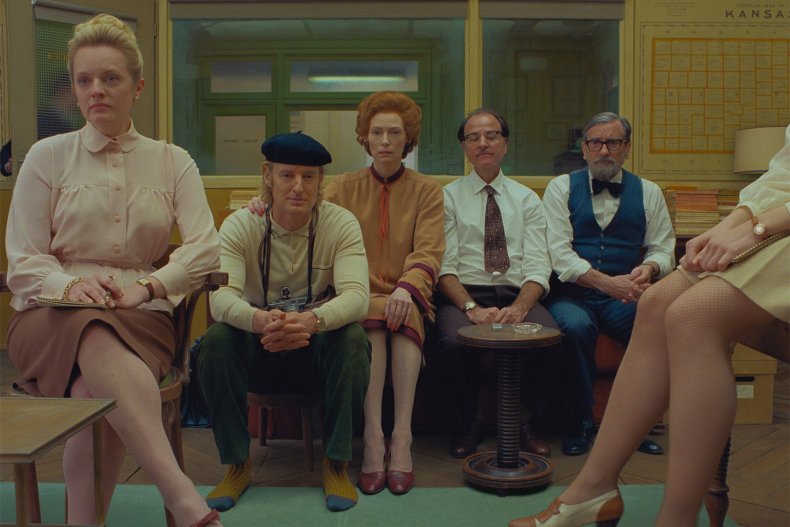 When Will The French Dispatch Be Streaming?
There will another wait after that for the film to come to streaming services. Usually, films come to streaming services three to four months after they come to VoD. This means that The French Dispatch should be streaming in February 2022.
As for which streaming service it will be on, it's likely to be HBO Max. HBO has an existing deal whereby it has the first-run streaming rights with the studios that used to be owned by Fox, 20th Century and Searchlight.
That deal, however, only applies to the U.S. Elsewhere, Disney+ is very likely to be the movie's eventual streaming home. The service has most of the director's films in territories like Canada, Australia and the U.K., and Disney is likely to continue to put its own content onto its own services.
Viewers waiting for it to come to Netflix are likely to be disappointed. In the U.S., the streaming service has none of Wes Anderson's films, and only a few of his movies are available in a few territories.
Where Can You stream All of Wes Anderson's Films?
All of the director's films are available to buy and rent from video on demand sites like Amazon, Vudu, Apple TV, Google Play, YouTube, Microsoft, Redbox and DirecTV. Here are the streaming services that have his movies.
Bottle Rocket: In the U.S., the movie is streaming on Starz and Spectrum on Demand.
The Darjeeling Limited: Streaming on Starz, DirecTV and Spectrum on Demand. On Disney+ in Canada, the U.K. and Australia.
Fantastic Mr Fox: On Disney+ in the U.S. and Canada, and on Netflix in the U.K., Australia and South Africa.
The Grand Budapest Hotel: No American streaming home. On Netflix in Germany and Switzerland. Streaming on Disney+ in U.K., Canada, Australia and other territories.
Isle of Dogs: Streaming on Disney+ in the U.S., Australia and Canada. On Netflix in Germany.
The Life Aquatic with Steve Zissou: Available on Amazon Prime Video in the U.S., on Hoopla in the U.S. and Canada and on Disney+ in Australia, Canada and the U.K.
Moonrise Kingdom: Streaming on HBO Max, Max Go and Spectrum on Demand in the U.S. On Netflix in Germany, the Czech Republic and Switzerland.
The Royal Tenenbaums: Not currently on a streaming service in the U.S. On Disney+ in Australia, Canada and the U.K.
Rushmore: On Hulu, Paramount+, Epix, DirecTV and Spectrum. Disney+ has the streaming rights in Australia, Canada and the U.K.