French Election Results Unlikely to Be Knockout Blow for Europe's Far Right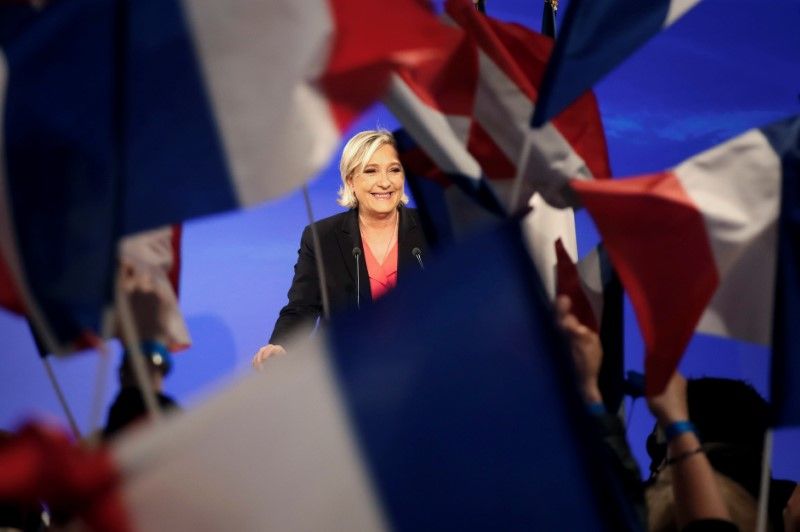 Back in January, Marine Le Pen spoke with defiant confidence at an unprecedented meeting of Europe's right-wing populist parties. In 2017, she said, "all the dominoes of Europe" would fall in a year "when the people of continental Europe wake up."
Related: French election: Why establishment Europe shouldn't feel too relieved about Le Pen​
Sunday's French election results, however, were yet another case of those dominoes stubbornly refusing to topple since the Brexit vote to leave the European Union sparked fears of a continental-wide retreat from cooperation and a sharp turn toward nationalism. Le Pen, of the far-right National Front, was crushed by independent centrist Emmanuel Macron by a margin of more than 30 points.
Also at the meeting, happily snapping selfies with Le Pen, was Geert Wilders, whose Party for Freedom was at that time leading the polls ahead of the Netherlands's general election. Yet, like Le Pen, he would find himself shut out of power two months later, as the party of incumbent Prime Minister Mark Rutte wound up on top by 13 points.
Just weeks before the January meeting, held in the German city of Koblenz, Austria also turned its back on a previously surging populist. In the vote for president, Norbert Hofer was defeated by Green party candidate Alexander Van der Bellen by an even bigger margin than an annulled vote last May.
The prospects for similar parties look little better for the remainder of 2017. Ahead of the United Kingdom's snap election next month, the U.K. Independence Party (UKIP) is polling at 6 percent, less than half of what it achieved in the general election two years ago. In Germany, meanwhile, the anti-immigrant Alternative for Germany (AfD) party, whose leader Frauke Petry joined Le Pen and Wilders at the January meeting, has dropped into the single digits in opinion polls ahead of September's federal election, having reached a high of 15 percent at the start of 2017.
While many voters are showing displeasure with the current system, when it comes to the crunch, many are reluctant to completely rip it up, said Cloé Ragot, a researcher with the political risk consultancy Eurasia Group.
"At first, people want to show that they're angry at the system, at the traditional parties and elites that are not solving the country's issues, and therefore would show that they support those anti-establishment parties," she told Newsweek Monday. "However, when it comes to the election, obviously there's a campaign, and many people do realize that it can be very harmful for the economy, the future of democracy and the political system."
Still, Ragot cautioned against thinking that Europe has fully turned back the tide on the far right.
"There is still a lot of populism in other countries and until we see better economic results, it's unlikely that those parties would decrease much in the polls," she said.
Even if those parties are not ultimately winning power, they are still wielding significant influence. That was certainly the cautionary message of former Secretary of State Condoleezza Rice.
"I really do believe that these populists are changing the character of the politics just by being there, so even mainstream candidates are having to respond to their agenda," she told USA Today on Sunday. "The rise of nativism is having an impact on the politics, even if the candidates aren't winning."
There are plenty of examples to support that hypothesis. While the UKIP may not be governing Britain any time soon, its bedrock policy—to remove Britain from the European Union—has, with the party's help, already been put into action. And in Germany, amid the rise of the AfD and criticism of Chancellor Angela Merkel's refugee policies, she has said the arrival of almost 1 million refugees in 2015 "should not and must not be repeated." She has also called for a ban on full-face veils in the country.
France too is unlikely to have retreated from the far right for good. Macron still faces a major immediate hurdle when his 12-month old party tries to achieve a majority in June's legislative elections.
And there is no sign that Le Pen will be going quietly into the night. While defeated, she gained almost twice as many votes as her father did when losing the second round against Jacques Chirac 15 years ago. In a move to further detoxify the party's reputation and gain mainstream acceptability, the name of the National Front itself is set to be changed. Even before the election, many of her supporters were claiming that her chances would be even stronger in the next election, in 2022.
If Macron struggles, it will be seen as another failure for establishment politics, with Le Pen ready to offer the most radical alternative.
"It is important to see that it is a big rise and success for them, even though it's not as high as they would have expected originally," Ragot said. "They definitely have a big part of the debate, and the National Front after this election definitely wants to have a big say in being a strong opposition."