French Election Latest Polls: Marine Le Pen Gaining Support After Paris Shooting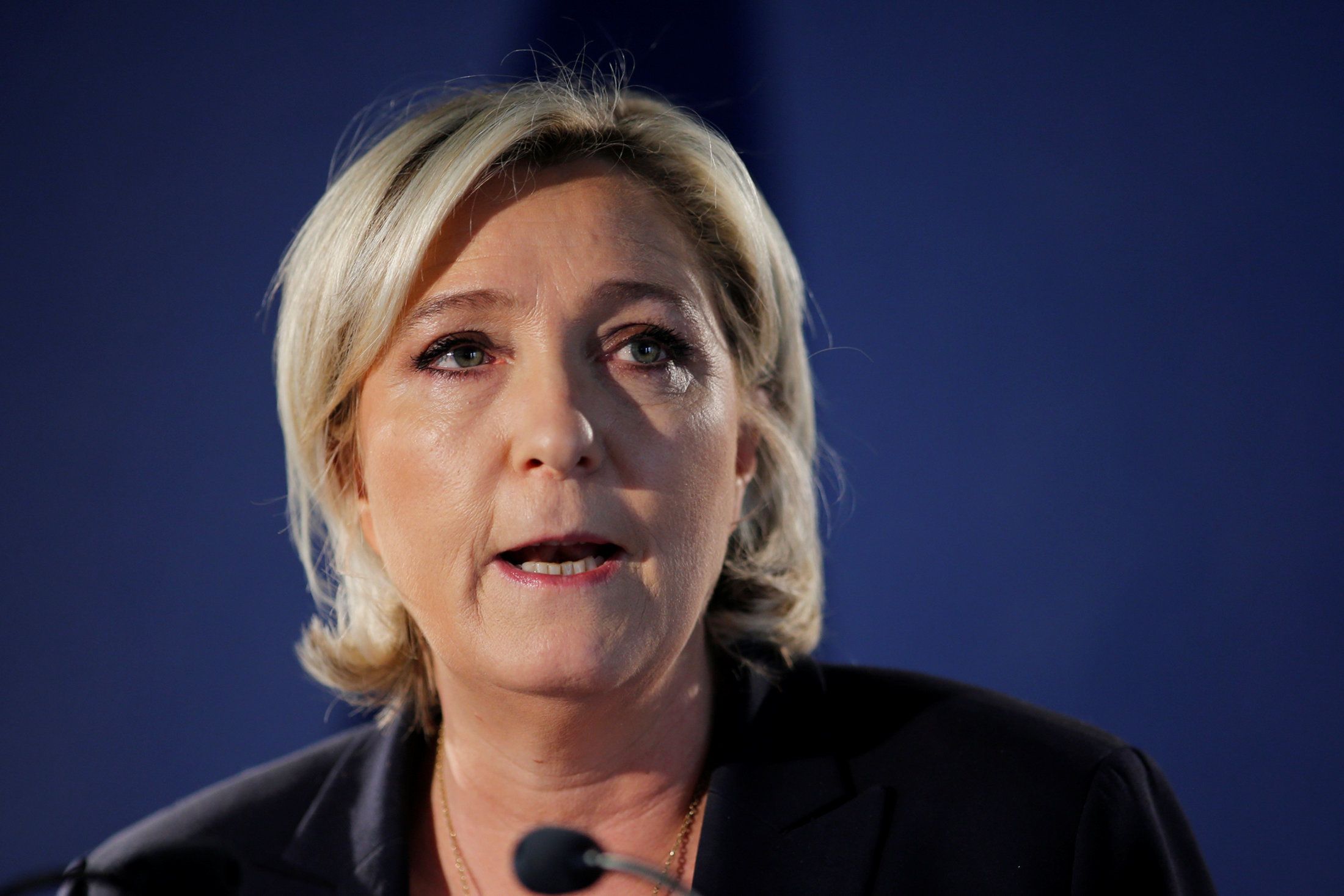 Ahead of Sunday's French presidential election, Marine Le Pen has received a boost in support following a shooting on Paris' Champs- Élysées that left one policeman dead, according to an opinion poll released Friday by Odoxa.
The leader of the far-right National Front, whose campaign has been dominated by anti-Islam and anti-immigration rhetoric, moved from 22 percent to 23 percent in the poll conducted for French weekly magazine Le Point. Her three rivals for the presidency were all shown to have lost half a percentage point of support. Although centrist Emmanuel Macron remained out in front ahead of the first round of voting, he dropped back to 24.5 percent. Republican candidate François Fillon and leftist candidate Jean-Luc Mélenchon, meanwhile, were back on 19 percent.
Related: Will the Paris Attack Help Le Pen Win the French Presidency?
The results of the poll warrant a fair degree of caution. The post-attack portion of the poll had a relatively small sample size of 992 people, giving it a margin of error of three percentage points. The same survey also backed up other polls indicating that Le Pen would be beaten in a potential second round against any of her main rivals. Against Macron, with whom she has been leading the polls for the past two months, she is anticipated to lose 62 percent to 38 percent. (If one candidate doesn't receive a majority of the vote Sunday, the top two candidates in the first round will go on to a runoff on May 7.)
Still, the pervading view is that Thursday's events, when a gunman shot dead one policeman and wounded two others in an attack claimed by the Islamic State group, will boost Le Pen. "I think this election is sufficiently unstable that it could still move things," Bruno Jeanbart, head of political studies at OpinonWay, told Bloomberg Thursday about the shooting. "Marine Le Pen is notably one to watch."
Speaking following the incident, she took a typically strong stance, blaming both the current and former government for lapses in security that she claimed has led to the country losing the war on terrorism.
"We cannot afford to lose this war," she said Friday. "But for the past 10 years, left-wing and right-wing governments have done everything they can for us to lose it. We need the presidency which acts and protects us."
Just three weeks after terror attacks in Paris in 2015, the National Front emerged on top in the first round of France's regional elections. But the National Front ended up failing to win any regions in the second election round. And Le Pen's task this time around is set to become similarly tough if she makes it through to a runoff.
The race to succeed François Hollande has become increasingly tight and hard to call in the closing weeks of the campaign. Fillon, the Republicans' candidate, has seemingly bounced back from a "fake-jobs" scandal that appeared to have dealt a fatal blow to his bid for the presidency. Mélenchon, meanwhile, has surged in the polls following strong performances in televised debates.
In a more extensive OpinionWay poll, conducted just before Thursday's shooting, the top three candidates were separated by just two points, with Macron on 23 percent, Le Pen on 22 percent and Fillon on 21 percent. Mélenchon was only a little further back on 18 percent.