Who Will Win the French Election? How Marine Le Pen Could Become the Next Trump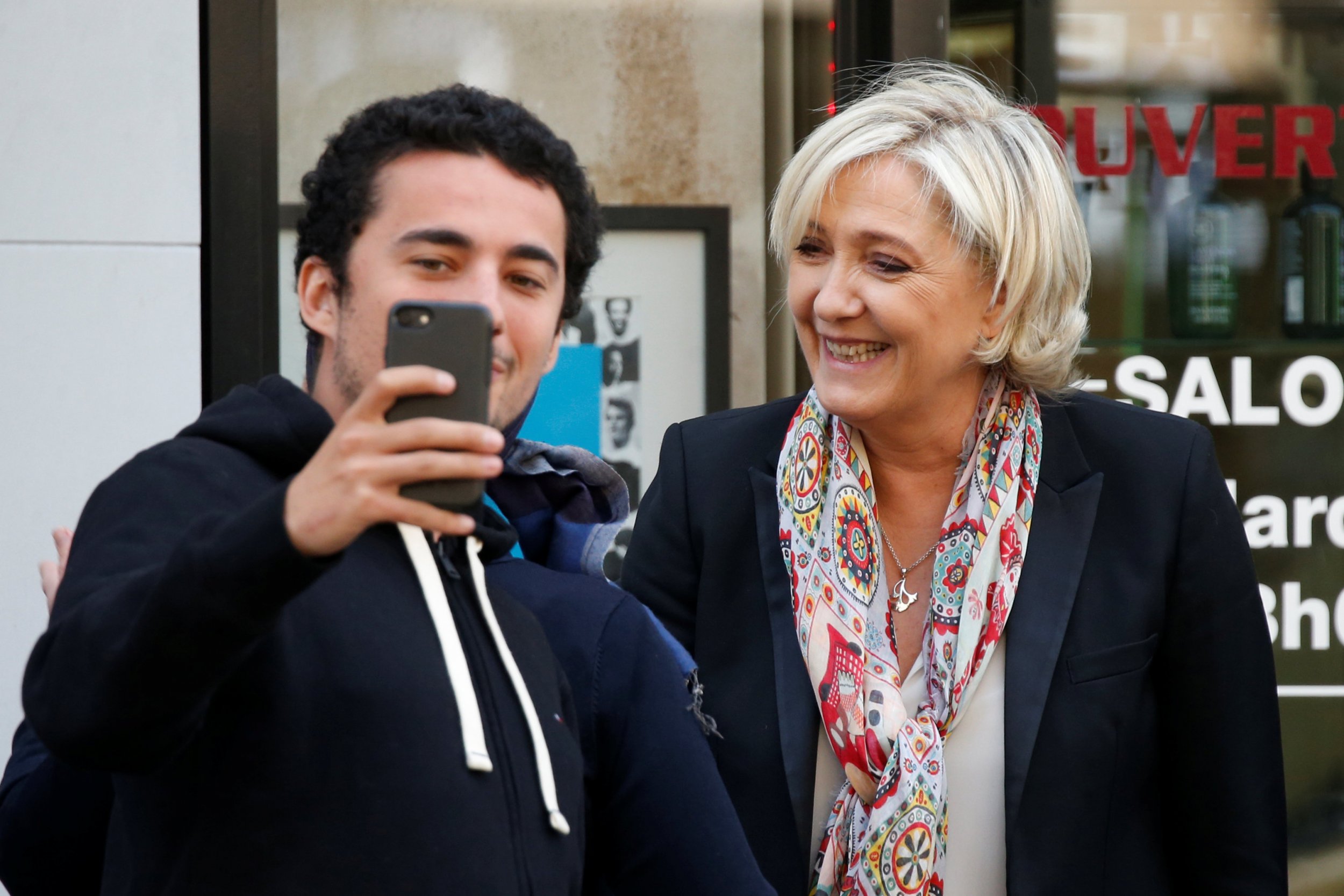 Emmanuel Macron hadn't won anything beyond a shot at a runoff vote against Marine Le Pen, but his remarks to supporters and a subsequent private party Sunday night felt every bit like a victory lap. And the polls strongly suggest those celebrations, while perhaps a tad premature, will continue after France returns to the ballot box in two weeks to decide the country's next president.
Related: French Elections: Marine Le Pen Aide Calls Emmanuel Macron 'Arrogant'
But as the world has witnessed in shock over the past year, polls and statistical models do not always come to fruition. If they did, Hillary Clinton would now be president of the United States and David Cameron would still be prime minister of a Brexit-less Britain. And in France, a country that has already soundly rejected the political elite, it could be argued that it would be foolhardy to make any predictions with any great degree of certainty.
Le Pen's far-right National Front party, the leadership of which she took over from her father, has surged in the polls in recent years thanks to her hard anti-immigration and anti-Islam stances, her pledge to pull the country out of the Euro and her chastising of establishment politics.
Macron, too, emerged from the outskirts of French politics, although he is a centrist who is set to be painted by Le Pen as just another political insider aloof from the people. The 39-year-old is a former investment banker whose political experience is limited to two years as economy minister under outgoing Socialist President François Hollande. His En Marche! (On the Move!) party was founded only a year ago.
Both candidates came out on top in France's presidential election Sunday, with Macron claiming 23.9 percent of the vote to Le Pen's 21.4 percent with 97 percent of the vote counted. It is the first time in nearly 60 years that neither mainstream left or right party advanced a candidate to the second round.
The challenge now for both is to greatly expand their support beyond what were historically low totals for first-round victors.
For Macron, that promises to be a more straightforward task. In the immediate aftermath of Sunday's vote, Republican candidate François Fillon, who came third in the voting with 19.9 percent, endorsed Macron and incumbent Hollande followed suit on Monday, urging the country to back Macron against the "risk" of a Le Pen presidency.
None of the major defeated candidates came out in support of Le Pen, although two failed to endorse either Le Pen or Macron, including far-left insurgent Jean-Luc Mélenchon, who grabbed 19.6 percent of the first-round vote. While Le Pen will hope to garner votes from Fillon and Nicholas Dupont-Aignan on the right and Mélenchon on the left, the expectation is that opposition to Le Pen will now coalesce around Macron.
Such was the case in 2002, when Le Pen's father, Jean-Marie Le Pen made it into a runoff against Jacques Chirac. When the second round came around, the founder of the National Front increased his vote by less than one percent to be decisively swatted aside by Chirac, who took more than 82 percent.
His daughter has made significant strides in detoxifying the party, particularly against charges of antisemitism, and a defeat on that scale looks unlikely. Indeed, she made a further move to try to appeal to mainstream French voters Monday by announcing that she was temporarily stepping aside from the presidency of the National Front. Instead, she said she was simply "the candidate" of the National Front who "wishes to bring together all French people."
However, polls give her a far greater deficit to bridge than either Trump or Brexit, the two populist triumphs with which her rise is regularly compared. Mirroring the outcome of similar surveys carried out beforehand, no opinion poll taken since Sunday's vote has put Le Pen's support above 40 percent. The largest poll thus far, from Harris, saw Macron getting 64 percent of the vote to Le Pen's 36 percent.
By way of comparison, the gulf was never even close to being so large for Trump against Clinton, not even when he was seen as a total outsider upon first announcing his nomination in the summer of 2015. Two weeks ahead of the election, Trump was between five and 10 points behind Hillary Clinton. In swing states, the margin was only a couple of percentage points.
And, of course, as it turned out, Trump did end up losing the popular vote but winning the White House. With no Electoral College in France, Le Pen will not be able to do the same and claim the presidency.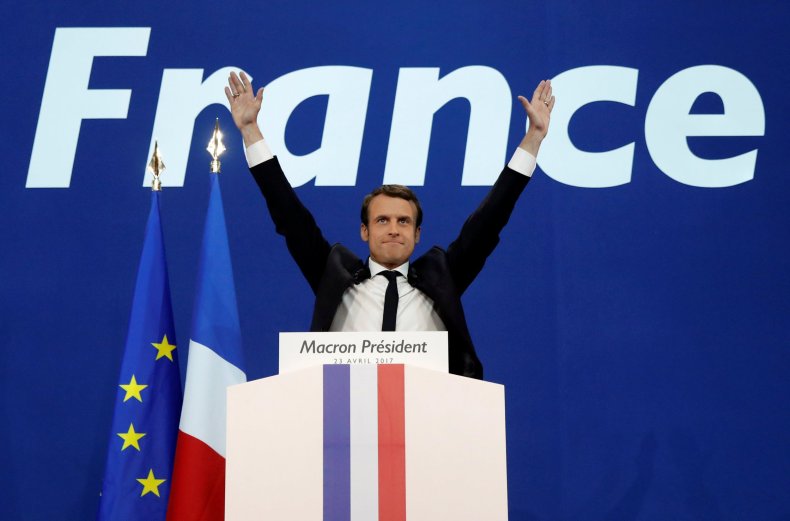 Bookmakers similarly give her a slimmer chance than Trump of pulling off an upset. An average of her odds currently put her chances at 17 percent, down from the 22 percent chance given to Trump at a similar stage in the U.S. presidential race.
Some statistical models are even more certain of the outcome. The Economist's model gives Le Pen just a one percent chance of triumphing, down even from the 10 percent chance given to Trump by the likes of FiveThirtyEight and The New York Times' The Upshot two weeks out.
But not all experts are nearly so negative on Le Pen's chances. The political risk consultancy the Eurasia Group has given Le Pen a 40 percent chance of emerging victorious. Indeed, writing on The Economist's website, the group's president Ian Bremmer and associate Charles Lichfield describe the race as "almost a coin flip."
Given the evidence of the past year, it would be unwise to discount such a tension-filled prediction. It is also true, however, that a Le Pen triumph would be the biggest political shock yet.