French Election Results Will Rest On These Macron and Le Pen Policies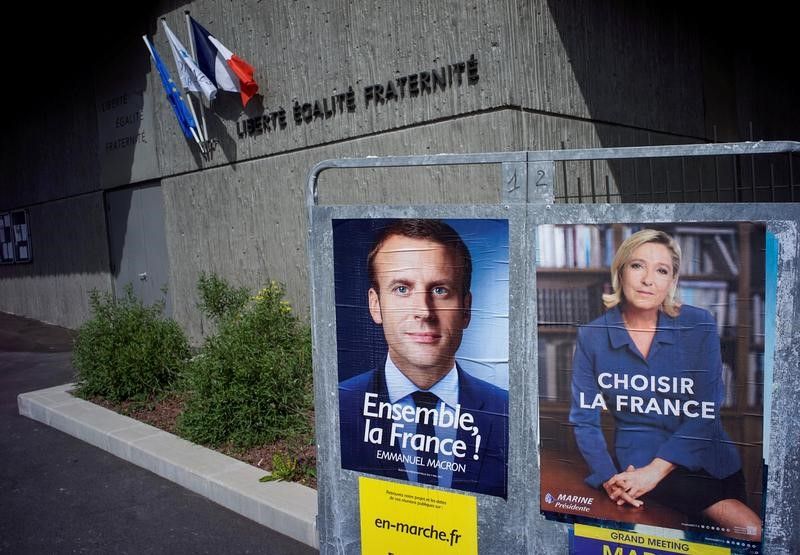 Two weeks after elevating far-right candidate Marine Le Pen to a runoff for the presidency, French voters will return to the ballot boxes Sunday with the world watching to see if the election ends with the most stunning result in Europe's modern history.
Related: French election polls paint bleak picture for Marine Le Pen against Emmanuel Macron
For Le Pen, the task is not only to overcome independent centrist Emmanuel Macron but to succeed where her ideological contemporaries in Austria and the Netherlands have failed in recent months—and where her father failed spectacularly 15 years ago.
Then, in the last major rupture in French politics, Jean-Marie Le Pen, who founded the National Front party that his daughter led until temporarily stepping aside ahead of Sunday's vote, shocked the country by garnering the votes to move onto the second round against incumbent Jacques Chirac. The elder Le Pen, though, was to discover that he had reached his apex.
From the 17 percent support he garnered in the first round, Le Pen added less than one percent more in a two-way runoff as, in the intervening two weeks, the country united in protest against the controversial candidate.
For his daughter, who assumed the leadership of the National Front in 2011, the prospects are not quite so bleak. She has to an extent succeeded in detoxifying the party, particularly of its anti-Semitic strains, in part by expelling her father in 2015.
In the two weeks since she achieved just over 21 percent of the first-round vote to finish second behind Macron, Le Pen has sought to avoid the same fate as her father. Notably, she stepped down as leader of the National Front, claiming she was the "candidate for all French people."
And she has attempted to portray Macron, a former investment banker and finance minister for current President François Hollande, as a staid, establishment figure more interested in enriching banks and corporations than ordinary French people.
The only one-on-one debate between the two was Wednesday, and it highlighted their stark differences. Le Pen outlined her party's "French First" mantra, the idea that France needs to take back its sovereignty by removing itself from the euro and at the very least renegotiating its relationship with the European Union, as well as getting control of its borders and being far more forceful to counter the so-called threat of Islam.
Macron, meanwhile, explained his vision that France would be stronger as a member of existing alliances. Not only is he a staunch supporter of the EU, but he wants to give it its own budget and finance minister.
The debate was a startlingly heated one, but it was the aggressive performance of Le Pen that garnered particular attention—and not in a good way. Her performance was likened to "violence" by some, while newspapers also loudly pointed out her "lies." Even her father joined the chorus of criticism.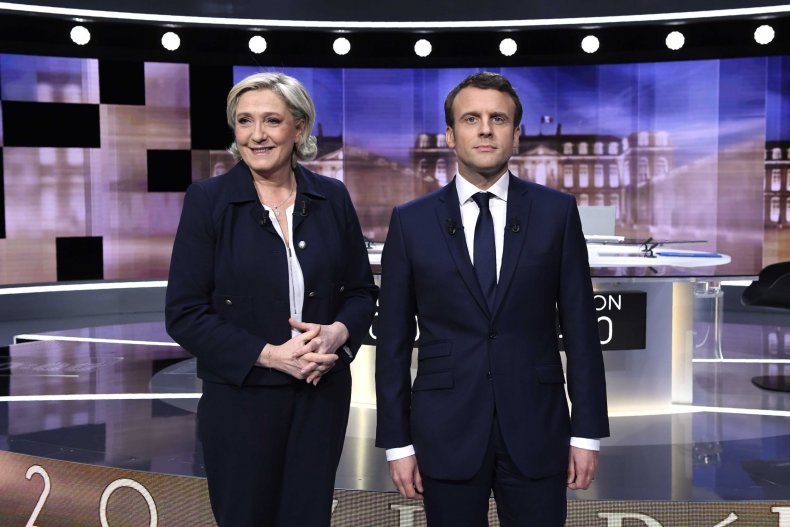 There have also been other struggles in the past two weeks. In an address to supporters earlier this week, she was accused of plagiarizing defeated Republican candidate François Fillon. And, on the final day of campaigning Friday, she was roundly jeered outside a cathedral in Reims, just a day after she had an egg thrown at her by protesters.
Her deficit in the polls has grown deeper. The final opinion polls Friday showed her trailing by 24 points, with 38 percent support to Macron's 62 percent. Overcoming such a poll deficit would be unprecedented in the 50 years of opinion polling for French presidential elections.
It would also be a much bigger upset than that pulled off by the political figure with whom she has so often been compared, President Donald Trump.
Wading into the election, Trump, who echoes Le Pen's anti-globalization, anti-Islam rhetoric, said last month that the National Front candidate was "strongest on borders, and she's the strongest on what's been going on in France."
Macron, though, has been picking up a string of high-profile endorsements. Since the first round, both Fillon and Hollande have urged the French people to get behind the founder of En Marche! (Onward!). And, on Thursday, he received the formal endorsement of Trump's predecessor in the White House.
In a video message, former President Barack Obama explained his intervention, saying the election is "very important for the future of France and the values that we care so much about." He added that Macron "appeals to people's hopes and not their fears."
Such establishment endorsements might make it easier for Le Pen to paint Macron as an insider at a time when France has emphatically demonstrated its desire for change. Yet Macron, at least on the surface, represents a major divergence from the past.
At age 39, he would become the youngest president in France's history and its youngest head of state since Napoleon. He has never held elected office, and spent just two years in his sole government role before founding his own party last year.
While the focus has been on the outsider nature of Le Pen's campaign, the battle between the two is the first time that the second round of the country's presidential election has not featured a candidate from either of the mainstream parties on the left or right.