Emmanuel Macron Projected To Defeat Marine Le Pen In French Presidential Election
The liberal centrist Emmanuel Macron has defeated the far-right in the French presidential election, according to projections of the results.
An estimate of the results of Sunday's election by the pollster Ipsos France, announced at 8pm local time to cheers by flag-waving supporters gathered in Paris, put Macron's support at about 65 percent of the vote. His opponent, the far-right candidate Marine Le Pen, took 35 percent.
A projection by Kantar France gave Macron 65.5 percent to Le Pen's 34.5 percent.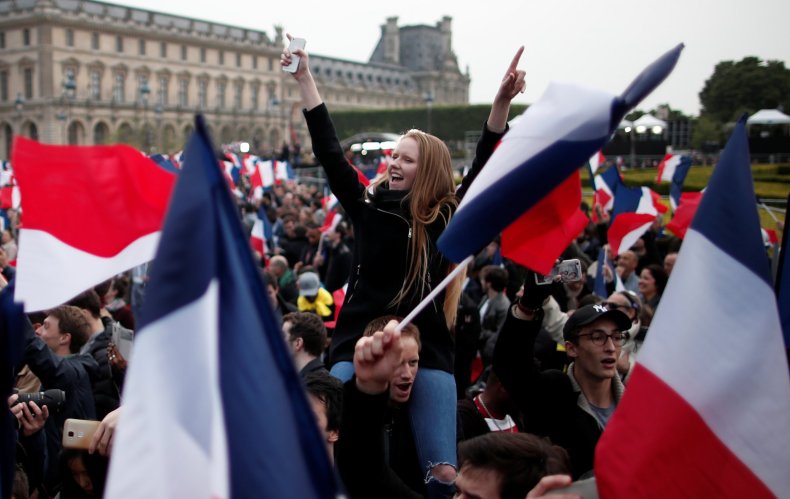 French vote projections are normally reliable, but with polls only just closed it will take hours for a full picture of the actual results to build up.
If borne out, Macron's projected victory will be a remarkable achievement for the 39-year-old, who only founded his party En Marche! (Onwards!) a year ago, and only first held a frontline political office in 2014 when he became Economy Minister.
Speaking after the projection was announced, Macron hailed "a new hopeful and confident chapter" for France, the broadcaster France 24 reported.
But Le Pen's support is also significant. The only other time her National Front party reached the election's second round, in 2002, it took just 18 percent.
Macron, a pro-EU, pro-market liberal, and Le Pen, a Euroskeptic with hardline anti-immigrant views, represented diametrically opposed visions for France.
Speaking after the projections were announced, Le Pen said French politics was now defined by the "division between the patriots and those who are in favour of globalism." She pledged to continue the fight as head of "the first force of opposition" to President Macron, and called on "all patriots" to join her.
And the fight for who controls France is not over. Parliamentary elections on June 11 and 18 will prove crucial; a French president has little power without the support of a strong prime minister in parliament.
Sunday's vote marks the close of a long, heated campaign shaped by the collapse of both of France's mainstream parties and the astonishing rise of Macron. The first round, on April 23, narrowed the race down from 11 to two candidates.
Macron is economically centrist: He wants to cut public spending overall while boosting investment in renewable energy and expanding some welfare programs. On issues like migration into the EU, he favors a co-operative approach, keeping EU states' borders open to each other while strengthening defense of the bloc's external borders.
Le Pen, meanwhile, is an isolationist. She wants to take France out of the euro currency, hold a referendum on its EU membership, and close its borders, drastically slashing legal immigration and cracking down on irregular immigrants too.
The distinction between the two was symbolised by a now-infamous clash at a washing machine factory in northern France on April 27, where Le Pen arrived for a surprise photo-op with workers at the same time as Macron met behind closed doors with senior union officials.
With both the center-left Socialists and the center-right Republicans failing to make the second round runoff for the first time in modern French history, many voters were unenthused by either of the final options on the ballot paper.
An Ipsos estimate released at 7pm local time predicted a 74 percent turnout, which if borne out would be the worst since 1969.
This may have been exacerbated by the failure of the leftist candidate Jean-Luc Melenchon, who was knocked out in the contest's first round with just over 19 percent of the vote, to formally endorse either candidate.
Melenchon faced criticism for not doing all he could to oppose the far-right. Yanis Varoufakis, the former Greek finance minister and an influential figure on the European hard left, wrote in a Guardian article that "the decision of many leftists to maintain an equal distance between Macron and Le Pen is inexcusable."
"The imperative to oppose racism trumps opposition to neoliberal policies," he wrote.