French Fashion Label Vetements Holds Runway Show in a Paris McDonald's
Known for satirizing mass culture, Vetements designer Demna Gvasalia sent models sashaying through a McDonald's on the Champs-Elysees.
Demna Gvasalia, the creative genius behind the French fashion label Vetements, is known for his cheeky use of recognizable brands. But on Thursday, the Georgian fashion designer kicked it up a notch, holding his runway show for Paris Men's Fashion Week at a McDonald's restaurant on the Champs-Elysees.
Gvasalia, 38, thought of everything: Notes for the collections were printed on McDonald's napkins, while attendees squeezed into booths were given milkshakes and Cokes.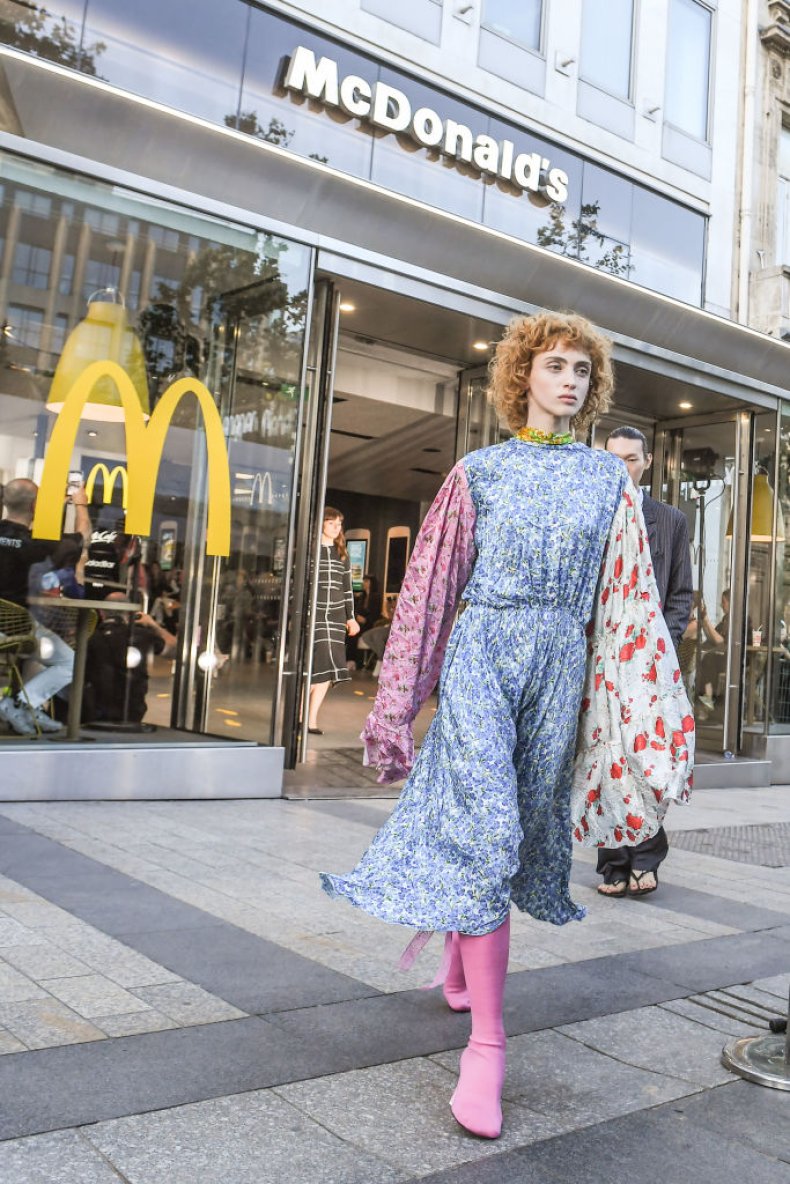 One model wore a modified McDonald's manager's uniform with a nametag that read 'Capitalism!' Another carried a box of french fries.
Vetements referenced other ubiquitous brands in his fall-winter collection, including Heineken, PlayStation, Planet Hollywood and Internet Explorer.
Dazed described some looks as "models in padded overcoats with Norwegian death metal-inspired corpse-painted faces and others wearing paneled bike leathers, muscle vests, and boxy bombers stormed round the runway."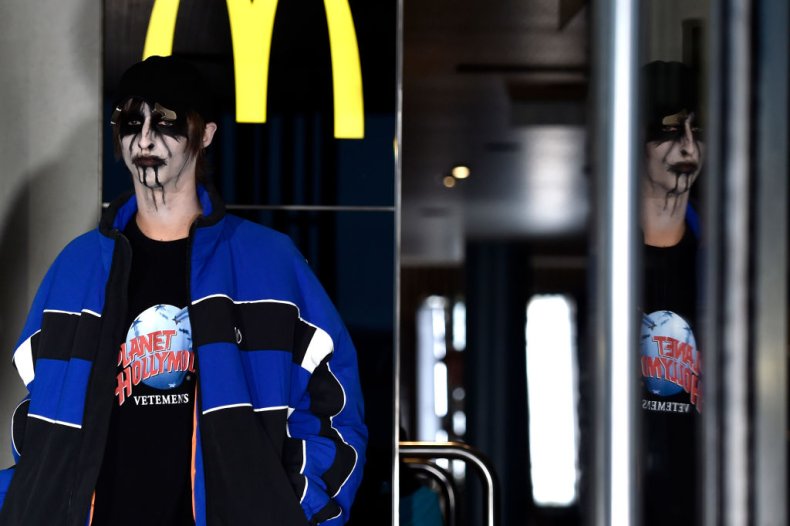 Fashion editor Nico Armara joked on Twitter that Gvasalia "tapp[ed] 4Chan users for Spring/Summer 2020."
"This season, Vetements delves deep into the darkest corners of internet forum communities fueled by fringe political views, sexual confusion, an obsession with anime, a penchant for The Crystal Method, and a refusal to move out of mom's house."
Gvasalia, who also designs for Balenciaga, has been called out for appropriating mass culture—he famously presented a DHL shirt in a 2015 runway show. (The shirt, which retailed for $230, sold out almost instantly)
But he insists repurposing recognizable brands and productsis a tradition that goes back at least as far as Marcel Duchamp and his Readymades.
"It's a big word everyone is throwing around left and right, but nobody really knows where it actually comes from and why," Gvasalia told WWD in February. "It's not [me] who started this... Appropriation didn't start as a concept in fashion with me. I've just maybe modernized it in a way that's understandable for my generation of consumers who I talk to."
Vetements (French for "clothing") was launched by Gvasalia and his brother Guram in 2014, tapping designer friends who had worked at Louis Vuitton, Balenciaga and Maison Margiela.
"What is different about my point of view is pragmatism," Demna told the Guardian in 2018. "The fashion world isn't the real world and my aesthetic is a kind of hyperrealism. I am not interested in trying to live in some kind of dream. I'd be bored to death."