French Gas Tax: Chaos Ensues As 'Yellow Vest Protests' Enter Eighth Day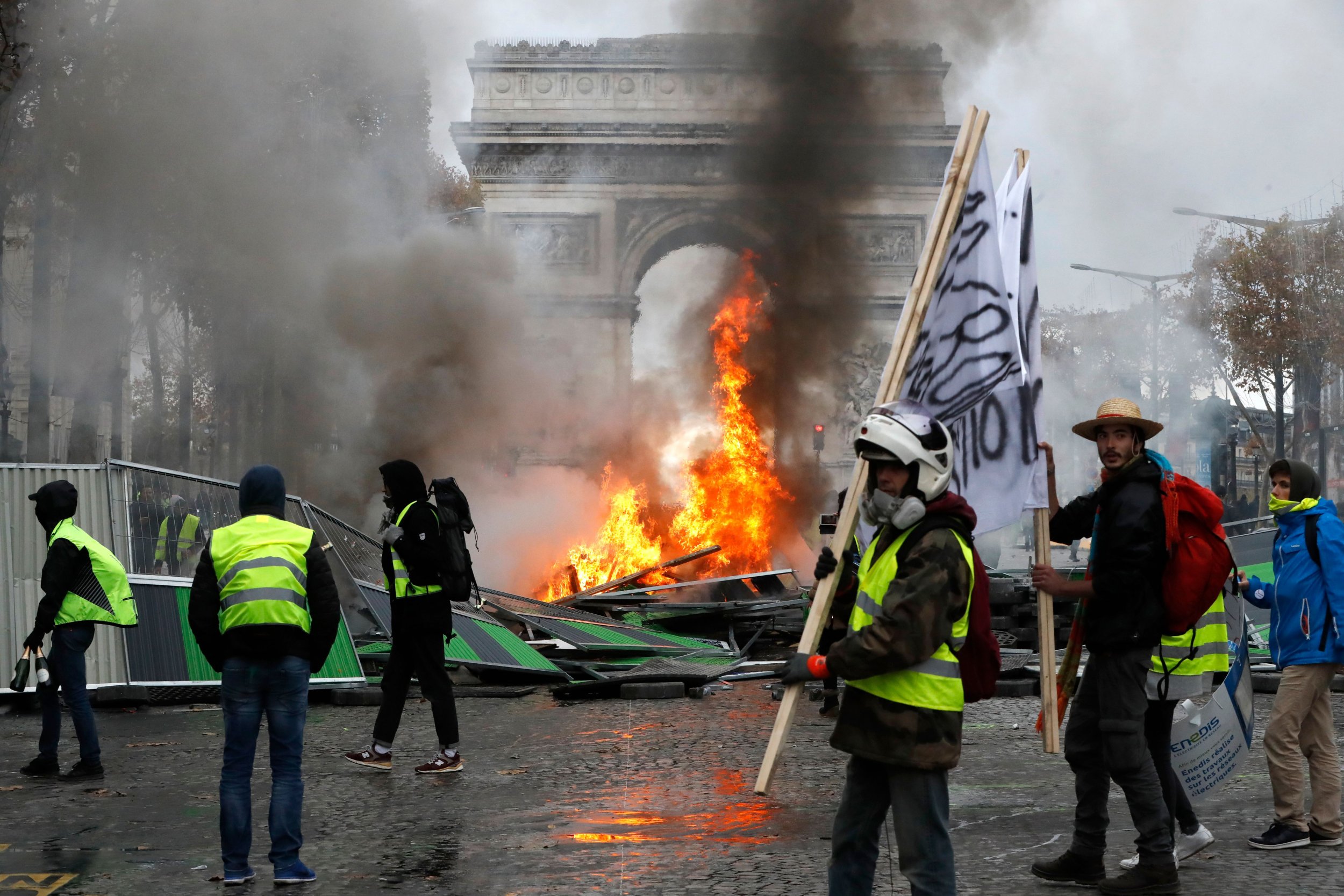 Protests in Paris turned chaotic Saturday as the French gathered in opposition to a recent gas tax and the government of Emmanuel Macron.
French police deployed tear gas and water cannons to disperse around 8,000 of the yellow-vested protesters at the Champs-Elysees after structures were set ablaze and vehicles overturned.
Protesters were heard chanting "Macron, resign" while holding "Death to Taxes" placards.
At least 18 people were arrested and 19 injured during the protests, according to a BBC report.
Demonstrations, referred to as the "yellow vest movement," began on Nov. 8 after nearly 300,000 protestors created 2,000 roadblocks across France.
Aside from tax, demonstrators have also expressed their opposition to the president himself. One activist telling the BBC that President Emmanuel Macron is "out of touch."
"I have a wife, a child and I need to go and look for a job. With fuel prices and taxes, explain to me how I can do this," one protester told the BBC. "It's just too expensive."
Though the protests in Paris turned violent, related demonstrations in cities such as Lille, Lyon and Bordeaux remain relatively peaceful.
It is not clear how these protests started. While most of France's demonstrations are fueled by a particular political party or ideology, it seemed as though the yellow-jacketed protesters are not limited to one group.
But interior Minister Christophe Castaner accused the leader of the far-right National Rally party, Marine Le Pen, of being an inspiration for the yellow vest movement. She later took to Twitter to accuse Castaner of dishonesty.
"I had asked the government why it did not allow them #YellowVests to protest on the Champs-Elysees," Le Pen tweeted. "Today Mr. @CCastaner uses this question to target me. It is shabby and dishonest in the image of the author of this manipulative politician."