French Hero of Jihadi Attack Receives Country's Legion of Honor After Death
The slain policeman who traded himself for a hostage during a shooting attack inspired by the Islamic State militant group (ISIS) was posthumously awarded France's highest honor on Wednesday.
The body of Lieutenant Colonel Arnaud Beltrame, 44, was transported across Paris in a procession on Wednesday morning to Les Invalides military museum, the burial site of Napoleon Bonaparte. His coffin was covered in the French tricolor.
There, President Emmanuel Macron eulogized the police officer, saying that he symbolized the "French spirit of resistance" and would "remain etched in French hearts." He compared the gendarme's actions to French soldiers who fought in World War II.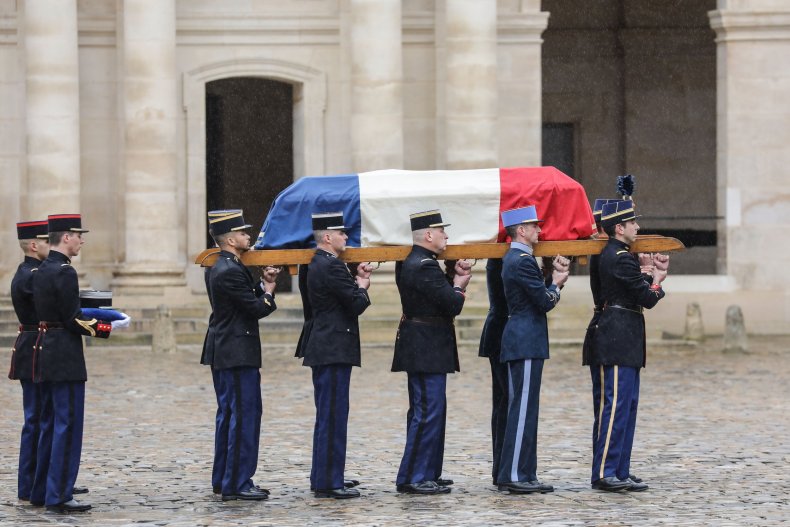 The eulogy was coupled with a minute's silence and his fellow police officers singing La Marseillaise, France's national anthem. Several past French presidents were in attendance in what became a national remembrance.
"To accept to die so the innocent can live: that is the essence of what it means to be a soldier," Macron said. "Others, even many who are brave, would have wavered or hesitated."
Beltrame became a high-profile victim of 25-year-old Radouane Lakdim's shooting rampage, which killed four people on Friday morning in the southern town of Trebes. The Moroccan-French dual national hijacked a car in the medieval city of Carcassonne before launching a supermarket siege in the nearby town, killing a worker and a customer.
Beltrame offered to switch himself for a woman whom Lakdim was holding as a shield. He entered the supermarket unarmed but placed his phone on a table, allowing his fellow officers to have knowledge of Lakdim's words and movements. It was that act of sacrifice that has resulted in a flood of tributes for the officer from French politicians, his colleagues and the wider French population.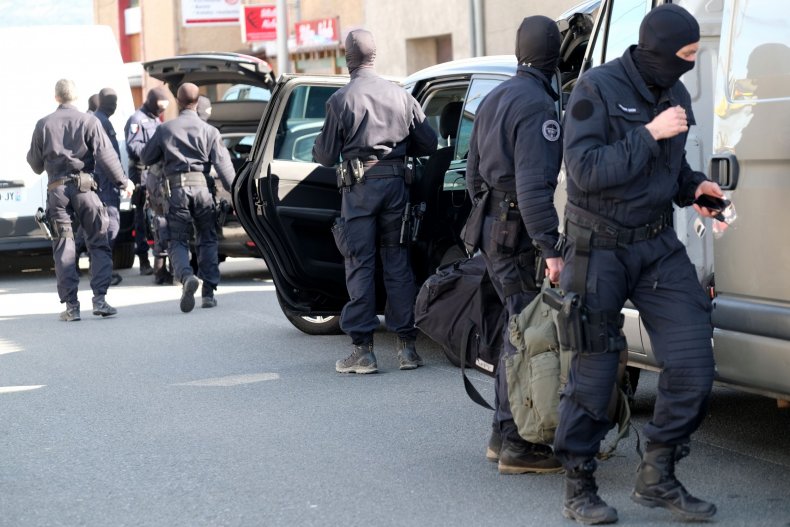 When Lakdim opened fire, police immediately entered the supermarket, shooting and killing Lakdim. Beltrame was shot twice, once in the arm and foot, and had a neck wound caused by a knife. He would die a day later in hospital.
The head of the interior ministry, Gerard Collomb, has confirmed that authorities had reduced the levels of surveillance they had in place on Lakdim, and that he was on a radicalization watch list. But authorities did not appear to believe that Lakdim was willing or capable of launching an imminent attack on French soil. Nor did the attacker appear to desire making the journey to Iraq and Syria, according to the Paris prosecutor Francois Molins.
It is a trip that many French nationals have made in recent years to join radical Islamist groups such as ISIS and Al-Qaeda. Like the profile of other jihadi attackers in Europe, Lakdim had served time in prison and was a petty criminal.
While questions will continue to be asked about how Lakdim was able to evade police detection and carry out his attack, the first since Macron's election and a lifting of a state of emergency, Wednesday's events were focused on remembering the policeman who had given his life for country.
"It's not #MeToo, it's more #NotMe," said Nathalie Goulet, a French senator who once co-chaired the chamber's committee of jihadism, of Beltrame's act of valor. "He will become a Republican legend. He now belongs to all of us. He belongs to French history."