With Emmanuel Macron Set for a Huge Majority, French Politics Has Gone Crazy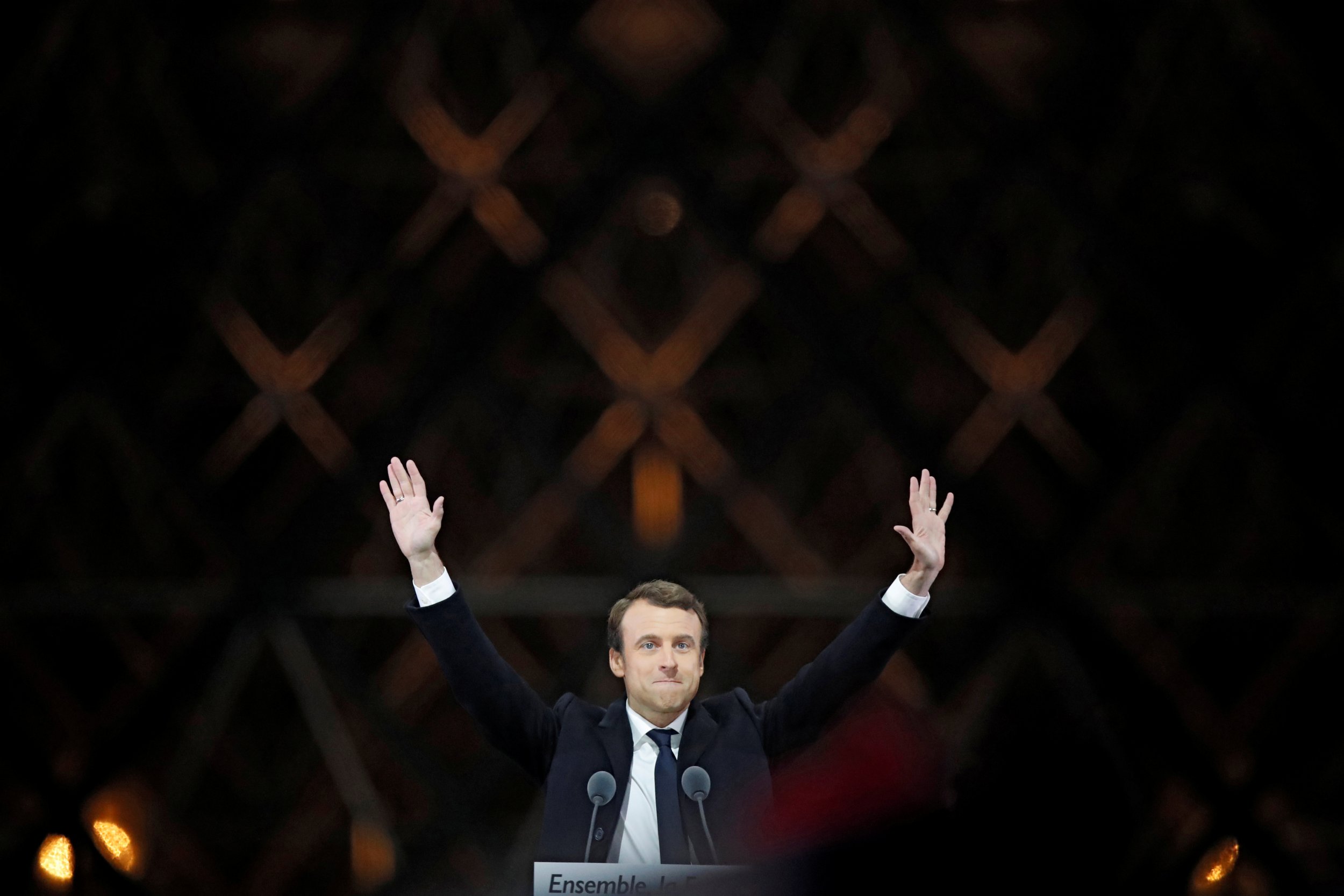 It was Charles de Gaulle, the legendary French general-turned-president, who first said of his homeland: "How can anyone govern a nation that has two hundred and forty-six different kinds of cheese?"
But France's new liberal president Emmanuel Macron is likely to be concerned less with matters fromological, and more with the question of how to govern a party and an administration stitched together from across French politics after a shock victory and subsequent surge in support.
After Macron, a 39-year-old former Economy Minister who began the presidential campaign as an outsider, took France's highest office in May, he cobbled together a government aimed at garnering the broadest possible political support while destabilizing the other parties; it drew from the left, right and center.
Meanwhile, his La République en marche (Republic on the Move) party geared up to fight parliamentary elections. Some were skeptical an organization less than a year old could tackle a national vote so soon. In the event, it aced it; the party took 32 percent of the vote in the first round last Sunday, and could now take over 400 of the National Assembly's 577 seats in the second round this coming Sunday.
But growing such a broad power base so swiftly is not without its complications, as new splits, shifts and feuds have begun to emerge in Paris's political scene.
Among them: the remarkable spectacle of a prime minister campaigning for two parties at once. Edouard Philippe, named as Macron's premier on May 15, comes from the center-right Republican party. His appointment was a deft means of shoring up right-wing support for Macron, who now governs from the center but whose roots are on the center-left.
But Philippe, Le Monde reports, has been dividing his loyalties during the campaign: the paper says the prime minister is campaigning on a "case-by-case" basis. He has stumped for the Republicans' pick for the port town of Le Havre, Maël de Calan, even though a Republic on the Move candidate was also running there. But in the rural region of Essonne, near Paris, he turned out to back Marie Guevenoux, standing for the Republic on the Move.
Elsewhere, there's a noisy feud within Macron's cabinet sparked by the behavior of François Bayrou, the justice minister and leader of Modem, an older centrist party that allied itself with Macron's party during the presidential campaign.
The Paris prosecutor on Friday launched an investigation into Modem's use of European Parliament funding, and the investigations editor of public broadcaster Radio France has said he felt "pressure" when Bayrou called him to complain about the broadcaster's coverage of the probe.
Philippe has slapped down Bayrou for his conduct, saying Tuesday that "when you are a minister, you are not simply a person driven by their passions, or their irritations, or their indignation." On Wednesday, Bayrou spoke to the broadcaster RTL. As well as denying any wrongdoing on the part of his party, he defended his right to speak freely as a minister: "I am convinced that a political team must have freedom of speech," he said.
It's not just Macron who's finding the new political scene a little complex. The center-left Socialist party, which was the largest party in Parliament in 2012 and whose candidate, Fran ç ois Hollande, served as president from 2012-2017, has exploded into left-right factional infighting.
The party totally collapsed in the parliamentary elections' first round. It took about 7 percent of the vote, and is projected to win 30-40 seats this coming Sunday; a nosedive from the 280 it won last time.
Everyone in the Socialist party is looking for someone to blame, and a battle between two party big beasts summarizes the tensions. On the left-hand side, you have Beno î t Hamon, the party's unsuccessful candidate for the presidency, whose hard-left platform included a plan to tax robot workers and preparations for a universal basic income. Hamon is now backing a candidate for the leftist France Unchained party over Manuel Valls, a Socialist and once a rival for the party's presidential nomination, in the Essonne region.
At least Valls, a moderate who has slammed Hamon's "extreme left" campaign, can count on some support… from a Republican, Serge Dassault, who called on voters to back Valls over the leftist.
Meanwhile, readers might remember Marine Le Pen, the far-right populist who threatened to take the presidency. Her party has been crushed in the parliamentary elections and is projected to win just one to five seats on Sunday, meaning it would be unable to form a parliamentary group. Le Pen and her deputy Florian Philippot chose to make opposition to the euro currency a key plank of the party's programme. But Nicolas Bay, the party's campaign director, said this week that a drive to leave the European single currency "is among the issues that are very dissuasive for part of our electorate."
Nothing is yet unmanageable for France's new president. But if Macron secures his majority, it could be that some of his biggest battles are internal.