French Nudists Threaten To 'Bare All' at Pool In Standoff With Burkini Bathers
After Muslim women defied a ban on the modest swimsuits, a secular group called on members to come to the pool naked.
After a group of Muslim women defied a ban on swimming in burkinis at a public pool, locals have threatened to show up naked.

Public swimming pools in Grenoble, France—where the weather has topped 104 degrees—require women to wear one-piece swimsuits "close to the body," ostensibly for hygiene and security purposes. (Men must wear Speedo-type briefs rather than trunks or board shorts.)
But last month, a group of about 17 women came to a pool in burkinis and filmed themselves bathing, "to defend freedom of religion." "Operation Burkini," as the action has been dubbed, was launched by members of the group Citizen Alliance of Grenoble.
According to local reports, the women were cheered by onlookers.
But after their dip, they were fined €35 (about $40) each and banned from the pool for a month.
Undeterred, they've planned another burkini "invasion" for this Sunday, labeling themselves "the Muslim Rosa Parks" of France for their efforts to fight discrimination in public accommodation.
In response, some locals have planned a rival action—they're calling on pool-goers to show up naked. On the Facebook group "Everyone Naked," more than 230 people have said they'll come to the pool au naturel, with hundreds more expressing interest.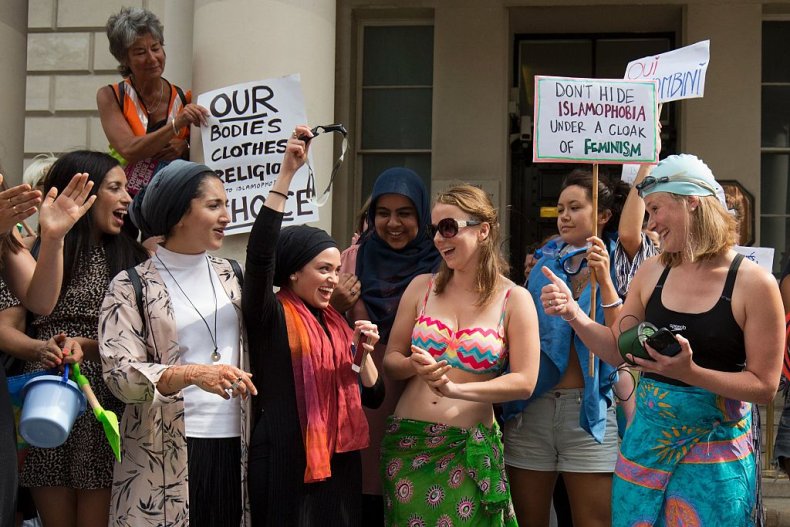 Advocates say the ban has nothing to do with hygiene and is simply thinly veiled Islamophobia.
"Republican principles should protect their freedom of conscience: a public service must be open to all," Adrien Roux, Citizen Alliance's national head, told Le Figaro. "Some think these are Islamists who want to wreak havoc in France. They are just asking for the rules to take into account diversity."
But opponents claim its a part of an ongoing attempt to desecularize France.
Amine El-Khatmi of the leftist pro-secular group Republican Spring, warned, "Next time, it will be: 'We want to book the whole pool because we can't bathe with others.'"
"These are not poor Muslim mums wilting in the heat," he added, "but political militants at work." El-Khatmi insists that if men have to wear Speedos, women should likewise have to stick to close-fitting one-piece suits.
Amid the controversy, the two public pools in town—Jean Bron and Les Duaphins de Grenoble—closed on Wednesday and Thursday, as lifeguards said they couldn't focus on their life-saving work amid protests and counterprotests.
"We are working towards a positive solution" to the problem, a representative from Grenoble's city hall insisted. The city has made it clear, however, that lifting the burkini ban won't be a part of that solution.
The Koran calls on women to observe modesty, or haya, in dress. The burkini was originally designed by Australian designer Aheda Zanetti to cover the entire body except the face, the hands and feet, while remaining light enough to swim in.
Since their introduction, burkinis have started to appear in offerings from mainstream designers: Cynthia Rowley designed a burkini worn by model-activist Halima Aden in the 2019 Sports Illustrated swimsuit issue.
In France, which has Europe's largest Muslim population, a number of towns began prohibiting burkinis in 2016, claiming they were security threats.
Then-prime minister Manuel Valls claimed bare breasts were more representative of France than a headscarf: Marianne, the national personification of the Republic, "has a naked breast because she is feeding the people!" he argued. "She is not veiled, because she is free! That is the republic!"