Nun Loses Spot in Retirement Home for Refusing To Stop Wearing Her Habit
A French nun was forced to resign a spot in a public retirement home, after being told she would not be allowed to wear her habit and headscarf as a resident. Radio station France Bleu Besançon reported that after sitting on the waiting list for months, the sister was informed that a room was available for her, but she could not openly express her religion, save for a discreet cross.
The 70-year-old nun planned to retire to her hometown of Vesoul, France in October 2018. After spending the whole of her adult life in a convent, the sister had applied for an apartment with the Municipal Center for Social Action of Vesoul (CCAS). The complex that she'd applied to would provide her with an apartment and a shared dining space.
The letter she received reflected France's strict secular policies. "Within our homes, our residents may have preferences and beliefs and these should be respected... All ostentatious religious symbols cannot be allowed in order to guarantee everyone's tranquility," it said. Having worn the habit for most of her life, the nun did not wish to live a life without it.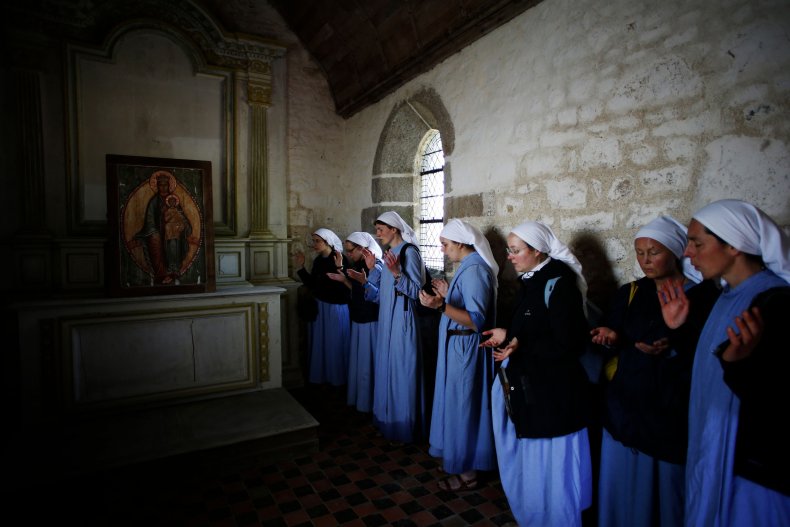 The French government do have strict laws regarding religious symbols in public areas, specifically against civil servants and public employees expressing religious affliations or "proselytizing." But the national advisory committee on secularism, noted that people are still allowed to sport religious symbols. "In the public area, in the sense of a common space (such as streets, public gardens, beaches, etc.), a person is free to wear religious signs, like any other sign expressing a person's convictions," it noted in a statement.
Along with its limitations on religious symbolism, French law also prevents individuals from covering their faces, which has caused controversy. Despite the government's insistence that the law stems from security concerns and not religious discrimination, much of the debate over both laws have centered over women's right to dress in conservative Muslim garb.
A law passed in May banned parents who wear "conspicuous religious symbols" from attending class trips with their children, a move that the Republicans, the center-right political party behind the bill, said would exclude mothers who wear hijabs from chaperoning. In October, a regional official in Dijon rekindled debate on the issue when they screamed at a Muslim woman accompanying schoolchildren to remove her headscarf "in the name of our secular principles," causing at least one child present to burst into tears, according to the Associated Press.
In a parish newsletter published Wednesday, Father Florent Belin pointed to what he saw as the media's unfair attention to paid to Muslims impacted by law, while "our nun, she had to figure out how to find an apartment on her own." He defended the right to wear the habit as in keeping with secular values. "What is secularism? It's giving everyone the opportunity to live their faith without hurting anyone," he wrote.
The parish managed to find her an apartment through an agency, but "she who spent her life in community finds herself there alone," newspaper Le Parisien reported.