Rafael Nadal vs. Roger Federer French Open Semifinal: What the Experts Say
One of fiercest rivalries in modern tennis resumes on Friday, when Roger Federer faces Rafael Nadal in the semifinal of the French Open.
The duo have defined the sport in the last 15 years, winning a combined 37 Grand Slam tournaments between them since 2004.
Nadal and Federer have dropped just one set each so far in the tournament, the former against David Goffin in the third round and the latter against Stan Wawrinka in the quarterfinals.
The Spaniard remains the heavy favorite going into the game on Friday as he bids for an unprecedented 12th French Open title.
According to Oddschecker, Nadal is 1/7 to reach the final, while Federer, who has returned to the French Open for the first time in four years, is 6/1.
Odd as it might seem to see a 20-time Grand Slam winner as the underdog, it is perfectly plausible in these circumstances. Nadal still looks unbeatable on clay and Federer has lost each of the five meetings with the Spaniard at the French open.
All bar the first of those came in the final, with Federer taking a set in 2006 and 2007 before winning just four games in 2008. Friday will be the 39th meeting of the two and Nadal holds the upper hand with 23 wins to Federer's 15. Of those 15, just two have come on clay.
There is little to suggest the Swiss can pull off a major upset, considering Nadal has lost just twice in 93 matches at the Roland Garros.
Federer, however, remains optimistic. "Like against any player, there is always a chance," the 37-year-old said in a press conference on Thursday. "Otherwise, nobody will be in the stadium to watch because everybody already knows the result in advance."
While Federer has put on a brave face, experts don't expect him to get the better of his old foe.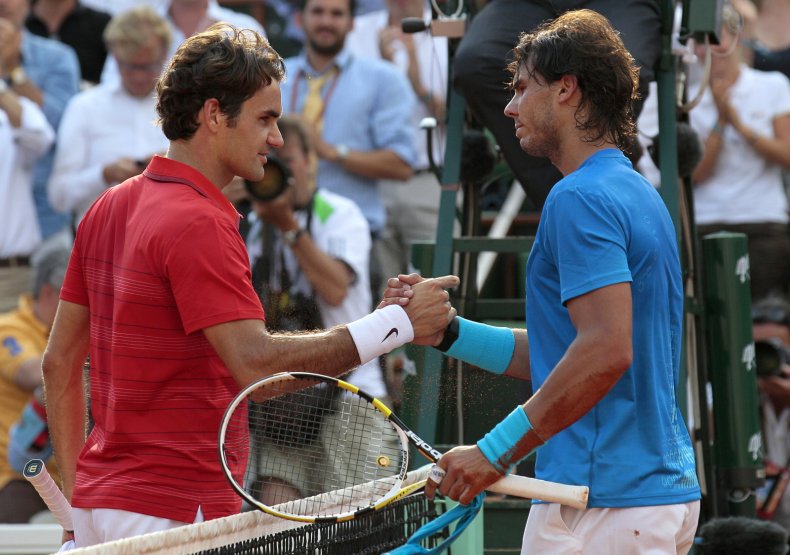 Kevin Mitchell—The Guardian
Writing in The Guardian, Kevin Mitchell suggested that while Nadal's reign in Paris was unlikely to last much longer, the odds were stacked against Federer particularly after he played a tough quarterfinal against Wawrinka.
"It is a match loaded with possibilities. Every time these grand antagonists meet, and it is not so often latterly, the occasion has the air of a farewell. Nadal has not beaten Federer in five years but then Federer has not come to Roland Garros since 2015. Back in the Chatrier fortress, he will wonder if his legs—stretched in a tough quarter-final against Stan Wawrinka—can carry him through a long fight with Nadal."
John McEnroe—ESPN TV analyst and seven time Grand Slam winner
TV analyst and seven time Grand Slam winner John McEnroe said it "would be a major accomplishment" for Federer to beat Nadal, as he might struggle to be as aggressive as he is on other surfaces.
"Federer is going to need to keep the points short, go for his shots and move forward a lot—and it's hard when you're slipping and sliding on clay and you're playing the master of all masters on the surface in Nadal. At Federer's age it would be a major accomplishment if he can win this match, even for him."
Christopher Clarey—The New York Times
In The New York Times, Christopher Clarey argued that while Federer has beaten Nadal in their last five meetings—all on hard surfaces—the Spaniard's forehand retained the ability to hurt the Swiss.
"The odds and reason are against Federer winning, even if he has beaten Nadal in their last five matches, all on hard courts. Nadal's high-kicking left-handed forehand can still wear down Federer's one-handed backhand like nothing else on clay or earth."
Alex Bysouth—BBC Sport
The BBC's Alex Bysouth also pointed to Federer's recent record against his rival, suggesting he could draw some confidence in the fact he's undefeated against Nadal in five years.
"Federer can take confidence from the fact he has overcome Nadal in their past five meetings, though he has only beaten the Spaniard twice in 15 attempts on clay and never at Roland Garros."
Peter Bodo—ESPN tennis reporter
However, ESPN reporter Peter Bodo suggested the recent record would only motivate Nadal even more.
"Psychological edge to Federer? I'd say it's more a case of Nadal relishing the opportunity to finally extract a little payback. And who could blame him? It's understandable that Federer made himself scarce on clay in the past few years. One of the great lessons he took out of his six-month hiatus following minor knee surgery in 2016 is you can't play them all—at least not if you hope to win a good number of them."