French Philosopher Elisabeth Badinter Enters The Mommy Wars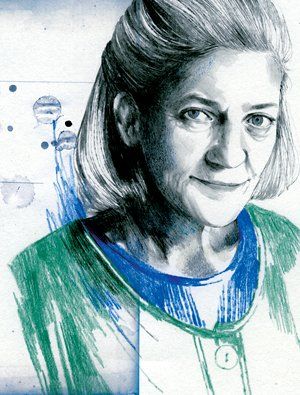 Feminist iconoclast Elisabeth Badinter, 68, is a public intellectual in the French design. Her au naturel look—cashmere sweaters and a clipped-back, now silvery mane—has been her uniform for over 30 years. She is a household name in France, a philosopher in a land that anoints its prominent thinkers thusly. In Paris, believe it or not, it is an afterthought that she is also a billionaire.
One of France's richest women, Badinter chairs the supervisory board of Publicis, the world's third-largest communications firm, founded by her father, the late pioneering adman Marcel Bleustein-Blanchet. Her husband of 46 years, Robert, a former Socialist justice minister, famously led the fight to abolish France's death penalty in 1981.
But Badinter, author of more than 20 books—social histories, biographies, feminist treatises—and a longtime philosophy lecturer at the prestigious École Polytechnique, is best known, acclaimed or derided, for her own public stances. She was named France's most influential intellectual in a 2010 poll shortly after publishing The Conflict: How Modern Motherhood Undermines the Status of Women. A European bestseller, the book has earned fans and blistering critiques, not least in the U.S., where it was released in April.
In fact, on the bitter literary battlefield of the so-called mommy wars, Badinter is an elder stateswoman. Her debut 1980 salvo, Mother Love: Myth and Reality, spurned the very existence of a maternal instinct.
A generation on, Badinter freely concedes she was a "mediocre" mother to her own daughter and two sons. The Conflict blasts the return to all things natural that Badinter argues is rolling back hard-won freedoms for women. She thrashes "ayatollahs of breast-feeding" who she says magnify "the tyranny of maternal duty." She bashes cloth-diaper zealots, cosleeping, and epidural-free deliveries. She trashes the dogma of maternal perfection, arguing it ultimately deters would-be mothers. Instead, Badinter suggests fostering "part-time motherhood" is key to boosting fertility. An 18th-century-history buff, she credits a heritage of nonchalant mothers for France's curiously high birthrate today.
Mommy-warrior ripostes were cutting. A French pediatrician called Badinter an "archeo-feminist," out of step with the times. U.S. attachment parents fumed that she unjustly pit motherhood against feminism. Some critics even accused Badinter of shilling for the baby-formula industry, citing Publicis clients like Nestlé, Similac, and Enfamil.
But that's a weak gotcha considering her record. In France, over decades, Badinter has campaigned against headscarves in schools, gender quotas in Parliament, ethnic statistics, criminalizing prostitution, and censoring Muhammad cartoons. She's stumped for surrogacy and six-month maternity leave. So prominent is her voice on feminist issues that she was chided for her silence last year after Dominique Strauss-Kahn, whose wife is a close friend, was arrested in New York. Naturally, when Badinter testified before a parliamentary inquiry to ban the burqa in France in 2009, no one tut-tutted about Publicis writing ad copy for Levi's, Club Med, or Wonderbra.