French Prime Minister Suggests Trump's Syria Policy Lacks 'Coherence,' Vows to Stick With Kurdish Fighters
French Prime Minister Edouard Philippe criticized President Donald Trump's decision to withdraw U.S. troops from northern Syria, suggesting the White House's policy was inconsistent and lacked "coherence."
"The fight against Daesh [an Arabic acronym for the Islamic State militant group, or ISIS] is not over and continues alongside the [Kurdish-led] Syrian Democratic Forces," Philippe told the National Assembly on Tuesday. He spoke after some opposition lawmakers criticized his government for not doing enough to protect the Kurds from Turkey's advance, Reuters reported.
"Saying things with constancy and coherence is preferable to reacting to obvious hesitations from certain players, notably our American friends," the French leader added, pointing to key policy differences between his nation and the Trump administration regarding Syria.
France has been at odds with Trump's repeated attempts to withdraw U.S. forces from Syria for some time. French President Emmanuel Macron claimed last year that he had successfully convinced his American counterpart to change his mind about an announced withdrawal. He also criticized Trump after a similar decision last December.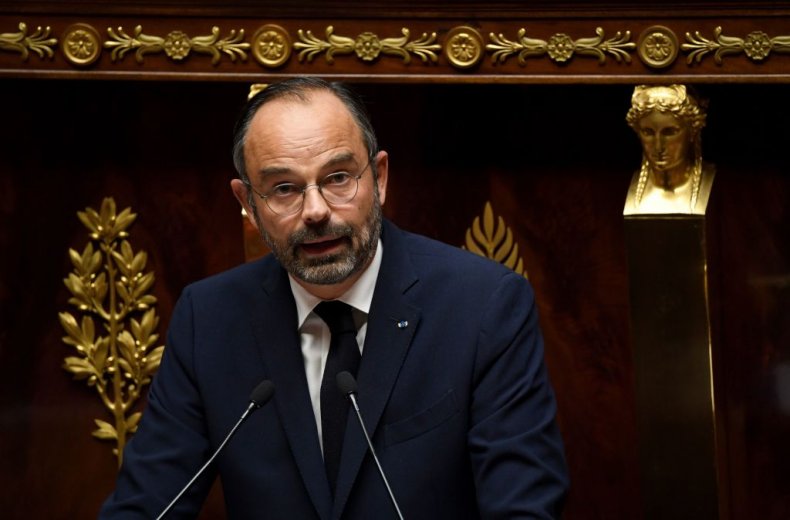 "We are going to be extremely careful that this announced disengagement from the United States and a possible offensive by Turkey does not create a dangerous [move] that diverts from the goal we all pursue—the fight against the Islamic State—which is dangerous for the local population," Minister of Armed Forces Florence Parly told French reporters after Trump's latest decision, according to France 24. She warned that the coalition fighting ISIS must be careful that the U.S. decision does not weaken its position.
France has faced a series of domestic attacks claimed by ISIS since the group rose to prominence in Syria and Iraq. In addition, many French citizens have been radicalized and have traveled to the Middle East to fight with the militant group. While France's primary goal has been to fight against ISIS in Syria, it has also opposed the Syrian regime of President Bashar al-Assad while backing the Syrian Democratic Forces. France is also allied with Turkey through NATO, although the two nations' interests in the region have often appeared to clash, as is the case with the U.S.
Trump's controversial decision to withdraw troops from the northern Syrian region and allow Turkish forces to move in has faced significant pushback from Republican and Democratic lawmakers. Even some typically loyal allies of the president have been highly critical of the move, warning that the pullback would harm the Kurds and embolden ISIS, as well as Russia and Iran. The U.S. has backed the Kurds in Syria. Russia and Iran have also fought against ISIS while simultaneously bolstering Assad's forces.
The president has dismissed all the criticism, insisting that he was assured Turkey would not harm the Kurds. He also warned via Twitter that he would "totally destroy and obliterate" the Turkish economy if the Turks act aggressively. However, Turkey appears to have disregarded Trump's threat, as it is preparing an offensive that would remove the Syrian Democratic Forces from their position near its border.
"Unfortunately, Turkey has chosen to act unilaterally. As a result, we have moved U.S. forces in northern Syria out of the path of potential Turkish incursion to ensure their safety," a spokesperson for the Pentagon said Tuesday afternoon.
Meanwhile, Trump announced earlier in the day that he would be hosting Turkish President Recep Tayyip Erdogan at the White House next month. "So many people conveniently forget that Turkey is a big trading partner of the United States," he tweeted.