French Officers Wear Pajamas To Protest Working Conditions in Paris
Three French police officers wore pajamas and laid in a bed in front of a Paris police station on Tuesday to protest being overworked, as more than 100 colleagues joined the manifestation.
The officers chanted that they deserve social rights, calling out the "bad state" of the French police department. The pajama-clad policemen also wore nightcaps as they laid in a bed, surrounded by signs that said "Policemen have the right to a private life," demanding changes to their working conditions, Le Figaro reported.
Demonstrators complained about unpaid overtime, regularly being called into work during their off days and being forced to work long hours for 10-day stretches at a time. Rocco Contento, a member of a police union, said that he and his colleagues have had enough.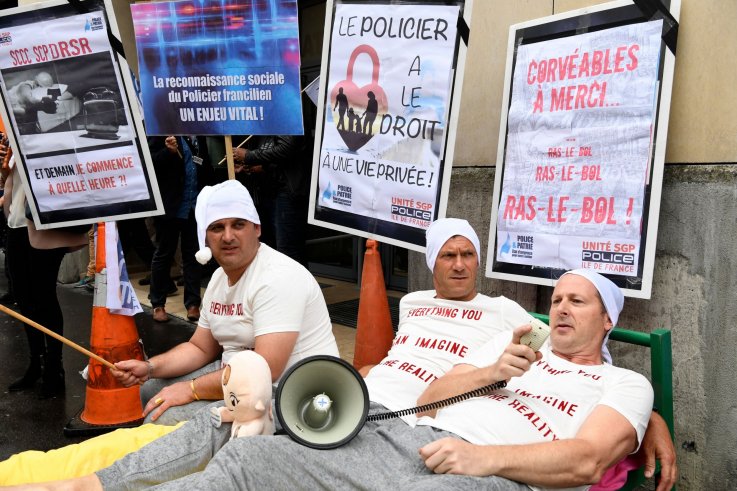 "We must address the discomfort of the police," Contento said, according to L'express. He explained that the department is always asking more of him and his colleagues, and it does not contribute to security.
"We neglect the human," the officer added, criticizing changes made under the leadership of France's Interior Minister Gérard Collomb.
France has faced a wave of protests in recent days, as workers' unions across the country have organized demonstrations and strikes in opposition to the new economic policies of President Emmanuel Macron. As a result, police have been called on to work overtime to quell the protests, which sometimes turn violent. Collomb criticized demonstrators on Saturday, drawing further backlash.
French police are tired of the extra work, also citing the constant threat of terrorism as affecting their working schedule. Just over two weeks ago, a knife-wielding attacker killed one person and injured several others in Paris before being shot dead by police. Islamic State later claimed the attack.
With tensions and fears running high, police officers feel overworked and unsupported.
"You finish your final day, you think you're resting the next day and they call you back to work," said a man who has been a police officer for 27 years. "There is nothing to say, you can't do anything, only comply."
Officer Contento also warned that the long hours and poor conditions were taking their toll on police families. He said that if you have problems at home and at work, you have an extreme situation.
French Officers Wear Pajamas To Protest Working Conditions in Paris | World