French President Emmanuel Macron Calls Emergency Meeting as Rioting in Paris Continues
French President Emmanuel Macron held an emergency meeting with senior officials after Paris continued to experience overwhelming unrest this weekend.
On Saturday, thousands of masked protesters got into altercations with police, set fires to cars, banks and houses and burned makeshift barricades to demonstrate against fuel tax rises and other economic issues. It was the worst unrest in a decade, according to The Guardian.
Following the looting of shops, the smashing of windows and calls for Macron to resign, the French president met with members of his government when he returned from the G20 summit in Argentina. After the meeting, he asked his interior minister, Christophe Castaner, to prepare security forces for future protests, according to Reuters.
Macron also asked Prime Minister Édouard Philippe to hold talks with political party leaders and some of the people who represent the protesters.
"I am not confusing the rioters with citizens who want to convey a message," Macron previously said. "I sympathize with my fellow citizens, but I will not give in to violence."
Ahead of the meeting, Macron visited the Arc de Triomphe, a world-renowned monument in the heart of the city. During Saturday's clashes, protesters wrote "Macron resign" at the Arc de Triomphe and the words, "the yellow vests will triumph" in French.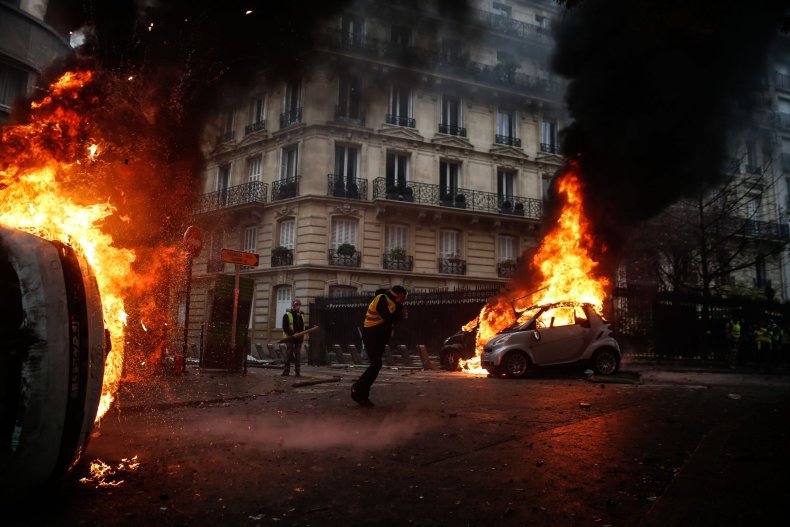 The yellow vest protests have been going on for three straight weekends, beginning on November 17. Demonstrations were dubbed the "yellow vest" protests over the roadside safety vests worn by the protesters. What began as a protest over fuel tax hikes turned into an overall protest of the increasing cost of living in and around Paris.
"It's difficult to reach the end of the month. People work and pay a lot of taxes and we are fed up," Rabah Mendez, a protester who marched peacefully on Saturday in Paris, told PBS.
Paul Marra, a "Yellow Vest" activist in Marseille, a city in the south of France, told France 24 that he condemned the violence that broke out, but called it "inevitable." Marra also shifted the blame to the government.
"The violence started from the top," Marra said. "The biggest thug is the state through its inaction."
French police responded to the rioting with tear gas and water cannons and during the unrest, 133 people were injured and 412 were arrested, according to PBS. Of the 133 people who were injured, 23 of those were police officers. On Sunday, Macron also met with police officers and firefighters near the Champs Elysee boulevard, a popular shopping spot.
"The violence is increasing at an exponential rate," Claude, a resident in the affluent 16th arrondissement, told Reuters. "The state is losing control, it is scary. They cannot let this happen. Maybe the army should intervene."
While Macron is open to engaging in dialogue, Government spokesman Benjamin Griveaux said the president would not change course on his policy positions.