French President Macron's Push for Ukraine-Russia Talks Gets Mixed Reviews
Earlier today, in a speech delivered at a NATO military base in Romania, French President Emmanuel Macron reiterated his position that a negotiated settlement could be the best available solution to the ongoing war between Russia and Ukraine.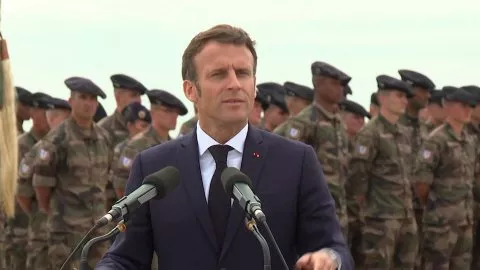 "At some point, when we will have done our maximum to help Ukraine resist — when, as is my wish, it will have won and the firing has ceased — we will have to negotiate," Macron said, as reported in The New York Times.
"The president of Ukraine and its leaders will have to negotiate with Russia," he added, "and we Europeans will be around that table, bringing security guarantees."
Macron's comments were quickly noted, and drew a mixed reaction.
"Emmanuel Macron is pushing Ukraine into negotiations with the occupiers," online outlet Unian wrote.
But Pierre Morcos, a visiting fellow at the Center for Strategic and International Studies, offered a more generous interpretation of the French president's position.
"First of all, President Macron reiterated that the French position remains the same one it has maintained since the beginning of the conflict: sanctions against Russia, and as much military support for Ukraine as possible," Morcos told Newsweek.
"The aim is to help Ukraine win a military victory, but even in that case, outside countries would still have a role to play in the settlement that followed," he added. "Even a Ukrainian victory would lead to discussions over the ultimate terms."
However, as Russia entrenches its battlefield positions in southern and eastern Ukraine, Kyiv might also find it beneficial to retain the option to negotiate an agreement in the event that the conflict transforms into a costly stalemate.
"The priority is on the battlefield right now, but there is still the understanding that negotiations will need to resume at some point," Morcos said. "Putin has refused to meet directly with Zelensky, and so countries like France can help facilitate discussions while still keeping in mind that Ukraine itself is going to decide on the substance of any potential agreement."
In the event that battlefield circumstances ever do turn against Ukraine severely enough for the Kyiv government to seek a negotiated end to the bloodshed, Morcos said it will be beneficial for them to have a cadre of European partners on their side.
"If Ukraine cannot win a clear military victory, there will be a new demarcation," he said, "and in that case Ukraine will need outside guarantees in order to protect it from a repeat invasion from Russia."
"We know that Russia has larger goals," Morcos added, "and clear signs of support from outside powers can serve as a necessary obstacle to those Russian ambitions."
{{#isDisplay}} {{/isDisplay}}