French Presidential Election First Round Results: What You Need To Know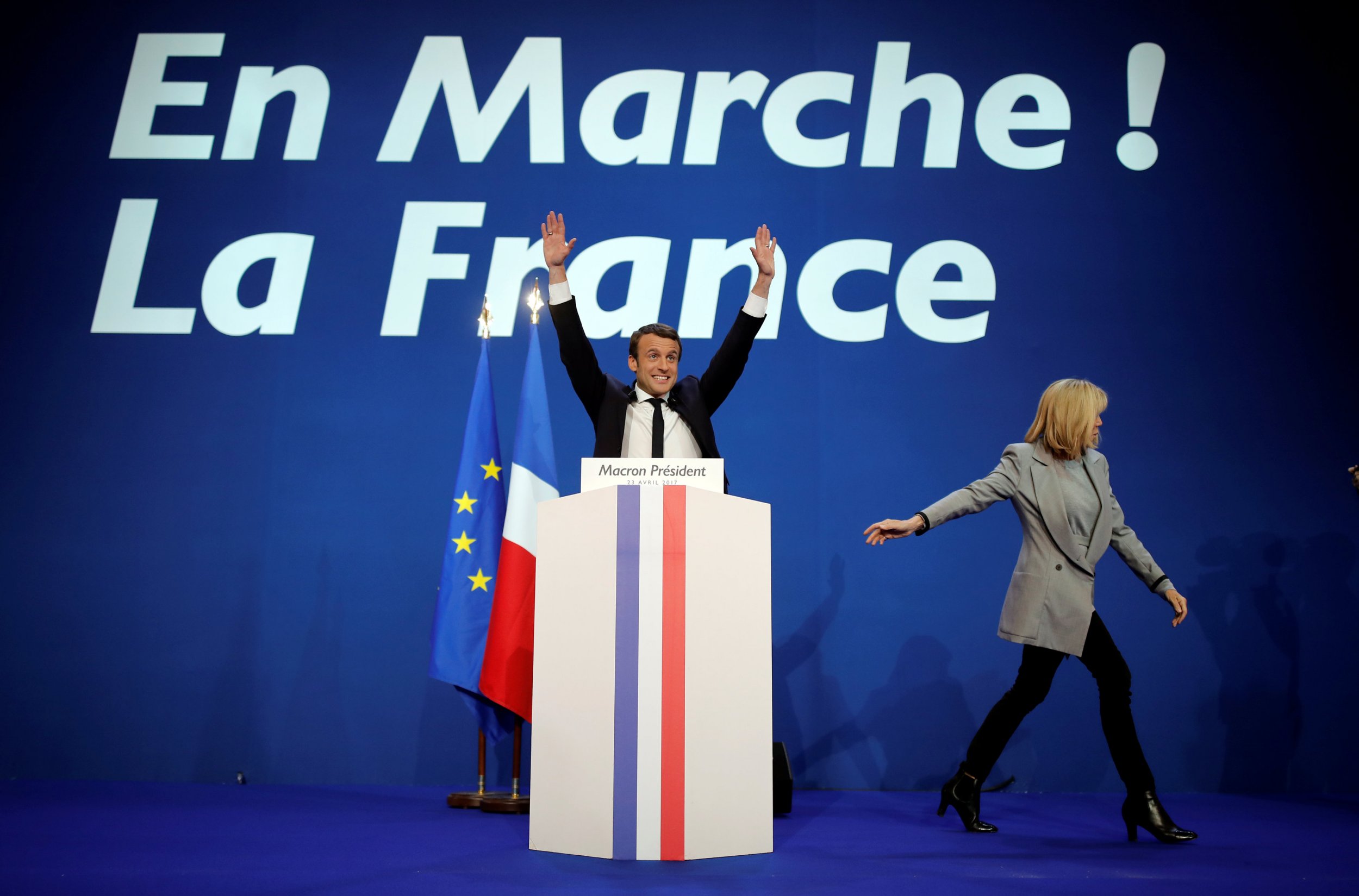 Independent centrist Emmanuel Macron and far-right National Front candidate Marine Le Pen have won the first round of the French presidential election.
The race has been hard fought and extremely close. But with 99 percent of local authorities counted, partial results Sunday showed Macron in the lead with nearly 24 percent of the vote and le Pen behind him with nearly 22 percent.
Now, the contest rolls onto its second round, set for May 7, when Macron and Le Pen will face off against each other in a head-to-head fight where the winner must secure more than 50 percent support.
Read more: Emmanuel Macron and Marine Le Pen are through to the final runoff in French elections
Le Pen was closely followed by center-right Republican candidate Francois Fillon, on about 20 percent, and just behind him, Jean-Luc Melenchon. The center-left Socialist Party candidate Benoit Hamon trailed on just over 6 percent.
Here's four things we've learned from the first round contest.
Insiders vs. outsiders
Both Macron and his political movement are young—the 39-year-old launched En Marche! (Onwards!) just one year ago. Nobody who calls themselves "beyond right and left" has ever come near the presidency in modern France before, and during the first round Macron looked new and shiny compared to the mainstream center-left Socialists and center-right Republicans.
But Sunday's result turned him into the establishment candidate. As soon as pollsters released projections at 8 p.m. local time, mainstream politicians rushed to endorse Macron against Le Pen, including his center-right opponent François Fillon and the Socialist mayor of Paris, Anne Hidalgo.
Le Pen was quick to highlight this: In a speech to supporters on Sunday evening, she said she offered "a true choice, a new alternative, a basic change," against Macron, whom she called "heir to [unpopular incumbent President] Francois Hollande and to all his horrible fiascos."
Macron needs to win over mainstream voters, so he will, to an extent, welcome the backing of other parties. But he also needs to make sure left-wingers and the young come out to back him. He'll need to ensure that the backing of insiders doesn't make him less exciting.
Out with the old
The election's first round has revealed a collapse in support for the mainstream center-right and center-left parties. The result marks the first time under France's current political system that neither reached the second round of the vote.
The Socialist Party chose Benoît Hamon from the far left of the party as its candidate, deepening internal divisions; many moderate Socialists, including the former Prime Minister Manuel Valls, chose to back Macron over Hamon. Its unpopular spell in government has likely harmed the party too: Hamon was roundly beaten by the independent leftist Jean-Luc Mélenchon, who came without party baggage.
Read more: Where French presidential hopeful Emmanuel Macron's real struggle lies
The results of legislative elections in June will be an important indicator of the Republicans' health. Its candidate François Fillon spent much of the campaign mired in scandal over allegations that he misused public funds to pay his wife and children—charges he denies. It may be that the party more widely still performs well.
A divided country
The choice facing France could hardly be more stark: The two top candidates represent completely opposing worldviews. Former British Prime Minister Tony Blair has said the new political divide in the West is "open versus closed" rather than "left versus right." Macron and Le Pen's success adds weight to that claim.
The question after May 7 will be whether a proudly internationalist liberal can win over the committed supporters of an ultra-nationalist—or vice versa—and succeed in uniting the country.
The real fight
Both Le Pen and Macron have a big problem. The French president can only govern with a prime minister, and a prime minister has to command the support of a majority of lawmakers in France's National Assembly, the lower chamber of parliament.
But neither the National Front, which has just two members in the national assembly, nor Macron's En Marche! movement, which has none, has a strong bloc of lawmakers.That means the legislative elections, set for June 11 and 18, will be crucial.
Macron has insisted he can secure an En Marche! majority, pledging to recruit new candidates from all walks of life—not just professional politics—who will fulfil French voters' desire for change. But while in the presidential vote he has taken support off the unpopular Fillon, in the parliamentary election, Republicans voters may stick with their normal party.
Le Pen, too, insists she can sweep the National Front into France's National Assembly. But the party is beset by divisions, and not all its candidates possess her poise and media savvy.
Both Macron and Le Pen market themselves as radical reformers. But without the support of their own prime minister, they could end up even more powerless than the mainstream parties French voters have so roundly rejected.