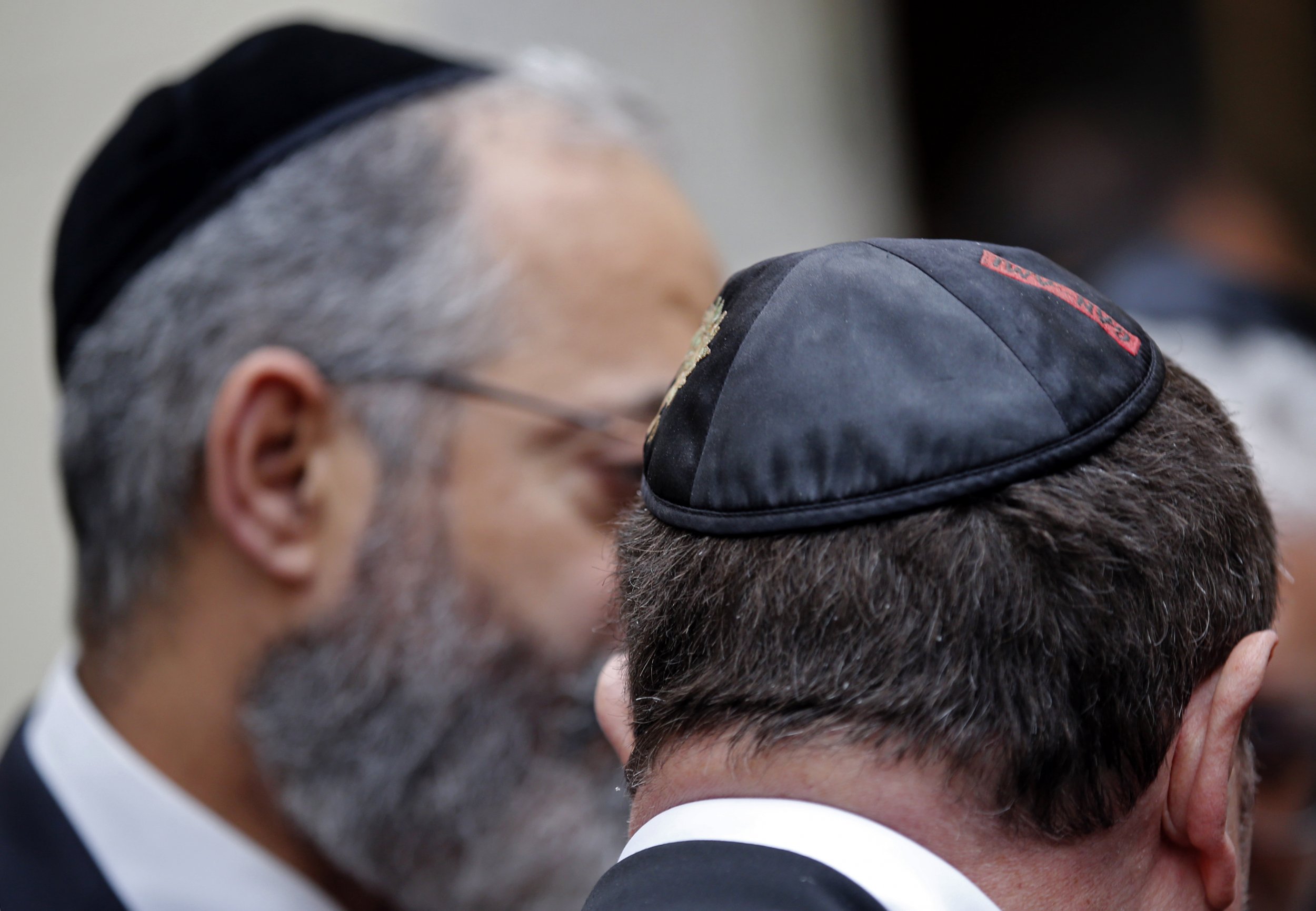 It's not every day Twitter feeds become populated with depictions of famous figures donning yarmulkes, from Vladimir Putin to Brad Pitt, from Marine Le Pen to the Mona Lisa.
But a social media campaign using the hashtag #TousAvecUneKippa (or Everyone With a Kippa) is using the Photoshopped figures as a call for people to put on a kippa, or yarmulke—the round piece of fabric that usually adorns a religious Jewish man's head—on Friday at 10 a.m. to show solidarity with French Jews, Haaretz reported.
The campaign comes on the heels of an attack Monday on a Jewish man in Marseille and a subsequent debate about whether Jews in France should wear their kippa in public.
A 15-year-old Turkish citizen of Kurdish origin, armed with a machete and a knife, assaulted a teacher two decades his senior on Monday morning. Benjamin Amsellem, who was wearing a kippa and carrying a Torah on his way to work at a Jewish school, was wounded slightly in the back and hand. The attacker "claimed to have acted in the name of Allah and the Islamic State [ISIS]," Brice Robin, the prosecutor in the southern port city, said at a news conference. The teenager, who has said he was "proud" of his actions, will face terrorism charges for attempted murder, The Guardian reports.
As of 2010, France was home to 2.3 percent of the world's Jewish population (or roughly 310,000 Jews), the fourth-largest Jewish population after the U.S., Israel and Canada, according to the Pew Research Center. As of the early 2000s, about 80,000 Jews lived in Marseille.
Monday's attack follows the stabbing of another Jewish teacher in the city, in November, and of a rabbi and two Jewish worshippers there in October. In July, the SPCJ security service of France's Jewish communities released a quarterly report that counted 508 anti-Semitic acts in the country between January and May 2015—up from 276 during the same period the previous year. The watchdog group had recorded 851 anti-Semitic acts throughout 2014, the second-highest number it had seen in a single year since it counted 974 incidents in 2004.
On Tuesday, a leader in Marseille's Jewish community, Zvi Ammar, president of the Israelite Consistory of Marseille, reportedly said men in the city should refrain from wearing their yarmulkes "to avoid being identified as Jewish."
"It is sad to find ourselves in this position in 2016, in a great democratic country like France," he said. "But faced with an exceptional situation, we have to take exceptional measures. It causes me such pain to come to this conclusion, but I do not want anyone to die in Marseille because they had a kippa on their head," he added, asking local Jews to forgo the visible symbol "until better days."
Ammar's comments sparked a debate in which several Jewish leaders and organizations vehemently opposed his suggestion. Roger Cukierman, vice president of the World Jewish Congress and head of the Conseil Représentatif des Institutions Juives de France, called Ammar's a "defeatist" attitude, while the chief rabbi of France, Haim Korsia, said, "We must not give in to anything, we will continue to wear the kippa!"
French Education Minister Najat Vallaud-Belkacem said that "it's certainly not the advice I would give, personally" and that Ammar's suggestion "clearly was well-intentioned, but it's not the sort of message to send, certainly not now."
French President François Hollande addressed the issue on Wednesday. "It is intolerable that in our country citizens should feel so upset and under assault because of their religious choice that they would conclude that they have to hide," he said, having already called Monday's attack "abominable and unjustifiable."
Also on Wednesday, parliamentarians Meir Habib and Claude Goasguen each wore a kippa at the National Assembly, the Israeli Arutz Sheva (Channel Seven) reported. "Freedom of religion is a central value in France," Habib said.
"We will not accept a situation where people are afraid to express their Jewish identity," he added. "It begins with the Jews and then quickly impairs all of France. We must be careful, but to stop wearing religious symbols is not an answer to terror."
The social media campaign #TousAvecUneKippa urges a similar but broader show of solidarity on Friday, amid continuing concerns about anti-Semitism in France.