The French Show They Have a Word for 'Entrepreneur'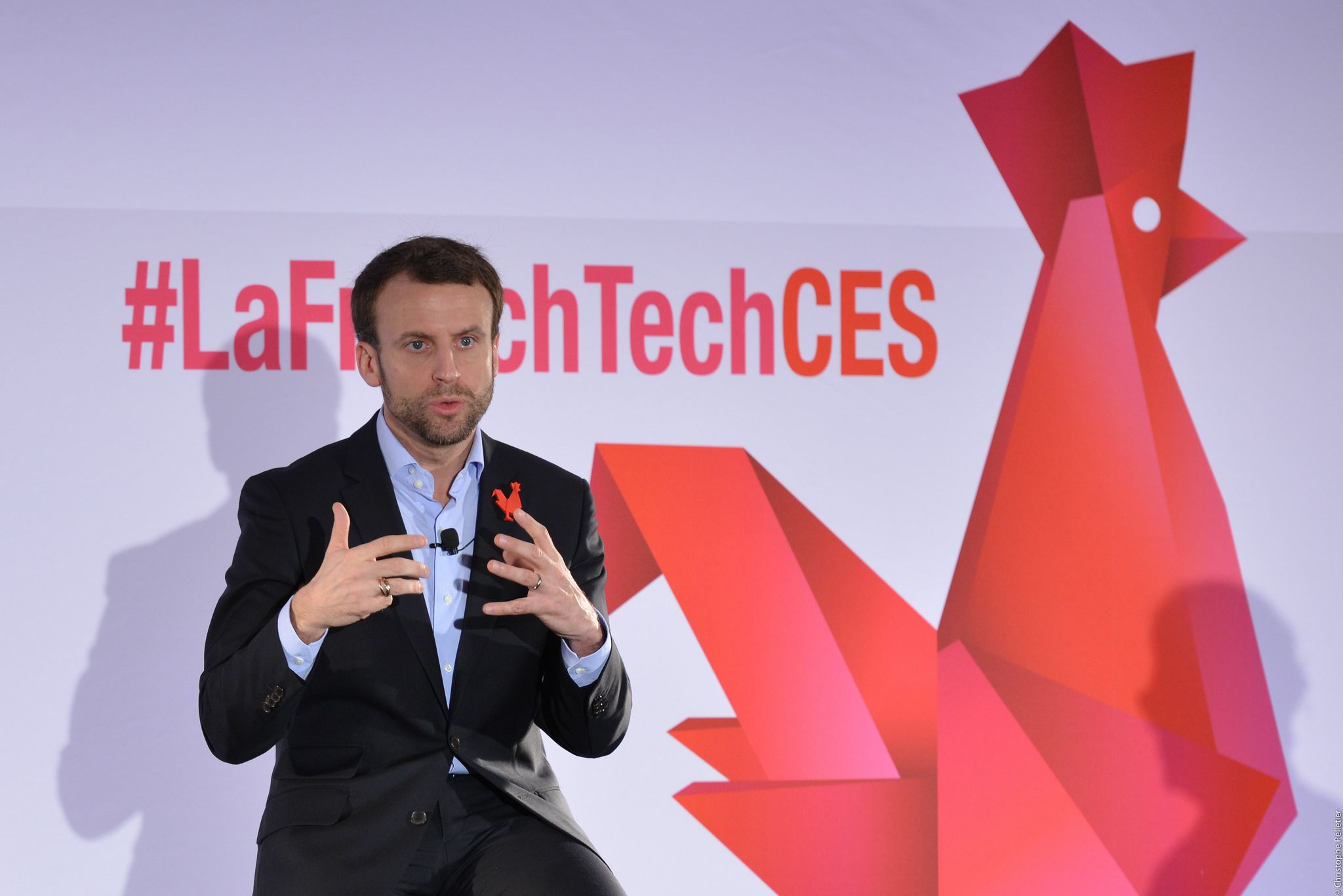 Updated | The standard American critique of French capitalism goes something like this: "The French need to embrace failure and celebrate success"—which is why it's surprising that these words come from Emmanuel Macron, the French minister of economy, industry and digital affairs under a socialist president.
It's also a bit of a surprise to see a government minister get mobbed like a member of Daft Punk. When Macron, 38, leaves the stage at the Consumer Electronics Show (CES) in Las Vegas on La French Tech night in January, a string of TV crews and fans leaning in for selfies hold him up. "It's like this everywhere, even in France," an aide tells me.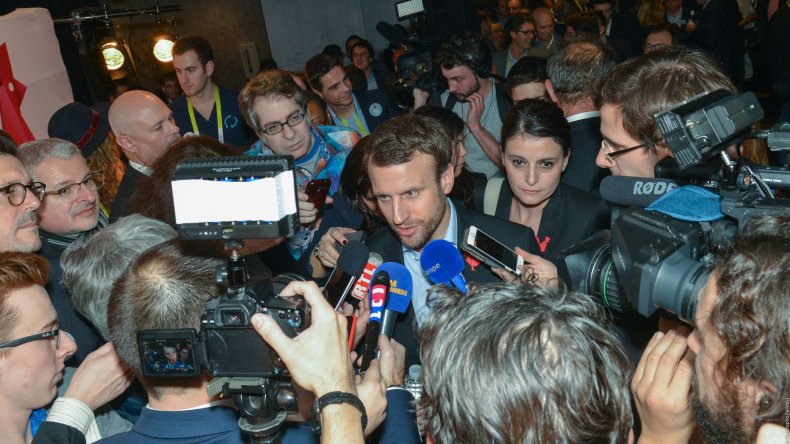 Macron's trip to Vegas is part of a trend that suggests France is shaking the reputation that once led then-President George W. Bush to say French lacks a word for "entrepreneur" (though the story may be apocryphal).
"We created 1,500 startups last year," Macron says. By his count, France has five so-called unicorns, the rare startups valued at more than $1 billion. At CES this year, 30 percent of the new companies at the startup venue Eureka Park were French, making the country the third-biggest representative in that section of the show, after the United States and China.
Part of this stems from a change in attitude. Michael Fernandez, the founder and CEO of a company called Drust that helps people optimize their driving with a gadget that plugs into their dashboard, says the older generation in France was generally risk-averse, but that has changed, and now entrepreneurs are getting real support from the government. "Just months after we started, we got to meet the president," he says.
La French Tech, a government program to boost entrepreneurship, sends many business owners to CES. It also runs incubators that pair small firms with major French companies. A major part of the program involves teaching businesspeople to hone their pitches, an area where the French have a lot to learn from their American counterparts, according to Muriel Pénicaud, French ambassador for international investment and CEO of Business France.
"Four, five years ago, our best talent was driven to big companies," says Pénicaud, who worked in the private sector for years as an executive. France has 80,000 engineering and 70,000 PhDs students, and Pénicaud says: "Ten years ago, it was public service. Now it's startups. France produces 17,000 Ph.D.s every year, and 1 in 3 now wants to create a business."
France has cut taxes on startups for their first eight years and changed the law to allow startups to accept crowdfunding from websites like Kickstarter. France's financial system used to be not set up to handle the type of risks that are required to form disruptive companies, Pénicaud says. In 2012, the country launched the Public Investment Bank to help small and medium companies obtain loans.
"We have to accelerate that and raise a lot of money for these people very rapidly and very quickly," Macron says. "In this very disruptive world, day one you have to be disruptive, and day one you have to be able to raise 100 million euros."
It may sound government-heavy, but it's clear what the French are trying to emulate: the rare mix of quality universities, risk-taking tech companies, venture capitalists and the startup ethos that exists in Northern California. "Silicon Valley created the concept of ecosystem. It's something that's quite unique, but Israel is copying it, and so are China and France," Pénicaud says.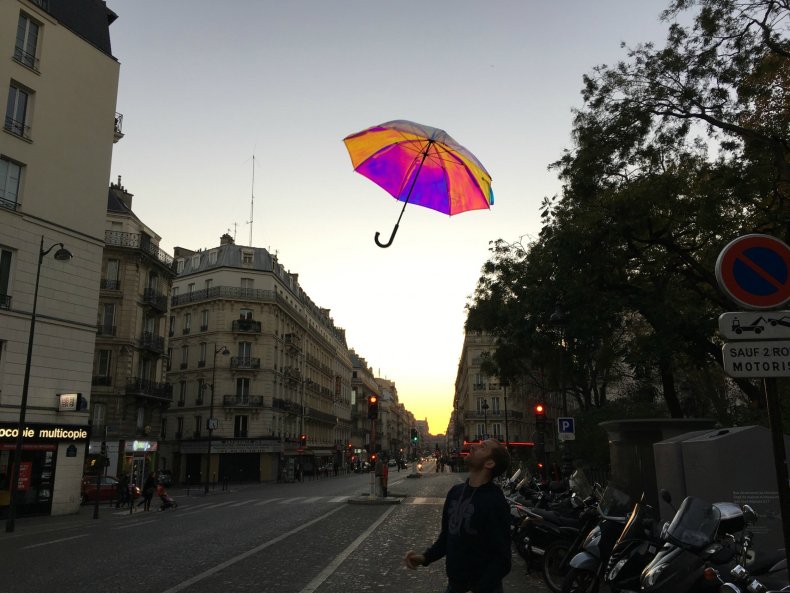 The ecosystem is working for entrepreneurs like Clément Guillot, who quit a lucrative job doing publicity for a major French TV channel to launch a weather and data company named Wezzoo. Guillot is in Las Vegas to show off Oombrella, a personal weather station that gathers data from which the app creates hyper-local alerts—warning that it may rain in a specific spot in 10 minutes, for instance. At CES, he has been waking early, hitting morning shows before dawn to show off his invention, returning to his hotel for a few hours of sleep, then manning his booth at Eureka Park all day to meet distributors, other entrepreneurs and public relations companies. Guillot says his co-founders—an engineer and a Ph.D.—cost the company "almost nothing" because of government programs to encourage hiring.
While France has made clear progress—in just the past six months, Cisco, Microsoft, Facebook and Intel have all announced big investments in French technology—there are still challenges. Many still see high tax rates as hurting investors, and the World Bank ranks France 27th on the list of the best countries in the world to do business.
Romain Lacombe, CEO and founder of Plume Labs, a company that tracks air pollution and can help you pick the optimal time for a jog, says Europe's lagging economy has pushed young people to take chances. " Since the crisis, the economy hasn't completely recovered," he says. "For a lot of graduates that come out of incredible math and engineering schools that would have gone into easy jobs, one of the only things they can do that gives them a sense of having control over their own careers is to build things."
This story originally stated France produces 70,000 PhDs a year, which is incorrect. There are 70,000 PhD candidates in France, and 17,000 obtain their PhD each year. The story has been corrected accordingly.