French Election Results: Here's How French Expats Voted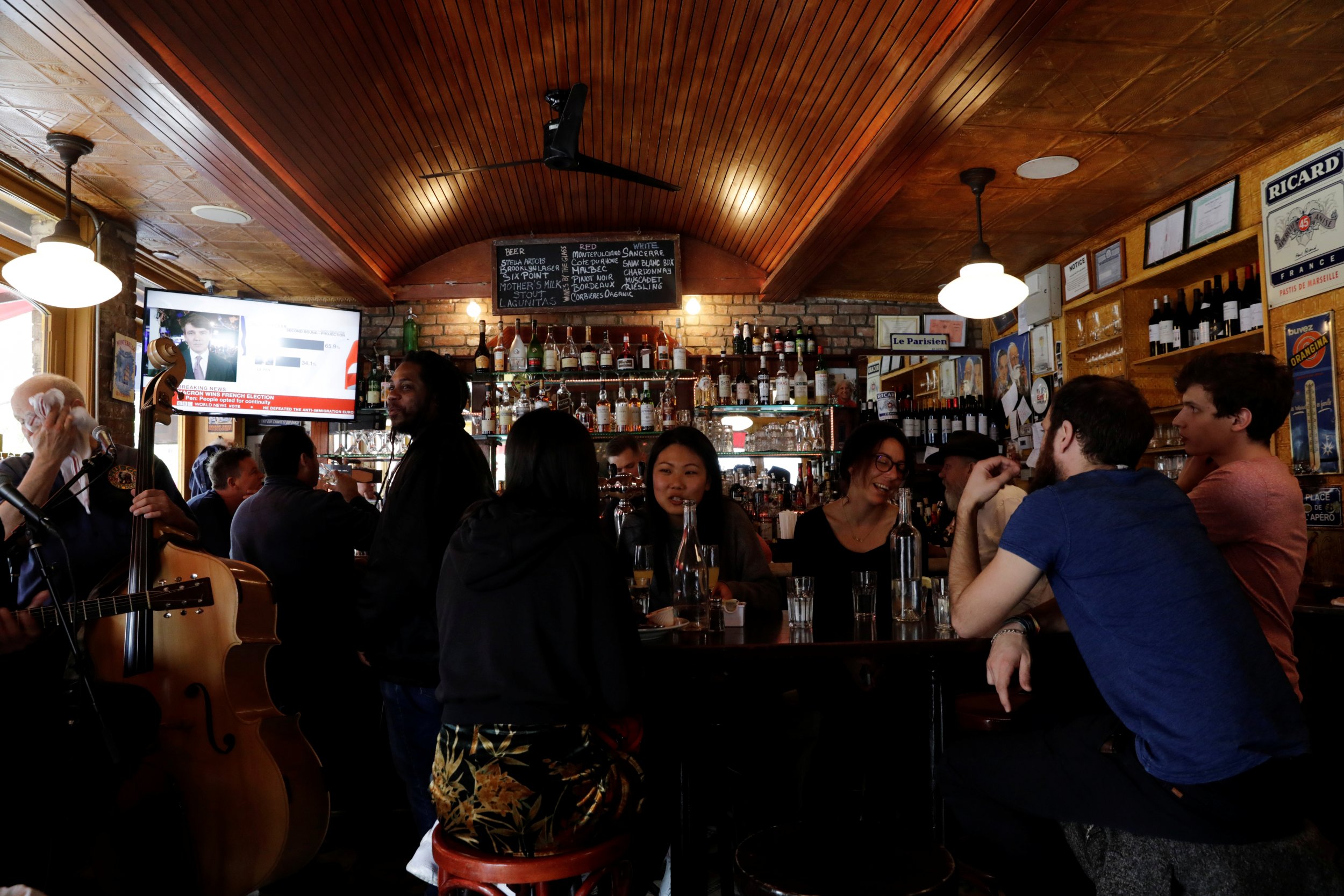 Updated | When Clément Faydi visited a gymnasium in Brooklyn in April to cast his vote in the first round of the French presidential election, he said it was the first time in eight years of living in New York City that he heard only French. Faydi, 28, a designer for the software company Adobe, was among the 46,000 French citizens who voted from the United States in the election's first round in April, and he voted again in the second round to determine the winner: his candidate, Emmanuel Macron.
The French government released figures for how its citizens abroad voted in the second round: Macron received 89.3 percent of votes, and Marine Le Pen received 10.7 percent. That is a much bigger difference than for French people living in their home country, who voted 66.1 percent for Macron and 33.9 percent for Le Pen.
Related: French election data: How Emmanuel Macron won
More than 1.3 million French citizens living abroad registered to vote in the election, according to the French government. Forty-four percent of French expatriates voted in the first round of the election, six percentage points higher than did in the first round of the 2012 election, the government said, and 45.8 percent voted in the second round. That increase since 2012 reflects the interest abroad in the polarizing election as well as the growing number of French people overseas, which has risen to 1.6 million. That is 60 percent higher than in 2000, with the number growing by 4 percent each year, according to the French government.
Unlike in the U.S., where voters living abroad must submit absentee ballots by mail, French voters abroad can cast their ballots at designated locations, and the ballots are tallied locally. For the recent presidential race, the French government opened 866 polling stations at 450 sites abroad, according to the government, a more than 10 percent increase versus the 2012 election. French people living in the U.S. voted on May 6, and those in other countries outside of France did so on May 7. (The French are also allowed to vote by proxy, meaning they can designate people in their home municipalities to vote on their behalf.)
"It was actually pretty easy to vote here," Faydi says, explaining that he registered to vote and received an email from the French government telling him where to go. For the first round, he arrived at his polling place, an international school, at 11 a.m. and had to wait in line for about an hour. For the second round, he arrived earlier and says he didn't have to wait. "It really felt like we were in France, which was kind of surreal," he says. "It was only French people around us. So it's really the first time in the past eight years where I'm in the city and I feel like I'm actually in France." He recalls that a woman bumped into him and said "sorry," and then corrected herself and said, "Désolé."
In the second round of the election, there were 579,954 voters in some 150 countries, statistics by the French government show. Switzerland had the most people cast votes (67,583) followed by the U.S. (51,991), Great Britain (49,122), Germany (46,792), Belgium (44,911) and Canada (36,091). Of the votes in the U.S., 46,798, or 92.3 percent, went to Macron, and 3,925 or 7.7 percent, went to Le Pen.
In New York City, home to some 31,000 French people, 52.5 percent of eligible French people participated in the second round of voting, according to a tweet by Anne-Claire Legendre, head of the local French Consulate. Of the ballots cast in New York, 94.7 percent went to Macron (compared to around 66 percent in France) and 5.3 percent went to Le Pen (compared to 34 percent in France). The celebrity chef and restaurateur Daniel Boulud and the novelist Marc Levy were among those who voted in New York, the Consulate tweeted.
The French consulate in London reported similar numbers for the second round to New York: 43,629 votes for Macron, or 95.2 percent, and 2,205 for Le Pen, or 4.8 percent.
In the first round of voting, French people abroad cast 554,119 votes: 223,879, or 40.4 percent, went to Macron, and 35,926, or 6.5 percent, voted for Le Pen. (The other votes went mainly to François Fillon and Jean-Luc Mélechon, candidates who were not in the second round.) In the U.S., French people cast 45,938 votes in the first round: 23,489, or 51 percent, were for Macron, and 2,302, or 5 percent, were for Le Pen.
The growing number of French voters abroad reflects an increase in people leaving France. Half of the 1.6 million French people abroad live in Western Europe, while 13 percent live in North America, 8 percent live in the Near and Middle East, 7 percent live in Asia-Oceania, 7 percent live in French-speaking Africa and 6 percent live in North Africa, according to the government. Three-quarters of French abroad are "professionally active," the government says, and almost as many are at least 18 years old.
The main reason French people cite for moving away is for professional reasons, according to the government. Others say they move for new experiences, to accompany a spouse or to learn a foreign language.
But the increase in expatriation also reflects a view among many French people that conditions there are worsening. In 2015, the country's gross domestic product dropped to its lowest level in at least a decade, and the unemployment rate there is more than twice that of countries such as the U.S. and Germany. The French are also becoming increasingly worried about terrorist attacks such as those in Paris in January and November 2015 and Nice in July 2016, according to a 2016 survey by the National Observatory on Delinquency and Penal Responses, with 30.4 percent of people saying such attacks are the problem that most worries them, up more than 12 percentage points in a year.
Among those leaving the country in large numbers are French Jews, who believe that anti-Semitism there is worsening. In 2015, 7,469 French immigrants moved to Israel, up from 6,658 in 2014 and 3,263 in 2013, according to the Israeli government. A decade ago, the number was 2,948. There were 808 anti-Semitic incidents reported in France in 2015, nearly double the number just two years earlier, according to the Jewish Community Security Service, a not-for-profit.
It's those conditions that many French voters hope will change under the new president. Faydi says he voted for Macron in both rounds. "I think he actually has an energy and is way more optimistic about the future of the country than any other candidates," he says.
As the election results came in on Sunday, French people gathered at the restaurant Bar Tabac in Brooklyn, near the school where Faydi had voted. The late-night celebration was last-minute and "organic," says owner Georges Forgeois, with a band playing and employees there jumping on social media to invite patrons to come "celebrate with us."
"A lot of young people live in the neighborhood," says Forgeois, who moved to the U.S. in 1979 and says he voted for Macron at the consulate. "It looks like the [new] president reflects on these young people. Like, hope, a new beginning. Honestly, myself, I haven't seen that [optimism] in 20 years."
This article has been updated to include statistics for the second round of voting.