A fisherman has recalled the moment he speared a 4.5 meter-long (15 foot) great white shark in the head, after the predator attacked him off the coast of western Australia.
Joe Petrovich was in a boat around 2km off Burns Beach, Perth, on Saturday, when he swam 250 meters away from the vessel to dive and spear fish, The Western Australian reported citing broadcaster Channel 9.
A great white shark then approached the diver, and began to circle around him. Petrovich panicked, and fled back to the boat where his two friends were waiting.
The shark stalked the fisherman as he swam. After about five minutes, the animal attacked Petrovich.
Using his speargun, Petrovich stabbed the shark in the head. But it attacked again, and managed to tear a piece from Petrovich's flipper.
The fisherman managed to get back on his boat. As the group tried to escape, the animal stuck with them for a further three minutes.
After the ordeal, the trio drove to a different location and continued fishing.
The graph below, provided by Statista, shows that Australia is home to the second highest number of shark attacks, after the U.S.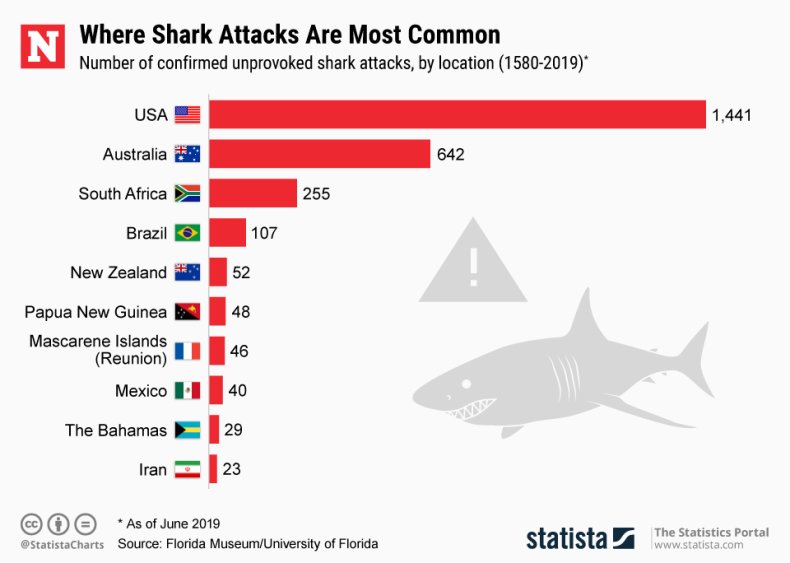 A few years ago, a shark almost attacked the fisherman in Cockburn Sound, around 50km further down the Australian coast from Burns Beach.
Recalling his latest encounter with the predators, Petrovich told The West Australian: "I could have put my fist down it's throat, it was that close.
"It was very frenzied, the shark's behaviour, it was very amped up. It wanted more than a taste."
"It swam in front of me and it kept dipping it's head to the right. It kept swimming in my direction and then it would pause."
"On the fourth time, it dipped it's head towards me and the next thing I know, it's charging straight at me and it's run into the spear point itself."
Petrovich said he "wouldn't be here" if he didn't have his spear gun.
Petrovich told Australia's Seven Network Sunrise breakfast show, according to Daily Mail Australia: "I was about 75 per cent sure I wasn't going to make it back to the boat. I thought I would lose one leg and probably half of the other one."
The attack happened around 100m from the northern boundary of Marmion Marine Park, near Burns Beach, The Western Australian reported.
Shark sighting service Dorsal Shark Reports released a warning on Saturday afternoon that there had been a shark sighting at 9:26 am that morning.
Australia's Parks and Wildlife Service describes Marmion Marine Park as an area of clear shallow lagoons, reefs and small islands which make up a "diver's paradise, forming ledges, caves and swimthroughs inhabited by a wonderful array of fish and invertebrate species."