Sebastian Stan Landed 'Fresh' Role After Sending a Video "Dancing With a Steak Knife"
Sebastian Stan convinced Fresh director Mimi Cave to cast him in the role of psychopath Steve by sending her a video of him dancing with a steak knife, she told Newsweek.
The thriller, which landed on Hulu on Friday, March 4, examines the horrors of modern dating through the eyes of Noa (Daisy Edgar-Jones), a young woman who is forced to fight for her life after learning the terrifying, sinister nature of her boyfriend (Stan).
**Warning: This article contains some spoilers for 'Fresh'**
"Before he even knew that he got the part he sent me an email and it was just a video attached of him dancing in his kitchen with a steak knife," Cave told Newsweek. "He was just really wanting to dive into the character already."
Cave admitted she had already decided to give Stan the role before he'd sent the clip thanks to his audition, but the video footage proved how committed he was to the part.
"Sebastian and I worked really closely for many months on designing Steve, and his commitment to the role was something that allowed us to do that," she said of the way they created the character together.
"I really loved his performance in I, Tonya [in which he plays Tonya Harding's ex-husband Jeff Gillooly] and I felt like the choices he was making in that role were really specific and really interesting, and I knew that if he was committed to making Steve work that it was going to be great.
"Obviously he has a sort of inherent magnetism in him, and so I already knew that I wasn't worried about the chemistry between him and Daisy, I knew it was going to be great. It was really more about honing in on this version of a psychopath that we devised. And Sebastian is very funny, and very warm, and engaging."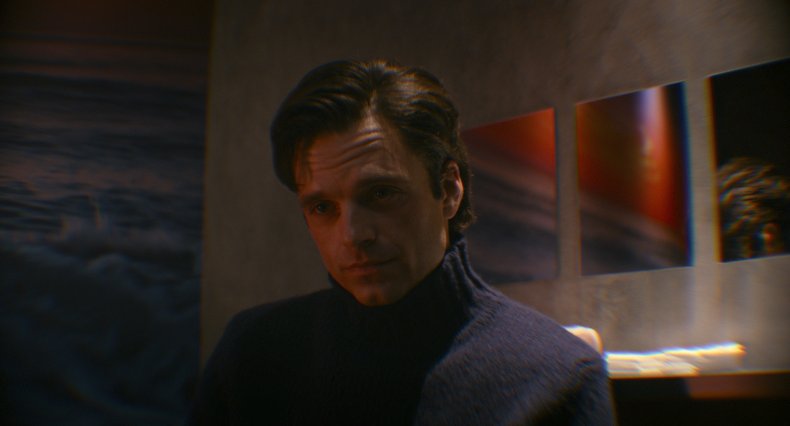 Referring back to the video in which Stan danced with a knife she added: "We always talk about that, like we had to prepare so much of this movie over Zoom, on text message and over the phone... there was a lot of videos sent back and forth of different scenes and different styles to try out. So a lot of that's just really fun to think about."
Given he was taking on such a dark role Cave felt Stan tried to keep as in character as he could on set, though her and Edgar-Jones' "goofball" nature helped lighten the mood.
When asked if Stan would remain in character even when cameras stopped rolling, she said: "You know, I don't know what he would say, but from my perspective of watching him he was very in it all the time.
"I think that he really cared about getting this role right. And so, you know, it was intense, there was definitely a level of focus that required him to really kind of stay in character between takes.
"But that said, Daisy and I are kind of goofballs and so I think that, honestly, there was a lot of laughter on set all the time and we tried to really keep the levity there in order to get more intense when the cameras [were] rolling."
Edgar-Jones was equally dedicated to her part as Noa, Cave said: "Similar to Sebastian she just really wanted it and there was no sense of caution in terms of taking the role on, and that was really important.
"Anyone that was going to come on and work on this movie down to the location manager... everyone needed to really believe in it with all of its potential dangers.
"So Daisy, she read it, she wanted it the moment after she read it. I spoke to her the next day, like it was all very fast, and we had been searching for the right Noa for a while so it was great.
"She really understood it, she got it. She's incredibly smart. I sometimes can't believe how old she is, because I'm quite a bit older than her and I feel like she teaches me stuff all the time.
"And I couldn't be happier with the experience. She's truly such a professional and at the same time, just such a ray of sunshine. She's just so great to work with and everything you hope she is and more."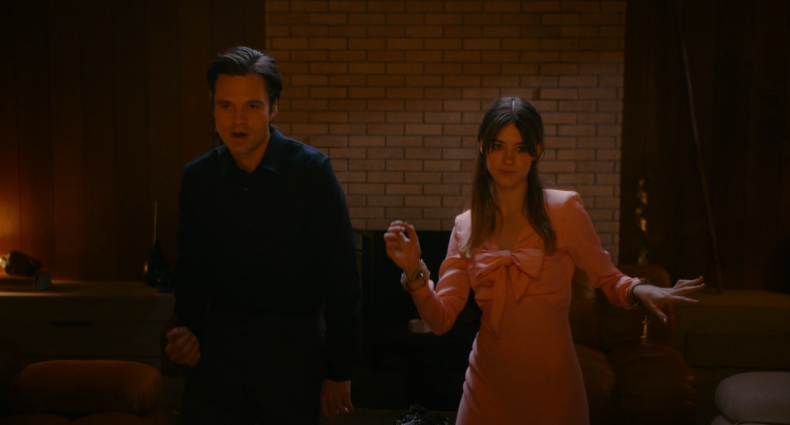 Fresh deals with quite shocking topics, namely the kidnapping and abuse of women for the purpose of cannibalism, with Stan's character even remarking at one point that he targets women because they simply "taste better" than men.
Cave admitted that she and scriptwriter Lauryn Kahn did not draw from any real-life people to influence the plot, though one name did come to mind when it came to the way the film examines the mistreatment of women.
"It's a completely fictional tale, there's no draw from any specific people or stories," the filmmaker reflected.
"I think that everything in the film is a metaphor and a sort of a symbol of other things, and I think, you know, in the wake of people like Jeffrey Epstein, I think that those types of people are definitely a fascinating and unfortunate type of person to explore.
"Lauryn, the writer, would be able to answer that question better than me [but] I kind of just took what she did and gave my own spin on it."
Cave went on: "She had the script written for quite some time and I came on and we all worked closely, her, I and the producers, to just continue to write and rewrite the script up until shooting, and make sure that it was feeling like something we all knew and could kind of wrap our heads around since it is such an out there movie.
"I had a very clear vision for it, and I don't think it's necessarily what someone else would have done but it was what interested me, and I just got really lucky to work with a group of people that trusted me to go ahead and do that."
As cannibalism is one of the main themes in the film, the cast worked with a lot of very realistic props, ranging from severed legs to human torsos, but what was hardest to work with was the food the cast had to imagine was human flesh.
When asked if it was strange for the cast to do so, Cave said: "Of course, yeah. I mean, I think, if anything, it only adds to their performance, because they're just as grossed out because they're imagining what they're doing is real.
"But we worked with a chef to create a lot of those dishes and make sure that they looked right on camera and added our own ingredients to get those things to look the right way and feel familiar, but also feel a little off. But also [the food] had to be something that the actors could eat for many, many takes.
"It was always Daisy between takes [who'd] just be like, 'what did you do today?' 'Well, I had, you know, [this food]'. Everyday was like that.
"She was like, 'man, today's crazy' [and] I'm like, 'yeah, but did you see what's on the schedule for tomorrow?' So it was constantly a very out there experience, but in a good way."
Fresh is out on Hulu now in the U.S. and will be released in the U.K. on Disney+ on Friday, March 18.