'Fresh Prince' Reunion: A Timeline of the Will Smith and Janet Hubert Feud
The Fresh Prince of Bel-Air reunion, streaming now on HBO Max, seemed to bring to an end one of TV's great feuds, as Will Smith buried the hatchet with Janet Hubert, the actor who played Aunt Viv for the show's first three seasons. Though the pair have not talked to each other for 27 years, they have been engaged in a war of words the whole time via interviews and social media. Here are some of the key moments in their feud, the choicest insults and the biggest apologies.
Mid-1993: Hubert leaves The Fresh Prince of Bel-Air
When The Fresh Prince of Bel-Air returned for Season 4 in September 1993, Janet Hubert had been replaced by Daphne Maxwell Reid, with no explanation as to why apart from vague rumors about that great euphemism of "creative differences."
Soon after, however, Smith struck the first blow in his battle with Hubert, starting the narrative that Hubert had exited the show because of her ego. He told an Atlanta radio show (per E!): "I can say straight up that Janet Hubert wanted the show to be The Aunt Viv of Bel-Air Show...She's mad now but she's been mad all along. She said once, 'I've been in the business for 10 years and this snotty-nosed punk comes along and gets a show.' No matter what, to her I'm just the Antichrist."
Unknown date: Will apologizes in Essence magazine
At some point, Smith apologized for these comments in an interview according to Hubert herself, who said in a Huffington Post piece that: "Will apologized later in an Essence magazine article, but it still lingers. It's still there."
However, this interview does not seem to have made it into our internet age, so exactly what he said (or when he said it) remains unknown.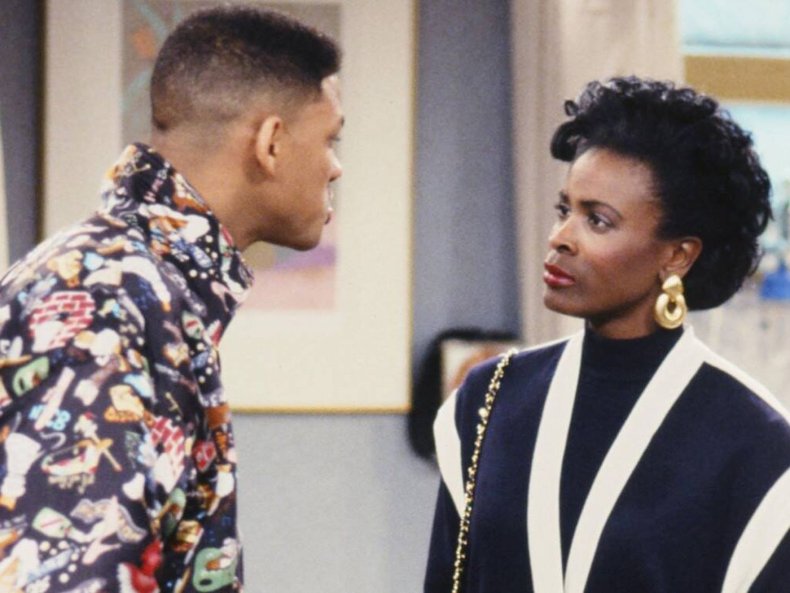 2009: Ribeiro disses Hubert in a stand-up set
Though the feud raged on through the '90s and '00s, it was only in the social media age when things really picked up, as multiple websites picked up on comments made by stars of the show. In 2011, for example, the web's head muckraker of the time Perez Hilton found footage of a stand-up set from Carlton actor Alfonso Ribeiro from two years previously.
In this, the actor said: "She went nuts! Long story short, and there were days when we were all on the set and she would literally go off on people and they got to a point by the time the second season came around where we're like, 'This is unacceptable.' We felt like, when we were doing The Fresh Prince of Bel-Air, that we were a family...She, at that point, ruined that, and she made it very difficult for us to work, and unfortunately she was then fired."
2010: Hubert accuses Smith of making colorist jokes
The following year, however, Hubert claimed that it was Smith who had made it difficult for her on set. She told BlackAmericaWeb: "I was a dark-skinned, African-American mother, and Will used to tell the you're-so-black jokes to the audience before the show, and at one point, I came out and stopped him...He didn't understand how unbelievably disrespectful that was to women like me."
Smith did not comment on these allegations.
December 2011: Hubert calls Smith an a******
Hubert's comments became a little more fiery in 2011, when Will Smith released a photo of what he called a "Fresh Prince reunion" without the original Aunt Viv. Reacting to this to TMZ, she said: "There will never be a reunion ... as I will never do anything with an a****** like Will Smith.
"He is still an egomaniac and has not grown up. This constant reunion thing will never ever happen in my lifetime unless there is an apology, which he doesn't know the word."
March 2013: Hubert accuses Smith of "lies"
In a Grio interview, Hubert addressed Smith and Ribeiro's comments directly. She said: "I think what happened, because the audience was so on my side at that time, that Will probably felt like he needed to go out, and he needed to tell a lot of lies. Alfonso went out to a college and told a lot of lies, but the problem is I have proof that a lot of that didn't happen."
At this point, she seemed ready to end the feud, adding: "You've done some things, you've said some things, that were totally untrue... I've said some things that I probably should have never said...Especially the TMZ thing last Christmas; my Mom passed away. So there I was again in the media getting beaten up...and you get tired."
January 2016: Hubert posts video response to Jada Pinkett Smith
This conciliatory mood, however, did not last long, as the actor hit headlines again after Smith's wife Jada Pinkett-Smith called out for a boycott of the Oscars for its lack of diverse nominees.
Hubert replied in a video, speculating that Smith's wife was speaking for him because he had failed to get a nomination for his film Concussion. The Aunt Viv actor said: "I find it ironic that somebody who has made their living and has made millions and millions of dollars from the very people that you're talking about boycotting just because you didn't get a nomination, just because you didn't win? That's not the way life works, baby."
She then called the actor out for a lack of solidarity on The Fresh Prince, where she claimed she suggested the cast should work together to try and get a raise like the "white shows." Allegedly, he replied: "my deal is my deal. And your deal is your deal."
February 2016: Hubert appears on The Real
The following month, she appeared on The Real to clarify her comments. On the show, she said: "Janet Hubert was never difficult on that set. Janet Hubert was so professional, it wasn't even funny. I think Will simply needed to win and I think sometimes when you get caught up in a lie and those things never happened."
March 2017: Hubert calls Ribeiro an "a** wipe"
History then repeated itself when Hubert used another ass-based insult in response to a reunion photo. When Ribeiro posted a picture alongside the cast, she reacted on Facebook by saying: "I know the media hoe Alphonso Ribero [sic] has posted his so called reunion photo. Folks keep telling me about it. He was always the a** wipe for Will."
July 2018: Smith compliments Hubert in an interview
While Hubert clearly had some resentment for Smith well into the 2010s, Smith seemed ready to end the feud when interviewed on U.K. radio station 1Xtra. He said of Hubert: "I think as an artist there's so many things that she does...She sings, she dances, she's like a really powerful artist. I loved what she brought to The Fresh Prince."
He did not, however, acknowledge or apologize for the alleged lies he had told about his one-time Fresh Prince co-star, so the feud continued.
November 2020: Feud ends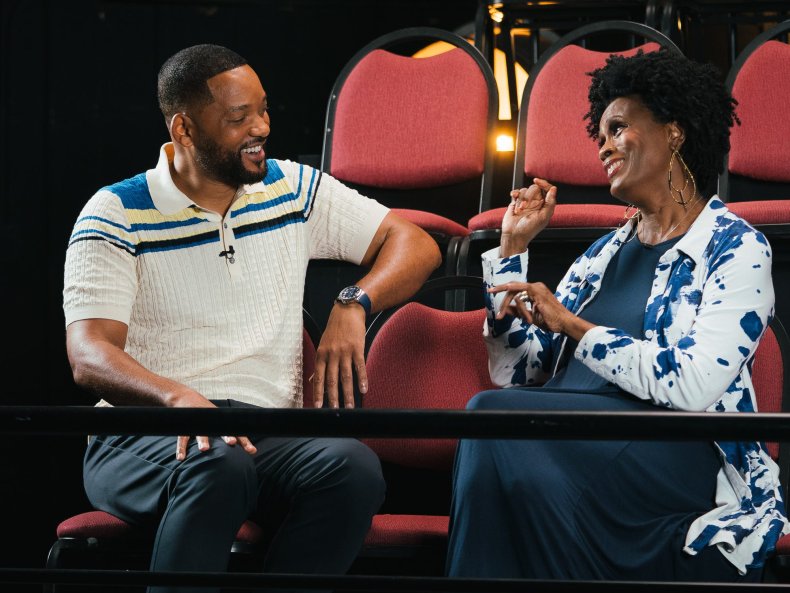 For the HBO Max reunion, the hatched was finally buried between the two, appearing together in the same room for the first time since the 1990s.
In this special, Smith acknowledged that, "during her pregnancy [during Season 3], I wasn't sensitive...I can see where I made the set very difficult for Janet."
She also finally gave the full story of how she left the show.
"They offered me this really bad deal in the third season...I had a new baby and a husband who was out of work, so I said no," she explained. "I did not accept their offer. I was never 'fired.' That misconception was always put out there."
Smith responded by saying: "I was 21 years old. Everything was a threat to me. Not you—the world. I was so driven by fear."
The special then saw something that fans had been waiting for forever—the meeting of the two Aunt Vivs.
The Fresh Prince of Bel-Air reunion is streaming now on HBO Max.