Fresno State Responds After Professor Calls Barbara Bush 'Amazing Racist,' Says 'I Will Never Be Fired'
A Tuesday Twitter rant from a Fresno State English professor sparked an immediate backlash after Randa Jarrar labeled Barbara Bush an "amazing racist" on the same day the former first lady died.
Fresno State President Joseph I. Castro released a statement on the school's website Tuesday evening denouncing Jarrar's comments while extending "deepest condolences to the Bush family" following the 92-year-old Bush matriarch's death at her Houston home. Jarrar's Tuesday Twitter posts took shots at both former presidents, George H.W. and George W. Bush, and lashed out at those offering the family support. "Barbara Bush was a generous and smart and amazing racist who, along with her husband, raised a war criminal. F-ck outta here with your nice words," Jarrar wrote in the now-protected tweet.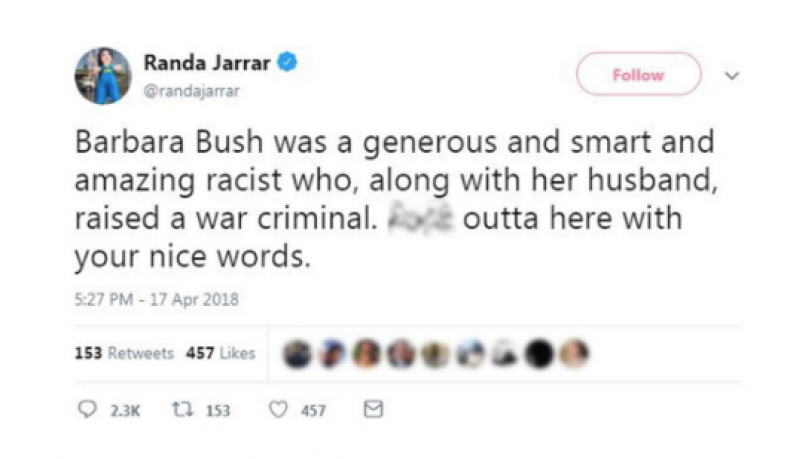 Jarrar is a tenured professor who describes herself as Arab-American on her author page and says she "grew up in Kuwait and Egypt" before moving to the U.S. following the Gulf War. After thousands of Twitter replies blasted her first tweet and called for her removal from the school, Jarrar doubled down and tweeted from her verified account, "I will never be fired." She continued responding, writing a separate tweet, "If you'd like to know what it's like to be an Arab American Muslim American woman with some clout online expressing an opinion, look at the racists going crazy in my mentions right now."
Jarrar continued trading barbs with other Twitter users for roughly three hours, even tagging the Department of Homeland Security's official handle, Fresno State's official account and challenging a user handle called "@LogicalRighties" to contact school president Castro, KFSN-TV first reported. Both the school and Castro promptly issued statements via Twitter:
"On behalf of Fresno State, I extend my deepest condolences to the Bush family on the loss of our former First Lady, Barbara Bush. We share the deep concerns expressed by others over the personal comments made today by Professor Randa Jarrar, a professor in the English Department at Fresno State. Her statements were made as a private citizen, not as a representative of Fresno State. Professor Jarrar's expressed personal views and commentary are obviously contrary to the core values of our University, which include respect and empathy for individuals with divergent points of view, and a sincere commitment to mutual understanding and progress."
After receiving more than 2,400 replies, her Twitter account was locked, her brief profile bio changed to, "Currently on leave from Fresno State. this [sic] is my private account and represents my opinions." In addition, the Fresno State English Department's website lists her as on "LEAVE."
The College Republicans of Fresno State issued a statement to Newsweek: "The comments from Professor Randa Jarrar are wholly inappropriate and out of line. Barbara Bush's years of service to children and adults alike in promoting literacy are something to be celebrated. While Professor Jarrar's comments are protected under the First Amendment, the provocative and reckless manner that she conducted herself through her tweets last night is irresponsible. We believe that Ms. Jarrar has crossed the line and should be terminated from her position at Fresno State."
Jarrar is an author whose works include the 2009 "Arab-American coming of age novel," A Map of Home, as well as her latest book, Him, Me, Muhammad Ali, about displaced Muslim men and women "who have gone astray," according to the book's description.
This is not Fresno State's first tweet controversy from a professor. In August, American history instructor Lars Maischak took a voluntary leave of absence after tweeting, "To save American democracy, Trump must hang. The sooner and the higher, the better." School president Castro put out a statement at the time saying Maischak would not be returning to teach classes when they resume and his course was converted online to fulfill his contractual obligation.
But Jarrar's comments on Twitter about Bush should be separated from her job, according to many experts on First Amendment rights.
Edward Wasserman, dean of the graduate school of journalism at the University of California, Berkeley, said in a statement to Newsweek: "This is a little ridiculous. We live in a time when the nation's chief executive routinely uses Twitter to disparage the integrity, honesty and capacities of hapless individuals in the most insulting ways. Now the professional future of a college professor is imperiled because of her admittedly ill-timed, but evidently sincere, expression of outrage over the tears being shed over Mrs. Bush's death. This is why we have a First Amendment."
Senior Program Officer Adam Steinbaugh of the Foundation for Individual Rights in Education (FIRE) echoed this sentiment about protected free speech rights. Steinbaugh told Newsweek "employment decisions have to comply with the First Amendment. If the university terminated her for making offensive remarks about Barbara Bush that's definitely unconstitutional."
Earlier this year, a Golden West College counselor in Huntington Beach, California, ridiculed an Asian-American couple for "European-American displacement" before screaming "I never voted for you!" in a video. The school issued an apology.