Frida Kahlo Portrait Sells for $34.9 Million, Most Ever for Latin American Artwork
A painting by iconic artist Frida Kahlo became the highest-selling piece of Latin American artwork in history on Tuesday when it was sold at auction for $34.9 million.
Diego y yo was sold from a private collection by luxury brokerage house Sotheby's in New York City. Beyond being the largest sale of Latin American art, it also smashed the record for a Kahlo piece: Her previous most valuable work had sold for around $8 million.
The sale also makes Diego y yo the second highest-selling artwork by a woman, behind Georgia O'Keefe's Jimson Weed/White Flower No. 1, which sold for $44.4 million.
The artwork was purchased by the Eduardo F. Constantini Collection, a Latin collector with "a longstanding commitment to supporting Latin American art and artists," who also founded an art museum in Buenos Aires, Argentina.
Completed in 1949, Diego y yo is a self-portrait of Kahlo depicting the Mexican artist's second marriage to Diego Rivera. It was her final 'bust' fully completed self-portrait before she died in 1954, according to Sotheby's.
Beyond the contentious relationship with her husband, the surrealist painting also seems to allude to a reported relationship with actress Maria Felix, according to art historians.
Kahlo would reportedly joke about the affair in public, and it soon became one of the first high-profile same-sex relationships in the press.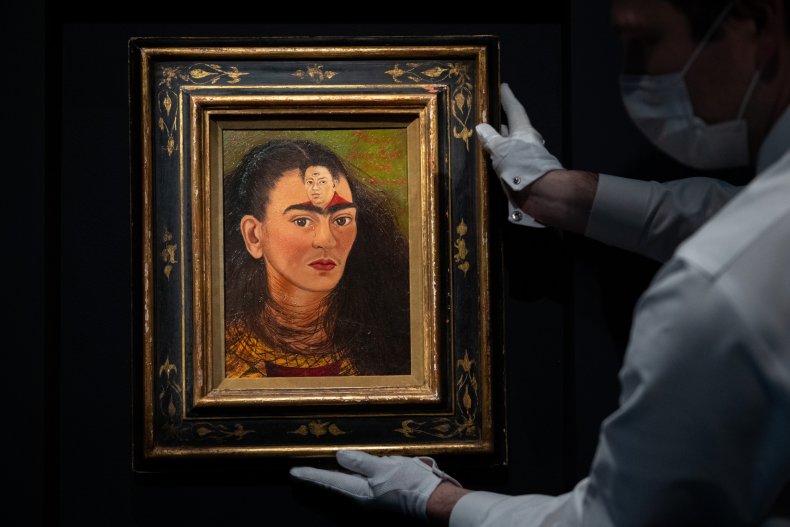 In the Sotheby's viewing room where the painting hung, a quote from Kahlo was printed on the wall describing her life.
"I do not believe that the banks of a river suffer for letting the water run or that the earth suffers because it rains, or the atom suffers discharging its energy ... for me everything has a natural compensation," the quote read. "Within my difficult and obscure role of ally of an extraordinary being, I have the same reward as a green dot within a quantity of red. I have the reward of 'equilibrium.'"
This is not the first time that the house has been involved in a sale of the painting. Diego y yo was previously sold at a Sotheby's auction in 1990 for $1.4 million.
While this is not much by today's standards, the sale made Kahlo the first known Latin American artist to sell a painting for more than $1 million.
Born in a small village outside of Mexico City, Kahlo became one of the most famous painters in history, and is credited with helping make Mexican artwork world-renowned.
Despite her works' current fame, a large portion of Kahlo's work remained relatively unknown until the 1970s. However, once discovered, Kahlo's pieces began to be shown in exhibitions around the world.
Today, nearly 70 years after her death, Kahlo is recognized as an artistic icon as well as a symbol for the LGBT community and feminism.
It appears to be fitting that the highest amount ever paid for one of her pieces is for a self-portrait. The artist completed a number of them during her career, and many are among her most celebrated works.
Kahlo was once quoted as saying that she "[doesn't] paint dreams or nightmares. I paint my own reality."
Newsweek has reached out to Sotheby's for comment.