Friday Deadline Nears With No Stimulus Deal—But That Doesn't Mean One Isn't Coming Soon
As congressional leaders continue to work toward a final agreement on another coronavirus relief package, Friday's deadline to fund the government and pass a stimulus is fast approaching.
But that does not mean negotiations have stalled. In fact, leaders are more optimistic and closer to reaching a deal than they have been in the past nine months since the CARES Act passed in March.
Congress could buy itself a few more days—perhaps the weekend or bleed into next week—with another stopgap spending measure to keep the government open as they try to cross the finish line on a $900 billion relief package. However, a brief shutdown could also occur while leaders hammer out a deal.
"We in Congress are no strangers to December funding deadlines or the occasional pre-Christmas cliffhanger. In that respect, the situation we face now is familiar," Senate Majority Leader Mitch McConnell (R-Ky.) said in floor remarks on Thursday. "For the information of all senators, we are going to stay right here until we are finished, even if that means working into or through the weekend."
The "Big Four" congressional leaders—McConnell, House Speaker Nancy Pelosi (D-Calif.), House Minority Leader Kevin McCarthy (R-Calif.), and Senate Minority Leader Chuck Schumer (D-N.Y.)—have spent hours negotiating this week, with talks sometimes lasting late into the night. Pelosi has also had conversations with Treasury Secretary Steven Mnuchin.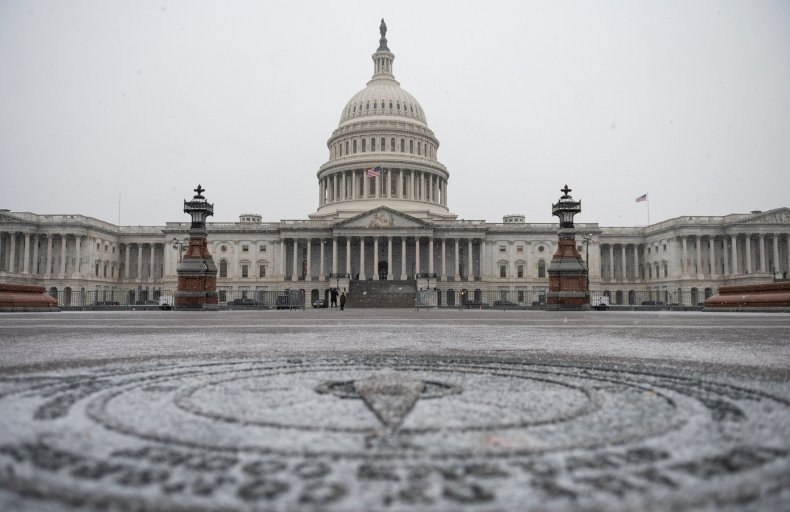 Top lawmakers and those familiar with ongoing talks have indicated that details surrounding a second round of stimulus checks and money for Federal Emergency Management Agency (FEMA) that could help states and cities have prevented them from finalizing an agreement and releasing text.
A bipartisan and bicameral group of lawmakers laid the groundwork for another stimulus with a $908 billion proposal—and it's now up to these aforementioned four leaders to reach a final deal that can equally displease everyone and pass.
"Why this takes so long is because we procrastinate and we pretend just one more day and we'll get a better deal," House Majority Leader Steny Hoyer (D-Md.), who has not been in the negotiating room, told reporters on Wednesday. "It's just the psychology of negotiations."
The hope among congressional leaders is that a short-term government funding measure, known as a continuing resolution (CR), would not be needed. Congress operates better under hard stops, especially with a thorny issue like coronavirus relief that the parties have haggled over for some seven months.
"I hope not," Senate Majority Whip John Thune (R-S.D.) said of the prospect of another CR, "but it's looking like more of a real possibility. We want to keep the pressure on."
But while Republicans have signaled they'll likely need another CR, Democrats are pushing to finish their business before Friday at midnight, forcing the two sides to reach a final agreement. Thune warned that a brief shutdown could very well occur over the weekend because it would only take one senator to object to swift passage of a CR. (A stimulus and government funding are tied because leaders want to pass both under the same piece of legislation).
"I know people who are gonna object to that, [who] want to keep pressure on the process until we get a deal," Thune said.
Begrudgingly, Republicans have ditched their red line—liability protections—while Democrats have done the same with state and local government aid. However, there's been talk of trying to still help states and cities by letting FEMA distribute emergency relief.
Aside from working out the details of the legislative text, Thune suggested there's a hang-up on how and at what amount to distribute a second stimulus check. Congressional leaders want to add a round of $600 direct payments for individuals, but Thune suggested one way to inch that amount toward $1,200 would be to restrict who qualifies for them. That would mean more people would be excluded from the checks than under the CARES Act by lowering the income cap.
That idea didn't go over well with Sen. Bernie Sanders (I-Vt.), who has teamed up with Sen. Josh Hawley (R-Mo.) to demand that another round of $1,200 checks should be doled out the same way they were under the CARES Act.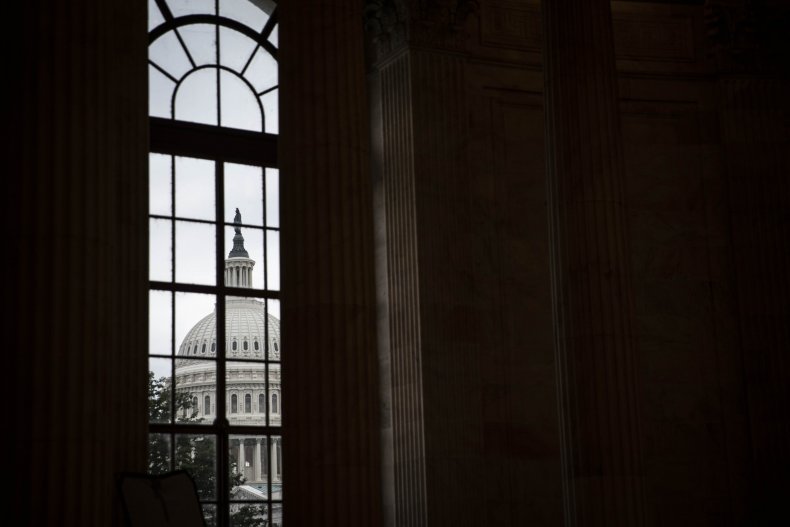 "The central problem with this entire bill is that $900 billion is nowhere near enough to address the unprecedented crisis that we face," Sanders said. "You don't take from Peter to pay Paul."
The latest unemployment numbers released Thursday showed that—although vaccine distribution has begun and a light has appeared at the end of pandemic tunnel—the virus' stranglehold on the economy persists, as millions are set to see their eviction protections expire and new COVID cases are on the rise.
There were roughly 1.34 million seasonally adjusted unemployment claims filed last week, including 455,000 self-employed and gig workers filing for Pandemic Unemployment Insurance. The Department of Labor said that more than 20 million were receiving jobless benefits at the end of November. Retail sales dipped last month by 1.1 percent, according to the Commerce Department.
In addition, some 12 million people are set to lose their unemployment benefits the day after Christmas, and millions of people who are struggling to pay rent will soon lose eviction protections at the end of the month.
Senate Banking Committee Chairman Mike Crapo (R-Idaho) suggested that extending the rent moratorium may not be necessary, should a stimulus agreement include robust rental assistance. Democrats want both.
"I personally am negotiating for an effective rental assistance program that would avoid the need for an eviction moratorium," Crapo said.
Democrats, though they initially pushed for a $2.2 trillion package, describe the $900 billion deal in the works as a "down payment" that will be expanded upon under President-elect Joe Biden. But that is easier said than done, especially if Republicans maintain control of the Senate.
"I don't see it that way, but I know that's how they're talking about it," Thune said. "If we address the critical needs right now, and things improve next year as the vaccine gets out there and the economy starts to pick up again, then there may be less of a need."