Fried Chicken Day: Best Deals, Discounts and Coupons
People of America rejoice, it's officially National Fried Chicken Day.
Returning to work Thursday after a mid-week Fourth of July was tough. Thankfully, fried chicken restaurants around the country will bring in the weekend with great deals across the country.
Here are the best deals available:
Slim Chickens
For Friday only, anyone can grab the Chick's Meal for $5 in every Slim Chickens location across the U.S. The meal comes with chicken tenders, Texas toast, one side, dipping sauce and a drink.
Popeyes
If you are craving a Popeyes meal after midnight, Fried Chicken Day is for you. Participating stores will open around the clock for chicken lovers and offer drumsticks for just $0.24 from midnight until 7am.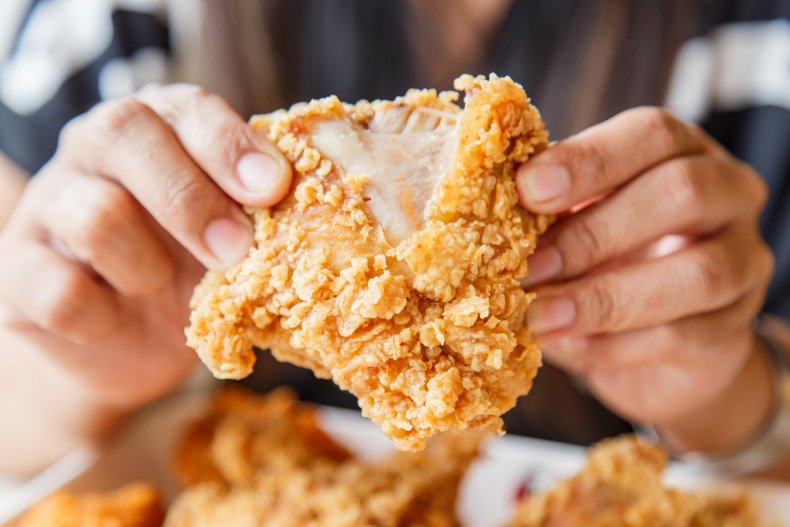 Carrabba's Italian Grill
If you want to grab a few drinks with your chicken, Carrabba's Italian Grill are offering up happy hour specials to go along with half-price wood-fired Italian wings.
KFC
The Colonel wasn't about to miss out on Fried Chicken Day. $10 will get you nine tenders, six chicken pieces, 12 hot wings or a bucket full of popcorn nuggets.
White Castle
If you're spending $20 or more, White Castle will throw in an order of chicken rings as long as you use the coupon code RINGS.
Bojangles
It may not be the most convenient deal, but Bojangles will still give you some money off. You will need to jump on Twitter and tweet to the official account @Bojanlges1977 with the hashtag #ItsBoTime and a chicken drumstick emoji. Once that's done, you'll be sent a coupon which has to be printed out.
The prize: $5 off a 12-piece Super Tailgate with a half gallon of iced tea and three 'picnic fixin's.'
Boxcar Betty's
When it's Fried Chicken Day, everyone wants the ultimate prize: free chicken. Boxcar Betty's offers that, although, it's not exactly free. The Chicago store will give out free fried chicken buttermilk biscuit sandwiches from 6:30 a.m. to 8:30 a.m. and either a Boxcar sandwich or classic Betty from 4:30 p.m. to 6 p.m., with a catch: you need to make a donation to the Greater Chicago Food Depository. It may not technically be free, but you'll get rewarded with chicken for doing a good thing.
Chick-fil-A
This is a strange one because Chick-fil-A have chosen not to celebrate Fried Chicken Day. Instead, they are waiting until July 10 to embrace Cow Appreciation Day. Dress up like a cow and get yourself a free entree.