Who Was Friedlieb Ferdinand Runge? Facts and Quotes About the Chemist Who Discovered Caffeine Celebrated in Google Doodle
The Google Doodle is celebrating the life and work of the German chemist Friedlieb Ferdinand Runge, who was born 225 years ago and made multiple discoveries advancing his scientific field.
But it is one discovery by Runge in particular which will resonate with many of us in the sleep-depriving modern world of instant communication and long working hours—caffeine.
He is the first chemist to have identified caffeine after analyzing coffee in 1819 at the suggestion of Johann Wolfgang von Goethe, the German writer, philosopher, and diplomat who also had a keen interest in the sciences.
"Runge was interviewed by Goethe, who passed on to him a box with unroasted coffee seeds, which had been given to him by a Greek researcher as a uniqueness," states the book Coffee: Production, Coffee and Chemistry, published by The Royal Society of Chemistry in Britain.
"Shortly after, Runge isolated caffeine from coffee seeds and called it first 'Kaffein,' which later became "caffeine" in England, and was included in the medical vocabulary in 1823."
Runge was born on February 8, 1794, in Billwerder, just outside of the northern German city of Hamburg, to a pastor. From a young age Runge became fascinated by science, latterly focusing on chemistry, a passion that would last a lifetime.
"As a boy, Runge demonstrated the scientific curiosity and sharp powers of observation that presaged his creative career in analytical chemistry," states The World of Caffeine: The Science and Culture of the World's Most Popular Drug, a book written by Bennett Alan Weinberg and Bonnie K. Bealer.
"While he was preparing a medicine from the juice of the deadly nightshade, or belladonna plant, a drop splashed accidentally into his eye and he noticed that the pupil dilated and his vision blurred.
"Ten years later, just after Runge completed a medical degree at the University of Jena, his early observative brought him the audience with Goethe that would lead to the discovery of caffeine."
Runge was trained as a pharmacist and physician before embarking on his career in technical chemistry. He worked first for the University of Breslau until 1832 and then privately as a chemist after that for a factory.
Another piece of important work by Runge was on coal tar dyes. He also made a significant contribution to chromatography—the separation of a fluid into its component parts.
"In studying the possibility of carrying out reactions on filter paper, he produced picture which strongly resemble present-day, circular paper chromatograms," according to a 1994 paper by the German academics H. H. Bussemas, G. Harsch and L. S. Ettre.
Isis, the journal of the History of Science Society, described Runge as "idiosyncratic but highly inventive. He also took popular science writing very seriously," the journal states. "He wrote a number of works on chemistry for specific audiences, not only for physicians and pharmacists, but also for dyers, printers, painters, roofers, and so on—and not least for Haus-frauen."
According to Forbes, Runge spent the last 15 years of his life in obscurity and poverty, after leaving the chemical company for which he worked in 1852 in acrimonious circumstances. Runge died aged 73 in 1867 in Oranienburg.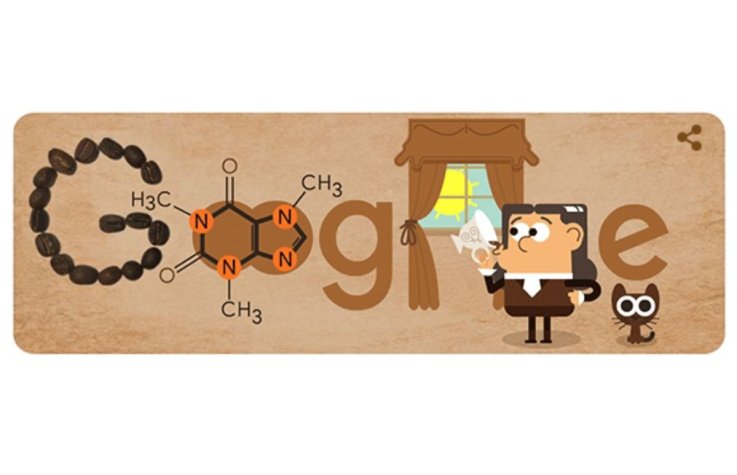 Who Was Friedlieb Ferdinand Runge? Facts and Quotes About the Chemist Who Discovered Caffeine Celebrated in Google Doodle | U.S.