'Friends' 25th Anniversary: George Clooney, Brad Pitt, Julia Roberts and More Major Stars You Forgot Appeared on NBC Show
It's been 15 years since viewers said farewell to Friends and New York City buddies Rachel, Ross, Monica, Chandler, Joey and Phoebe, but on Sunday, fans all across the globe will get a friendly refresher of all the great moments featured on the NBC series during Friends 25th-anniversary celebrations.
With all the time that has passed, it's easy to forget the many famous faces to appear on the show other than the original cast of Jennifer Aniston, David Schwimmer, Courtney Cox, Matthew Perry, Matt LeBlanc and Lisa Kudrow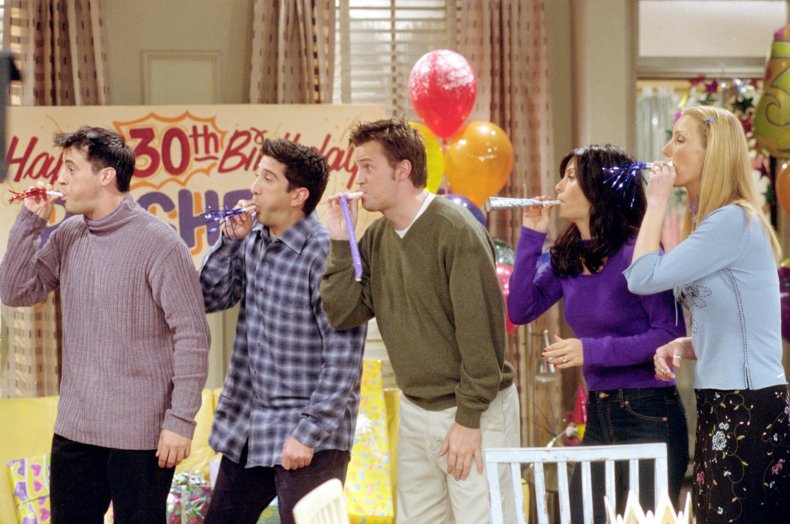 Granted there are some appearances diehard fans will always remember—who could ever forget Maggie Wheeler as Janice or Cole Sprouse as Ross' adorable son Ben? However, Friends still had a notable reputation for not only putting up-and-coming stars in the spotlight—like Rebecca Romijn, who received her first acting credit on the Friends episode, "The One with the Dirty Girl"—but the show also notably guest featured dozens of stars who were actually more famous than the cast. After all, more than 70 actors made appearances on Friends during its 10-year run on NBC.
In honor of the 25th anniversary, we've rounded up a list of some of the biggest celebrities to ever appear in episodes of Friends. Check out the full list below.
Helen Hunt
Season 1, episode 16
Hunt starred as her Mad About You character Jamie in the crossover episode titled, "The One With Two Parts: Part 1." She's first spotted at the Central Perk where Phoebe works and mistakes the barista for her twin sister Ursula.
George Clooney
Season 1, episodes 16 and 17
Clooney reprised his ER character Dr. Doug Ross in the episode titled, "The One With Two Parts: Part 2." Rachel suffers an injury and her trip to the hospital with Monica turns into a troublesome double date with Clooney's character and his co-star Noah Wyle, portraying his ER character Dr. John Carter.
Julia Roberts
Season 3 Episode 13
As Susie Ross, Roberts plays one of Chandler's childhood friends who pops up in New York City to get the ultimate revenge in an episode titled "The One After the Super Bowl: Part 2."
Charlie Sheen
Season 2, episode 23
The actor guest-starred as an old lover of Phoebe's named Ryan in the episode titled, "The One With the Chicken Pox."
Ben Stiller
Season 3, episode 22
In "The One With the Screamer," Stiller plays the constantly angry Tommy, who goes on a date with Rachel. Their romance is short-lived once his fiery temper starts rearing its head.
Robin Williams and Billy Crystal
Season 3, Episode 24
Williams and Crystal star as Tomas and Tim, respectively, in an episode titled, "The One With the Ultimate Fighting Champion." They appear at the Central Perk where the friends are invested in a story Monica is telling about her ex, only to be interrupted when Tomas discovers Tim has been sleeping with his wife.
Reese Witherspoon
Season 6, episodes 13 and 14
Witherspoons' character Jill Green brought her sister Rachel plenty of strife when she came to visit—and goes on a date with Ross—on the episode, "The One With Rachel's Sister."
Bruce Willis
Season 2, episodes 21 to 23
The actor plays the role of Paul Stevents, the father of one of Ross' students who he is also dating, in the episode titled, "The One Where Ross Meets Elizabeth's Dad." Safe to say, their meeting doesn't go without a hitch.
Susan Sarandon
Season 7, Episode 15
In "The One With Joey's New Brain," Sarandon stars as Cecilia, a soap actress who ends up having a love affair with Joey while they rehearse scenes.
Winona Ryder
Season 7, episode 20
Ryder played Rachel's sorority sister Melissa Warburton, whom Rachel once shared a kiss with in college, on the episode titled "The One With Rachel's Big Kiss."
Sean Penn
Season 8, episodes 6 and 7
Penn played the role of Eric, who was engaged to Phoebe's twin sister, in two episodes of Friends. When Ursula brings him to meet Phoebe, he discovers the shocking truth about her life.
Brad Pitt
Season 8, episode 9
Pitt, who was married to Anniston when he made an appearance on Friends, guest starred as Will Colbert in "The One With the Rumor." He visits the friends for Thanksgiving and reveals that he and buddy Ross once had a club called, "I Hate Rachel Green."
Alec Baldwin
Season 8, episodes 17 and 18
In "The One in Massapequa," Baldwin plays Phoebe's disturbingly happy boyfriend Parker. His cheerful, talkative demeanor becomes the ire of the friends as he travels with them to Ross' anniversary party.
Paul Rudd
Seasons 9-10, various episodes
Rudd appeared in 17 episodes of Friends over the course of two seasons as Mike Hannigan, a man Joey set Phoebe up with on a blind date and who eventually became her husband.
Danny DeVito
Season 10, episode 11
In the episode titled, "The One Where the Stripper Cries," DeVito stars as a stripper named Roy. He makes his debut with some interesting dance moves at Phoebe's bachelorette party