Friends Again: The One Where Bibi and Obama Get Back Together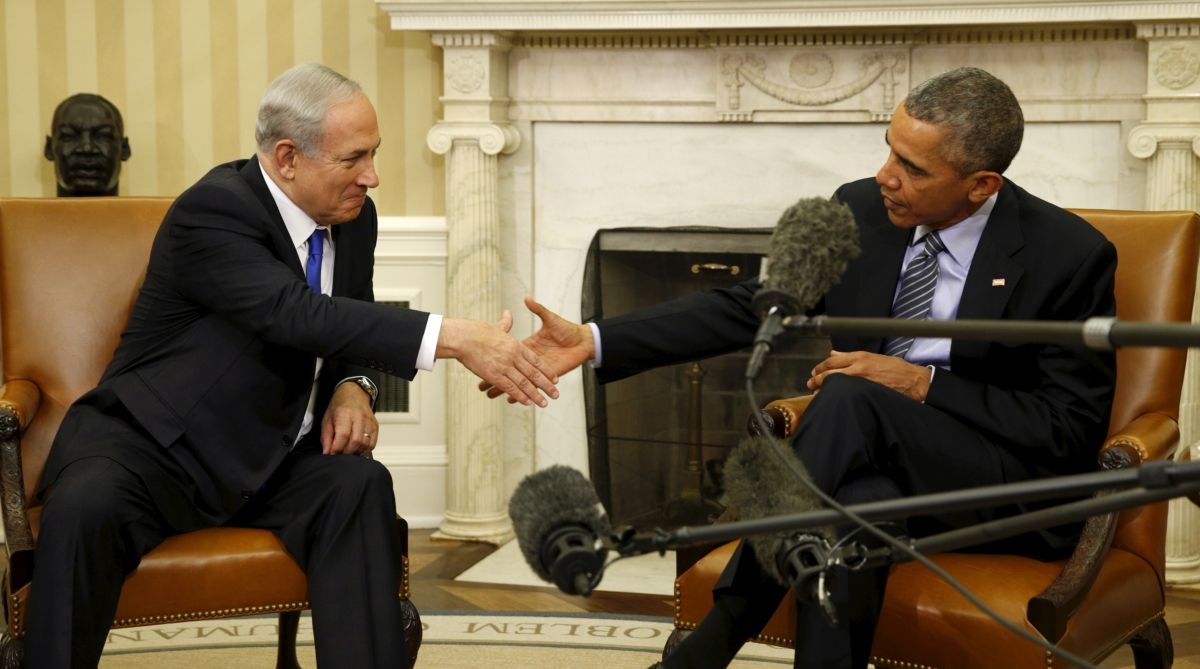 In the best traditions of international diplomacy, the advisers and spokesmen were already heavily pre-briefing this meeting. Like an episode of Friends, this was billed as "The One Where Barack and Bibi Get Back Together."
Bibi—otherwise known as Israeli Prime Minister Benjamin Netanyahu—had been emulating Ross Geller. He was on a break. He did his Iran stuff, he spent a bit too much time with the Republicans. But after a meeting at the White House on Monday with U.S. President Barack Obama, the two leaders are an item again.
They share a record-breaking long-term relationship. No other U.S. President and Israeli Prime Minister have worked together for so long. And they are stuck with each other for the foreseeable future.
The truth is that the U.S.-Israel relationship is far too important for either leader to let a small disagreement get in the way of the serious business of achieving shared strategic objectives in the Middle East. Context is everything. To understand Prime Minister Netanyahu's actions over the Iran deal or the current stalemate with the Palestinians you have to pan out and survey the wider region and the alarming pace at which the political map is crumbling.
Arguably Netanyahu is the one who put the Iran nuclear issue front and centre. Thanks to his tireless campaigning and veiled threats of military action, the P5+1—the U.S., U.K., China, France, Russia and Germany—were spurred into action. Netanyahu may not like the final deal, but making a go of it now is by far the least worst option. Asked why he continued his campaign even after the deal was done, running an extra futile lap of honor that seemed doomed to failure, Netanyahu says he wanted to remind the American people that Iran was their enemy.
He feared that, had he gone quiet when the deal was signed, no one would have remembered his message to the world about Iran's belligerent intentions. But the important result of yesterday's meeting in the Oval Office is that both parties have now moved on. The emotional phase is over. The focused, constructive phase has started where the U.S. and Israel can work together to ensure the deal delivers and the agreement to establish a joint U.S.-Israeli task force to monitor implementation is a very good step forward.
The expectation management on the Palestinian track began before Netanyahu landed in Washington. U.S. advisers stated that no agreement was likely before Obama leaves office. This is a somber but realistic assessment. The recent wave of stabbing attacks on Israelis has reinforced a chilling reality. Large numbers of young Palestinians have been educated in a system that glorifies violence and terrorism.
Their social media feeds are full of anti-semitic imagery that fetishizes the stabbing of Jews and their leaders fuel this fire by falsely claiming that Israel is changing the status of Al-Aqsa and the Israeli army is executing Palestinianswho just happen to be running towards civilians with knives. Yes they are frustrated and angry at the political situation but it is the system of institutional radicalization within the Palestinian Authority that has placed so much value on martyrdom and the need to kill Israelis.
Netanyahu reiterated his commitment to the two state-solution and that remains the only game in town. But achieving it is another matter. He knows that Abbas is not a realistic partner for peace as he lacks the authority and the will to make the necessary sacrifices for peace. Netanyahu has repeatedly offered to meet for negotiations without preconditions but has had no response.
In the absence of talks there has been a focus on reducing tension. As part of that process Obama and Netanyahu seem to have agreed a series of confidence building measures that will be announced shortly. These could include removing some checkpoints in the West Bank, approving more Palestinian building permits, increased trade and access between Gaza and the West Bank and even a limited but unofficial settlement freeze.
There is most agreementand closest political, military and intelligence cooperationin the efforts to deal with the ongoing crisis in Syria and to contain Iran's extensive support for Hezbollah. Israel faces multiple strategic threats; from Hezbollah in Lebanon and the Golan and from ISIS in Syria and Sinai.
It is in this context that U.S. military aid to Israel and the negotiations on the next U.S.-Israel Memorandum of Understanding have paramount importance. Military aid is likely to increase and sales of state-of-the-art weapons systems will be stepped up. The U.S. is committed to assisting Israel in maintaining its qualitative military edge because Israel is quite literally on the frontline against the most capable and most dangerous military forces in the Middle East.
For this reason it is a very positive sign to see Barack and Bibi back together again on such good form.
James Sorene is the chief executive of the Britain Israel Communications & Research Centre (BICOM), a pro-Israel advocacy organization. He previously served as head of communications and official spokesman for former British Deputy Prime Minister Nick Clegg between 2011 and May 2015.