How to Get Tickets to 'Friends' 25th Anniversary Theater Event: Episodes, Air Dates, Locations For 'The One With the Anniversary' Screening
Friends is getting the big-screen treatment in honor of the NBC series' 25th anniversary. For the first time ever, the sitcom that brought the world Rachel, Ross, Monica, Chandler, Joey and Phoebe will be available for viewing at select theaters across America for Friends 25th: The One With the Anniversary.
Launched by Fathom Events, four episodes from the show, which debuted on NBC on September 22, 1994, will air on the silver screen on three separate nights including September 23, September 28 and October 2. Viewers will also get to see behind-the-scenes footage and special exclusive interviews on each night of the event.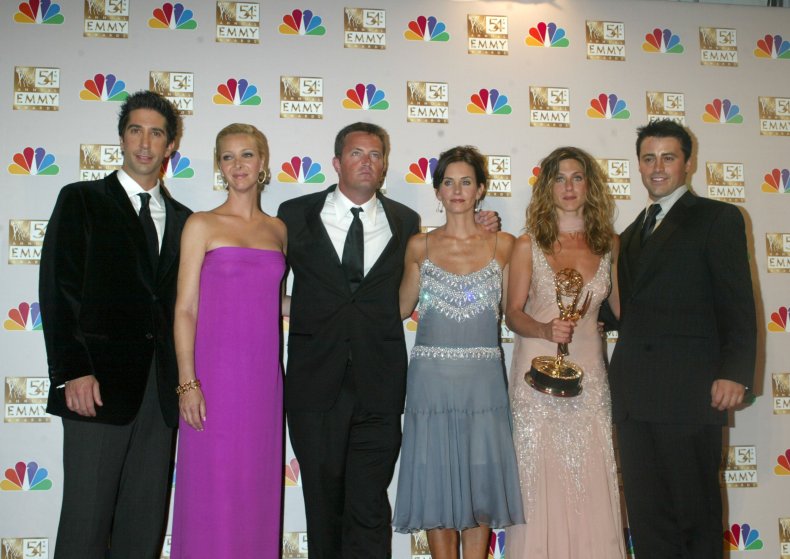 The selected episodes will span all 10 seasons of Friends. The first night of the screening will include episode titles, "The One Where Monica Gets a Roommate," "The One with the Blackout," "The One With The Birth" and "The One Where Ross Finds Out." The second night will feature episode titles including "The One With the Prom Video," "The One Where No One's Ready," "The One The Morning After" and "The One With The Embryos," while the third presentation will air "The One With Chandler In A Box," "The One With Ross's Wedding Part 2," "The One Where Everyone Finds Out," "The One Where Ross Got High."
Fans in 10 states will have access to the screenings at a locations including the following: Empire 25 in New York City and REGAL Essex in Seward, NY; Los Angeles theaters REGAL LA Live 14 and TCL Chinese Theatre; AMC Orange 30 in Orange, California; SMG Simi Valley 11 in Simi Valley, California; REGAL Greenwood Plaza 12 in Englewood, Colorado; REGAL City North in Chicago, Illinois; AMC Town Center 20 in Leawood, Texas; CINEMARK West Plano 20 in Plano, Texas; REGAL Pinnacle in Knoxville, Tennessee; CINEMARK 24 in West Jordan, Utah; AMC Tyson's Corner in McLean, Virginia; Majestic Brookfield in Waukesha, Wisconsin and Camelview in Scottsdale, AZ.
To purchase tickets, just visit the Fathom Events website, select the date in which you'd like to attend and follow the prompts.
Friends 25th: The One With the Anniversary is just one of many events celebrating the 25th anniversary of the show's existence during the month of September. Various networks have taken fans on trips down memory lanes with TV specials offering never-before-scene glimpses of the cast—Jennifer Anniston, David Schwimmer, Courtney Cox, Matthew Perry, Matt LeBlanc and Lisa Kudrow—during their younger years on set along with interviews of producers, directors, writers and crew members.
Meanwhile, retailers have cashed in on the Friends pandemonium by releasing limited-edition merchandise. Folks can even bring furniture from Friends home like the Pottery Barn's beloved apothecary table that was a staple in Rachel, Monica and Phoebe's New York City apartment. The piece is back in stock at the furniture store in honor of Friends' 25th anniversary