What's the 'Friends' Apartment's Address? Courteney Cox Visits the NYC Location
Courteney Cox's Friends days are far from behind her, as the actress visited the show's iconic New York City-based apartment on Wednesday.
Cox, 54, rose to fame playing Monica Geller on Friends from 1994 to 2004. She posted an Instagram video Wednesday of her and Jimmy Kimmel's wife, Molly McNearney, visiting the place her character Monica and pal Rachel Green (Jennifer Aniston) lived in throughout the NBC series.
"Good night, guys. I'm going home," Cox said in the video before one of Friends' transition songs plated as she walked toward it. The Cougar Town alum captioned the post "The One Where My Rent Went Up $12,000," echoing the way in which Friends episodes were titled. The Instagram post also featured a hashtag that read "Miss those days."
The Friends apartment has become a popular NYC tourist attraction and it's located at 90 Bedford St, New York, NY 10014. It's at the corner of Bedford and Grove Streets in Manhattan's West Village neighborhood. As many fans know, Joey Tribbiani (Matt LeBlanc) and Chandler Bing's (Matthew Perry) apartment was also located in this building, across the hall from Monica and Rachel's place.
Friends used the Bedford Street spot as an exterior shot on the acclaimed sitcom. The show's cast—Cox, Aniston, Perry, LeBlanc, Lisa Kudrow, and David Schwimmer—filmed the series at a studio in Los Angeles. Ross Geller (Schwimmer), Monica's older brother, lived across the street and fans can catch a glimpse of the physical location at 17 Grove Street when visiting the Bedford Street building. Phoebe Buffay's (Kudrow) apartment is located nearby at 5 Morton Street, New York, NY 10014.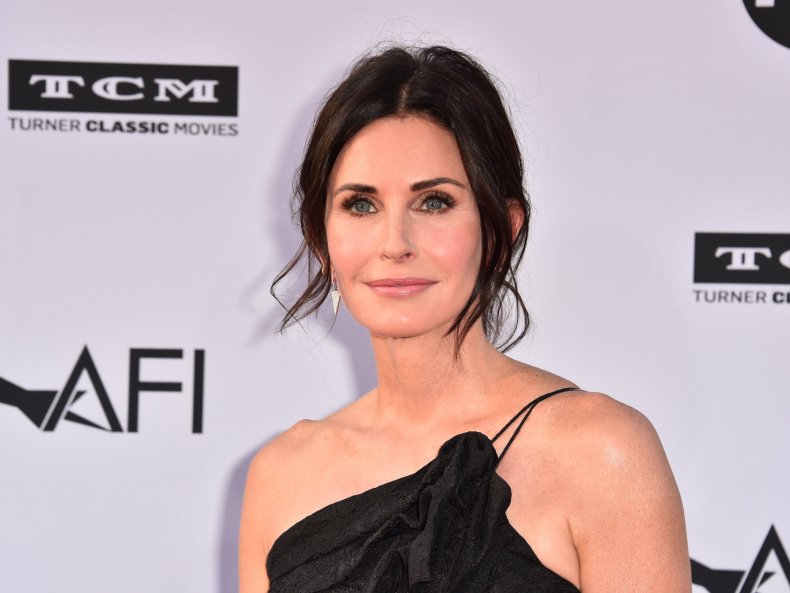 Monica's Friends apartment building was was home to the Central Perk coffee on the ground floor. Central Perk, unfortunately, doesn't exist and the building beneath the West Village-based apartment houses The Little Owl—a restaurant that offers Mediterranean cuisine. Friends devotees can visit Central Perk by purchasing tickets to the Warner Bros. Studio Tour Hollywood in Burbank, California. Tickets for this experience start at $69.
The show's opening title scene is often believed to be shot at the Cherry Hill fountain in NYC's Central Park, but this was also filmed at a Los Angeles-area studio.
Cox's trip down memory lane wasn't her first time reliving her days on Friends. In January, daytime host Ellen DeGeneres staged a mini Friends reunion with Cox and Kudrow on The Ellen DeGeneres Show. In 2014, Kimmel hosted a Friends reunion of his own on Jimmy Kimmel Live! where he recruited Cox, Kudrow and Aniston to participate.
Cox expressed interest in revisiting the series in an October 2018 interview with Us Weekly, but she also said she doubts it'd actually happen.
"People ask us all the time would we ever do a remake and that was a story about this group of people, they were friends in their 30s and they were finding themselves and I think there's really … I don't know that there's a way to do redo it," Cox explained to Us Weekly. "It's not like the other shows that have done reboots and are doing so well. I just don't see it happening even though I would do anything to be in a room with all of those people acting, having a great time—but I just don't see it happening."
According to Recode, Friends is the second most-viewed series on Netflix, behind fellow former NBC series The Office.