What Has the Co-Creator of 'Friends' Marta Kauffman Said About Diversity on the Show?
Friends being on Netflix for a few years was a huge boon for the sitcom's popularity—but it also brought the beloved NBC series a ton of skepticism, particularly about its lack of diversity.
While new generations of viewers happily binged the more than 200 episodes of Friends on the streaming service, many people couldn't help but notice that the 1990s phenomenon falls flat when it comes to some key standards of modern-day entertainment. For starters, there's the fact that the show's lead characters—Rachel (Jennifer Aniston), Monica (Courtney Cox), Ross (David Schwimmer), Chandler (Matthew Perry), Joey (Matt LeBlanc) and Phoebe (Lisa Kudrow)—are all white.
Beyond just being white themselves, the troupe rarely interact with any people of color during the show's 10 seasons' worth of episodes, and there's also a scarcity of LGBTQ+ characters.
A quick rundown of the representation on Friends: Ross was in an interracial relationship once with Julie, played by the Chinese-American actress Lauren Tom, back in Season 2. Black American actor Aisha Tyler played Charlie, the love interest of both Ross and Joey in Season 9. Gabrielle Union once had a guest spot on the show as Kristen Lang, a woman who won the affection of Ross and Joey in Season 7. Chandler's father was a transgender woman, and Ross' first wife left him for a woman. That's pretty much it.
The lack of diversity hasn't been lost on one of the show's creators, Marta Kauffman.
While speaking at the 2020 ATX TV From the Couch virtual panel on Sunday, Kauffman was nearly moved to tears while listing the things she would have done differently throughout her career if she had known then what she knows now—starting with her position to empower and represent a variety of races and orientations on her multi-award-winning series.
"Sorry, I just wish I knew then what I know now. I would've made very different decisions," admitted Kauffman, who is also the co-creator of the Netflix series Grace and Frankie. "I mean we've always encouraged people of diversity in our company, but I didn't do enough and now all I can think about is what can I do? What can I do differently? How can I run my show in a new way? And that's something I not only wish I knew when I started showrunning, but I wish I knew all the way up through last year."
Newsweek reached out to Kauffman for further comment, but did not receive a response at time of publication.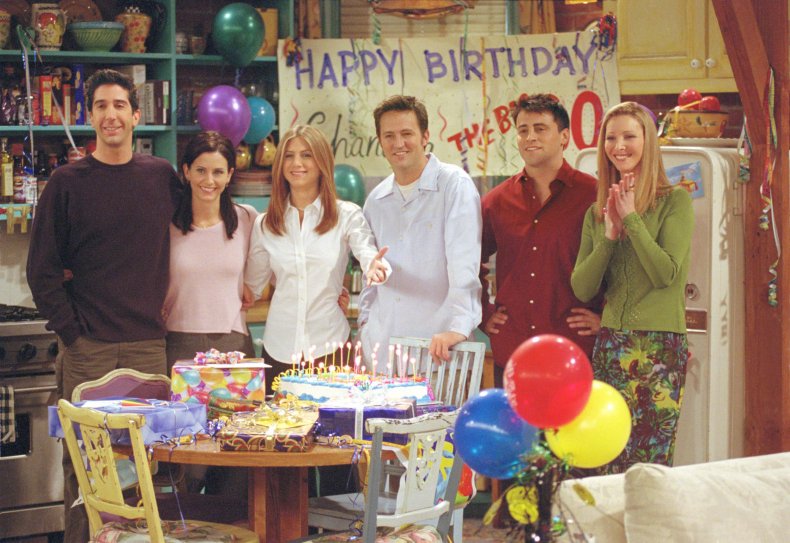 Julie Plec, the showrunner for Vampire Diaries, was also featured on the panel and shared in Kauffman's sentiments. She recognized that she too was a part of the overall problem of minuscule representation and inclusion within the television industry. "That has been the hardest pill for me to swallow," Plec said, "is that I'm a part of that group."
Although Kauffman claimed she could have done more for diversity on Friends during its decade-long run from 1994 to 2004, some of her cast members were pushing for more representation back when the show was airing. According to Schwimmer, the reason why his character ever dated women of different ethnicities was largely because he pushed for it.
"I was well aware of the lack of diversity and I campaigned for years to have Ross date women of color," Schwimmer told The Guardian in a January interview. "One of the first girlfriends I had on the show was an Asian-American woman, and later I dated African-American women. That was a very conscious push on my part."
In an interview with the British publication The Times, released in May, Kudrow noted the show would likely be "completely different" in terms of casting had it first premiered today.
"It would not be an all-white cast, for sure. I'm not sure what else, but to me, it should be looked at as a time capsule, not for what they did wrong," she said, adding that Friends did include some scenarios that were considered progressive for the time when it aired.
"Also this show thought it was very progressive," Kudrow said. "There was a guy whose wife discovered she was gay and pregnant, and they raised the child together. We had surrogacy, too. It was, at the time, progressive."