Friends Mimic Mute Owner as Dog Only Understands 'Moans' in Hilarious Video
The unusual way that one man's loved ones have figured out to speak to his dog has left the internet in stitches this week.
Ahren Belisle from Ontario is mute, and he shared footage of his friend and his brother Garrett mimicking his "moans" to communicate with his 5-year-old golden Labrador Al.
With over 8 million views on TikTok, the video has made viewers around the world laugh.
In the video, the text overlay reads: "I'm mute so my friends mimic my moans so my dog understands."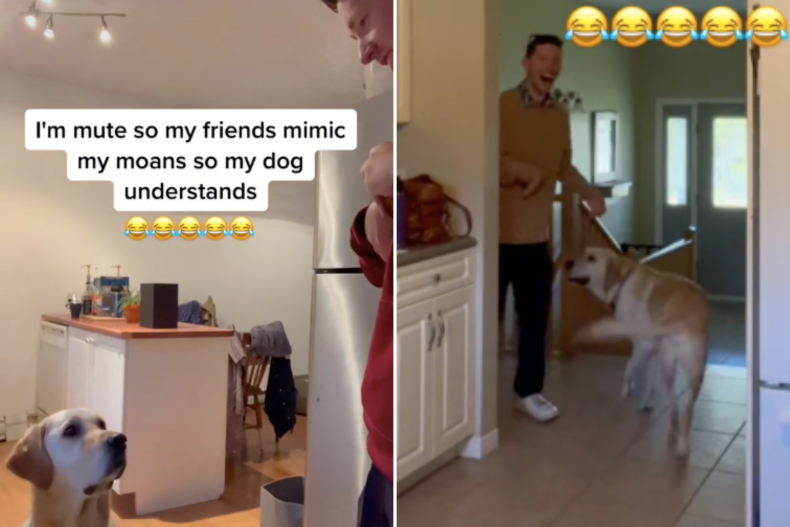 "I have cerebral palsy which has left me nonverbal," Belisle told Newsweek: "Being disabled can be hard, and being mute can make communication more difficult and slow, but I've spent a lot of time learning to accept everything."
Belisle has a following of over 51,000 on TikTok where he shares his stand-up comedy and mental health content.
Cerebral palsy is a disorder of the nervous system that affects the muscles and coordination. A group of neurological disorders characterized by paralysis resulting from abnormal development of or damage to the brain either before birth or during the first years of life.
The condition can affect a person's ability to coordinate the muscles around the mouth and tongue—resulting in affected speech. While some people with cerebral palsy may not be able to produce any sound, others may struggle to control their movement enough to produce speech that others can understand. Research shows that one in four people with cerebral palsy is mute.
In the video, Belisle's friends are seen mimicking the "moans" he makes when he talks to his dog Al to get the pup to pay attention to them.
"The dogs like 'now you're speakin' my language," joked one commenter. While another TikToker wrote: "This is true solidarity."
"Al is actually a dog guide that was trained by the Lions Club of Canada," explained Belisle: "As we got to know each other over the years, he got to know what my grunts and moans meant. He understands sign language too. As a Labrador, he's really food driven and when people try to speak to him and he doesn't want to listen, he won't. But if my friends moan at him, he will. It is especially funny for recall. To try to get him to come he will only listen to come here if he wants to. But if you yell like me, he comes."
"This is so pure I love it," said another viewer of the viral video. One TikToker said: "Hahahaha I can't believe this!! Good boy."
Belisle was inspired to make the video for two reasons: "Because I think it's hilarious, and it showcases something unique and different and instantly relatable," he said: "It shows something that would be offensive in any other context but is funny and wholesome in this context and I think that's great."
Performing stand-up routines and sharing content online under the handle ahren_comedy, Belisle said he feels lucky for the growth and support he has gained online.
"I've been growing a lot on my comedy page in a very short time and I'm tremendously lucky to have this happening for me this quickly. People work for many years to get this type of exposure and I just feel really lucky that I get to make millions of people laugh and smile," he said: "I just feel lucky that I get to serve the world with laughter and education and I hope I get to do it more and more."
Do you have funny and adorable videos or pictures of your pet you want to share? Send them to life@newsweek.com with some details about your best friend and they could appear in our Pet of the Week lineup.