Friends Not Invited to Wedding Ceremony Go to Extreme Lengths To Turn Up
One group of friends expressed their dedication to seeing their friends get married by hiring a boat to be there for the special moment.
Shelby and Justin Ernst from Indianapolis, in Indiana, got married in Lake Tahoe, which straddles the border of California and Nevada, on September 9, 2022. After planning an intimate ceremony that took place on a boat on the lake, the happy couple were limited to how many people they could have on their boat.
"We had invited more guests out for the weekend than the boat capacity allowed," the couple told Newsweek. "We did this because it was a weekend-long celebration, the ceremony was only two hours of the weekend!"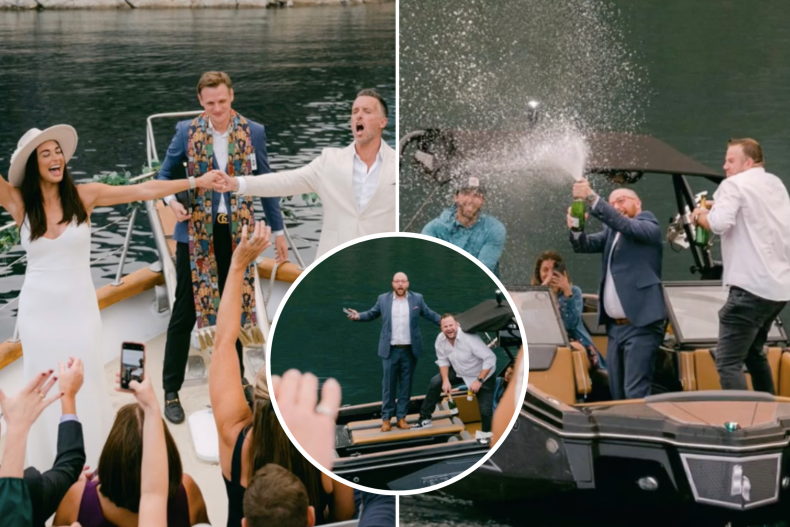 The couple and their guests boarded the boat and headed out onto the lake, but before long they were joined by some friends.
The text overlay on the video joked: "When you don't make the final guest list but still want to support your friends on their wedding day." The slip showed the moment the group of friends appeared at the side of the couple's boat to celebrate the special moment.
"These friends surprised us with renting a small boat to follow along behind," said the couple. "We laughed and loved every second of it. They did it perfectly and brought the party during the champagne toast at the end."
Photographer Elsa Boscarello shot the couple's special day and shared a selection of pictures on TikTok where the unusual set-up delighted over 3.8 million viewers.
"I had never seen anything like this before! It was so memorable and the couple loved seeing their friends nearby," Boscarello told Newsweek.
In thousands of comments on TikTok, others shared how much they appreciated the sweet gesture.
"How cool, that the friends understood the situation and didn't take it personally. This is friendship," said one reply.
Meanwhile another TikToker said: "If my friend was getting married on a boat then logically it could probably only hold bride and grooms family... So darn tootin' I'm renting a boat"
"The friends understood the assignment," said another viewer.
After the ceremony, the couple and their guests headed back for a party on land.
"It wasn't your average reception," said the couple. "We had everyone to our Airbnb after the boat for a pizza and donut party."
Photographer Boscarello is new to TikTok and was amazed by the viral reaction to the unusual ceremony.
"I love creating content that reminds couples to embrace spontaneity on a wedding day," she said. "It makes for the best memories! The viral reaction has been very entertaining—people are really invested in what really went on, so I hope this will clear that up."
Correction 02/17/2023 11:20 a.m.: This article was updated to edit the mention of "river" to the correct term "lake."