Frightening Videos of Super Cyclone Amphan Show Devastating Impact as It Makes Landfall
Coastal areas of Bangladesh and India's neighboring West Bengal state experienced severe winds and excessive rain as super cyclone Amphan made landfall on Wednesday.
Videos shared to social media show the storm's early impacts in West Bengal and the adjacent Indian state of Odisha, where the storm has already caused flooding, damaged buildings and set off multiple electrical fires.
Authorities in Bangladesh and India have been anticipating Amphan's arrival for days. Categorized as a "super cyclonic storm" by India's Meteorological Department, it is one of the most powerful cyclones to strike the region in decades, with the potential for storm surges as high as 16 feet above usual tides. The IMD's most recent situation report, released Wednesday, noted that West Bengal's South and North 24 Parganas and East Medinipur districts were most affected by the surge.
"Storm surge of about 4-5 meters above astronomical tide is likely to inundate low lying areas of south and north 24 Parganas and about 3-4 meters over the low lying areas of East Medinipur district of West Bengal during the time of landfall," the report said.
India's National Disaster Response Force (NDRF) confirmed that 500,000 people had been evacuated from sections of West Bengal, as well as an additional 150,000 people from parts of Odisha, as Amphan approached from the Bay of Bengal earlier this week. On Tuesday, Enamur Rahman, Bangladesh's deputy disaster minister, told news agency Agence France-Presse that authorities planned to evacuate up to 2.2 million people and hoped to "keep casualties at zero."
Leaders in India and Bangladesh faced additional obstacles in determining plans to shelter large numbers of evacuees amid the coronavirus pandemic, which has required social distancing measures worldwide to mitigate transmission. During an announcement on Monday, as India's NDRF worked with Prime Minister Narendra Modi to initiate evacuation and relief strategies, the task force's director-general, S.N. Pradhan, said officials were confronting a "dual challenge" from the virus's outbreak and the deadly storm.
He told the public that the NDRF's approach to evacuation and sheltering would prioritize protecting citizens "both on the front of COVID-19 as well as safety from the cyclone."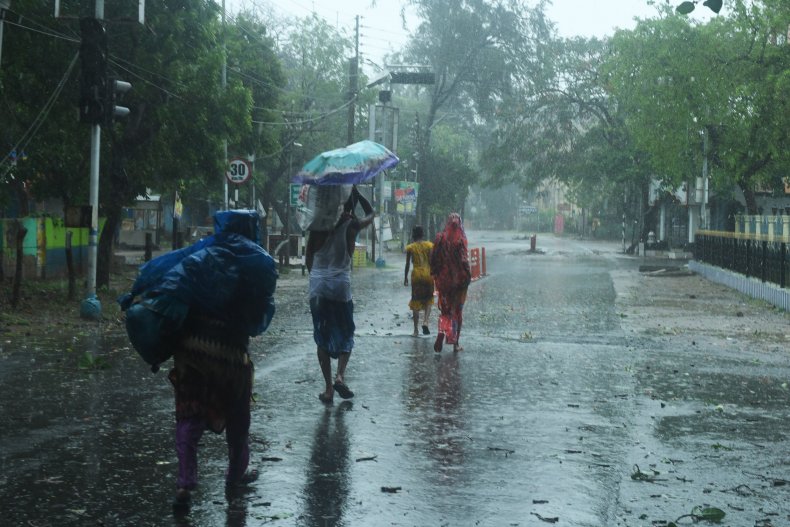 Odisha has 703 confirmed active cases of the virus, according to the state's health department. The Hindu newspaper reported on Tuesday more than 1,600 active cases were confirmed in West Bengal. Speaking to The Indian Express on Wednesday, Odisha Special Relief Commissioner Pradeep Jena said close to 250 of 809 designated storm shelters in districts affected by Amphan are already being used as quarantine facilities.
"You can't always have two-meter distancing," he told the outlet, referring to barriers to physical separation in shelters. "The idea is to ensure social distance as much as possible. So if an evacuation center earlier had 3,000 people, now we are putting around 750 people."
As of Wednesday morning, more than 100,000 cases of the novel coronavirus had been diagnosed across India, with at least 3,317 deaths and 43,000 recoveries, according to Johns Hopkins University's tracker.