What Does Israel Want From the Civil War in Syria?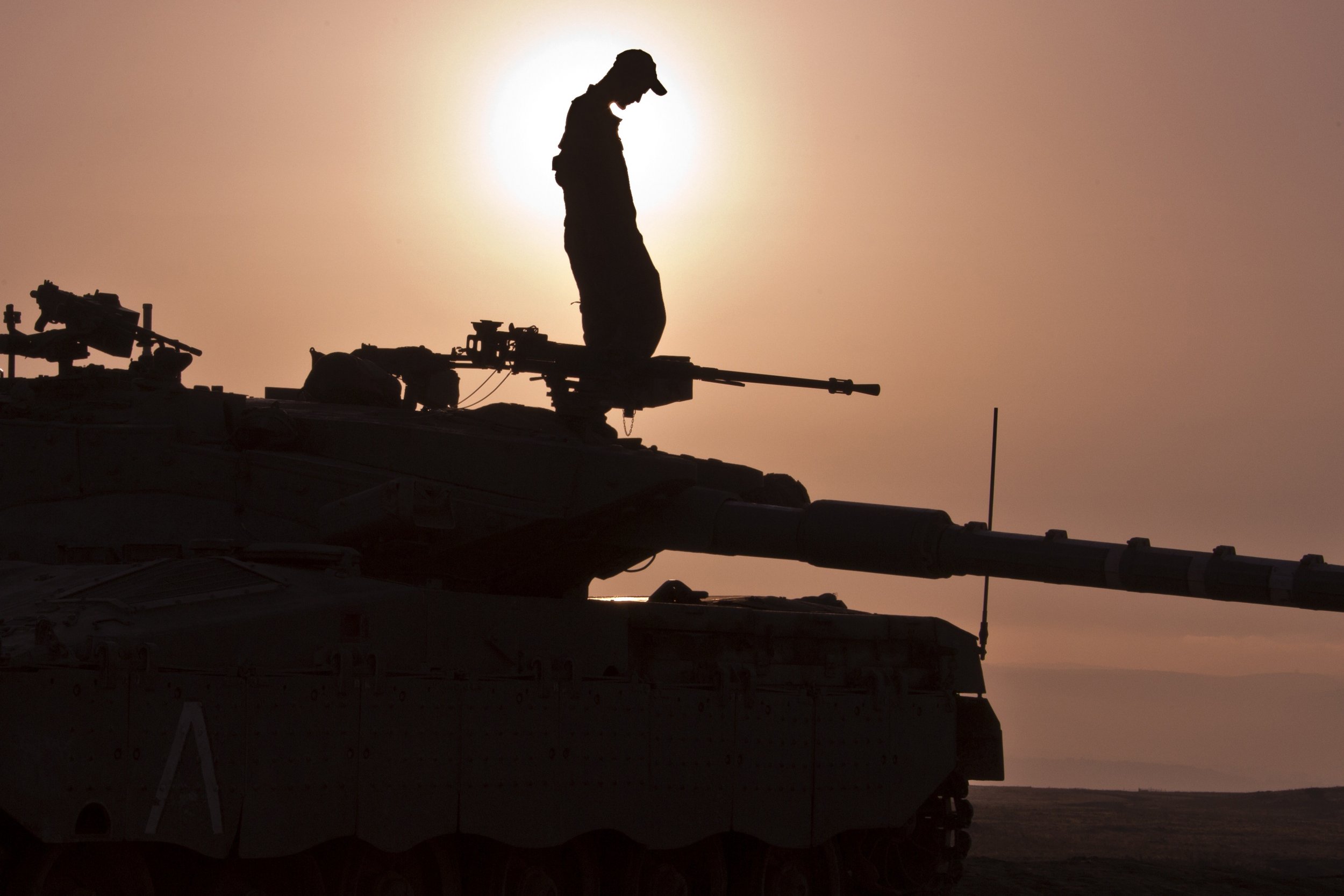 For the past six years David Spelman has had a front row seat at the bloody and protracted spectacle that is Syria's civil war. His home in the Golan Heights is just two miles from the Syrian town of Quneitra, across Israel's heavily-fortified border. It is, he says, like being "in the eye of the storm."
Spelman has lived in the Ein Zivan Kibbutz since the end of the 1967 Six Day War, during which Israel seized the Golan from Syria. Since Syria's Arab Spring-inspired revolution began its descent into war in 2012, Israelis have watched rebel fighters being transported to and from the frontline in pickup trucks.
Read More: Israel Tried to Derail Syria Ceasefire at Secret Meetings With U.S. And Russia Over Iran
Spellman has seen Quneitra descend from a relatively prosperous if rugged frontier town to a battered shell sat amidst a devastated no man's land.
"You have the Syrian army taking over a village, then a week later you will have another faction take it back. You can literally see people killing one another on a day-to-day basis," Spelman tells Newsweek.
Up in the hills of the Golan, Spelman may be on the edge of the front line—he recounts how, in 2015, stray shells landed near the kibbutz and one tank round hit a winery—but for a man who was evacuated from the area during the 1973 Yom Kippur War, the danger still feels remote.
"It is tragic to know and to hear and to see," he says, but "it is the fringes of slaughter."
But while the 104 families that make up the Ein Zivan settlement have observed the Syria conflict quietly over the past six years, Israel has not stood idly by, intervening sporadically—but forcefully—to prevent the 21st Century's deadliest conflict from spreading over its borders.
In June 2017, Israel targeted Syrian military positions with air strikes in Quneitra after ten tank shells from inside Syria hit the Golan Heights. Israel described the overspill, which occurred in clashes between militant rebel group al-Nusra and the Syrian regime's military as "an unacceptable breach" of sovereignty.
Officials in the government of Syrian President Bashar al-Assad accused Israel of aiding jihadists with its strikes.
As an Iranian ally and an enabler of Shi'ite militant group Hezbollah long before the civil war, Assad has never been a friend of Israel—but neither are the various Sunni militias that rose against him, even the most moderate of which have radical anti-Zionist agendas. As such, the Israeli policy towards the war has been primarily about containment, and particularly geared towards Hezbollah.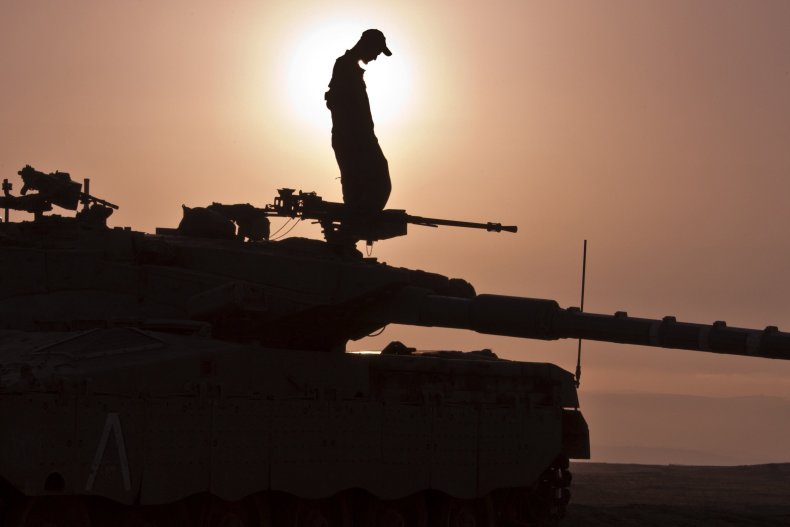 On April 24, the Israeli military struck a Hezbollah weapons cache in Damascus. It was the latest in a series of more audacious attacks to contain the war. One month earlier Israeli jets carried out airstrikes deep in Syrian airspace in Palmyra. Officials in Tel Aviv said they targeted advanced weapons systems bound for Hezbollah.
Major General Yaakov Amidror, former national security adviser to Benjamin Netanyahu from 2011-13 tells Newsweek that two decisions were made in the corridors of power in Tel Aviv from the earliest days of the war: firstly, that Israel had nothing to gain from direct intervention in a bitter sectarian conflict, and secondly that Hezbollah could not be allowed to use the war to strengthen its hand for any future engagement with Israel.
Amidror says that the response in the Israeli Prime Minister's office was more prescient than perhaps in other world capitals. "The prime minister clearly understood...that it was going to be long and bloody."
If one common cause could unite most, if not all, of the militias and armies fighting the war—it would be a commitment to the eventual destruction of Israel. After six years of brutal fighting, Newsweek examines the possible outcomes of the conflict in Syria and how Israel might deal with those situations when Syria's combatants stop pointing their guns at each other.
Assad Wins: The Nightmare Scenario
Bashar al-Assad takes power after the Islamic State militant group (ISIS) is crushed. He concedes Kurdish areas to the Kurds and makes small concessions to the Sunnis. Hezbollah, triumphant, holds parades in southern Lebanon and Hasan Nasrallah begins fiery speeches calling for a new war with the old enemy, Israel. In Tel Aviv, Benjamin Netanyahu and his cabinet prepare for war.
Israel faces its worst possible outcome from the war with a stronger and emboldened Hezbollah spoiling for a fight, backed by Tehran and a newly victorious Assad.
"The main mission that we have today is to make sure that the Syrian side of the Golan stays under our control and no one uses it as a platform to attack us," Brigadier General Nitzan Nuriel tells Newsweek.
A former deputy commander responsible for the Lebanese front during the 2006 war, he says the Israeli military successfully prevented attempts by Hezbollah and other Iran-backed forces in the past, as it looks to do in the future.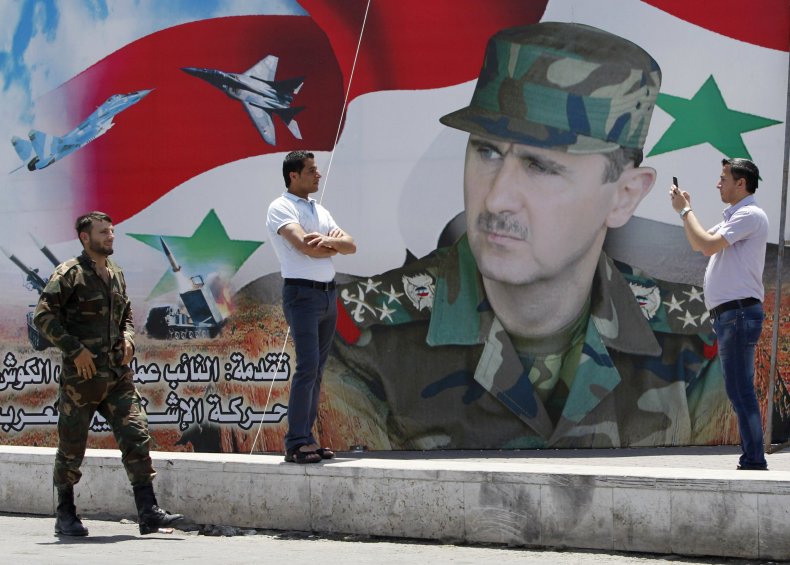 The long term is no better for Israel. Increased Iranian influence in neighboring Iraq combined with a strengthened Hezbollah in Lebanon could create a corridor of influence stretching from Tehran to Aleppo and then on to Damascus and Beirut.
Amidror says the outcome, which he describes as "very likely," would lead to a "huge change in the geostrategic and political landscape of the Middle East." One of the principal shifts Amidror envisages in response to Iranian expansion will be a closer relationship between Sunni Arab states and Israel, to counter the threat.
A Victory For Radical Sunni Rebels
Pressured by his new allies in the White House, Putin withdraws backing for Bashar al-Assad and without Russian logistics and guns, the Syrian leader's forces quickly collapse. Assad retreats to his Alawite heartlands and a coalition of Sunni militias, including al-Qaeda, take power in Damascus.
If a victory for Assad and the Iranian proxy forces backing him looks likely, the outcome of a Syria dominated by radical Sunni rebels seems to be fading fast. But, in the summer of 2014, as ISIS militants raced across Syria capturing Raqqa, the prospect of a radical Sunni entity sitting on Israel's doorstep was a real possibility.
ISIS and its rival Al-Qaeda in Syria have regularly threatened attacks on Israel and vowed to capture Jerusalem. Rafaello Pantucci, director of international security studies at RUSI, says while the threat Sunni militants pose to Israel is real, Tel Aviv has not needed to intervene against ISIS or Al-Qaeda as the U.S.-led coalition has focused on this.
"The Israelis aren't really attacking them and they are attacking their enemies Hezbollah. Maybe now is not the time to pick that fight," Pantucci says.
Israel has a more pressing fight over its southern border with ISIS in the Sinai and its forerunner Ansar Bait al-Maqdis.
Pantucci is confident that Israel can manage the threat from Egypt.
"[Israel is] very aggressive in managing its response to these problems," he says. Jihadi groups are starting to realize that Israel has a "formidable military force [and a] willingness and a capacity to deploy that force."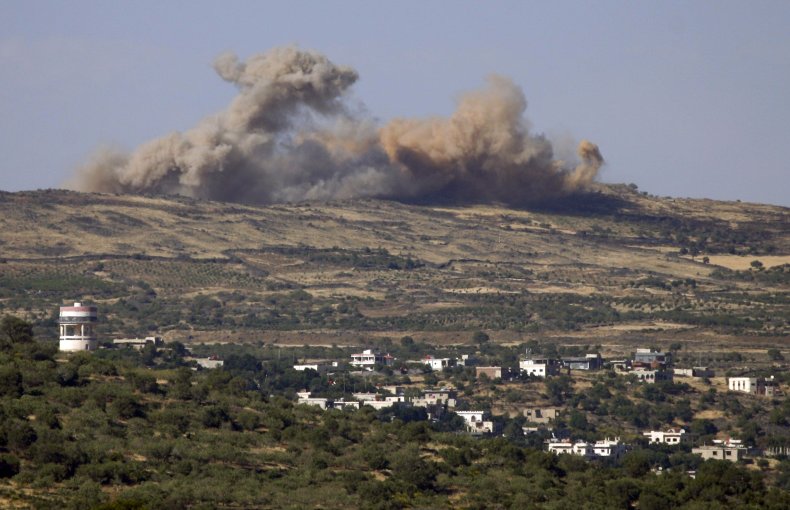 Stalemate: Syria War Drags On For Another Five Years
It's 2022. Syria's conflict continues and the country is in ruins. The long and bitter war of attrition has proceeded at a grinding pace in favor of Assad and Hezbollah. Israel is far more cautious in its interventions after one of its jets was downed by a Russian S-400 missile system, acquired by the Shi'ite militia in the war's ninth year.
As peace talks in Geneva stall and Russia and Iran set up their own rival mediations in Astana, the probability of the deadly stalemate in Syria rolling on for months or even years looks set to rise.
For officials in Israel, this prospect is likely to deliver yet more bad news. In the fog of war, Iran has already strengthened its proxy force Hezbollah and other Shiite militias fighting alongside the Assad regime.
"The longer the war, the longer Iran is able to provide Hezbollah with greater capabilities and become more involved in the area. The longer the war, the more reliance on Iran will become crucial to the regime," Amidror explains.
As the conflict in Syria continues, so too do Israeli fears that a "game changing" piece of weaponry will fall into the hands of Hezbollah.
Six years of fighting in Syria has transformed the Shiite group from an armed militia into a full-fledged army that, if and when the war in Syria ends, will turn its guns on its old enemy.
"Hezbollah militants are now battle-hardened, they have a lot of experience in fighting in Syria and even with Israeli interdiction exercises they have been able to upgrade their arsenal," Hugh Lovatt, a policy fellow at the European Council on Foreign Relations tells Newsweek.
Dissolution: A Balkanized Syria
Exhausted by a bitter stalemate and with no clear clear victor, the combatants lay down their arms and a patchwork of Balkanized states emerges in Syria. In Tel Aviv, satisfied ministers court potential client nations rest assured that their divided neighbor will never again threaten Israel over its northeastern border.
For Lovatt, the best outcome Israel could hope for in Syria would be a peace settlement creating any number of federated or independent states divided on ethnic or religious lines.
"The best case scenario in terms of what it would like to see would be a decentralized or even [a] fractured Syria where you see the emergence of a number of so-called proto-states," he says.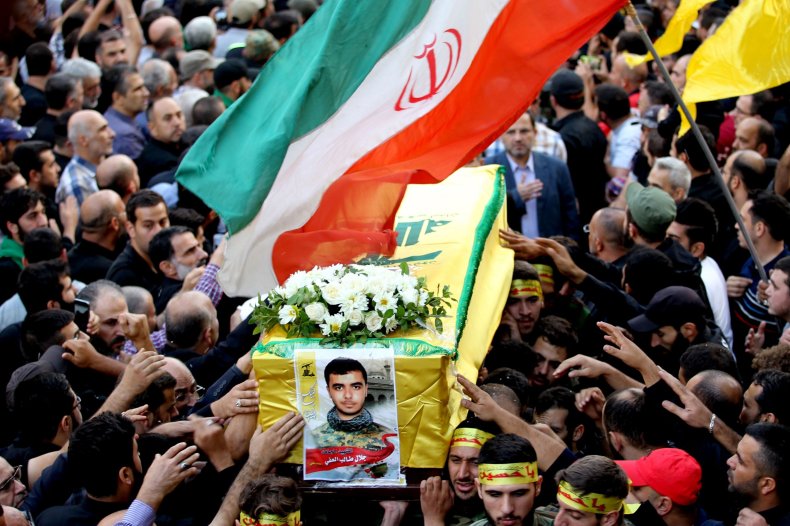 Over the last decade, Israel has consistently looked to forge ties with non-Arab Muslim entities as well as other minorities. Lovatt points to Israel's cultivation of the Druze, a distinct ethnic and religious Arabic speaking group, and Christian Maronites in Lebanon as well as increasingly good relations with Kurdish forces in Iraq and Syria.
General Amidror thinks Israel would be able to forge strong ties with an Alawite state isolated from Iran. Ultimately he sees a weakened Syria as one less likely to attack Israel.
"The disintegration of Syria is not the worst situation from our point of view. If the Kurds and the Sunnis and Alawites, each had their own area of control they will not be in a position to harm Israel maybe as Syria did in the past or Hezbollah and Iran might try in the future," he says.