Where do People Eat Frog Eye Salad? How Thanksgiving Is Celebrated With Regional Recipes Across the U.S.
Sure, Thanksgiving dinner usually includes turkey and all the traditional fixings like stuffing, sweet potatoes and pumpkin pie, but each region of the United States has specific dietary quirks that reflect the culture of the area. Candied sweet potatoes topped with marshmallows, for example, are popular throughout the country, but are particular to the south. Mashed sweet potatoes, however, are a West Coast favorite, according to Lonely Planet.
Related: Turkey Fryer Problems Cause $8 Million in Property Damage Since 2002
Food giant General Mills released an infographic showing the most popular Thanksgiving food traditions for each state. They combed through data from the recipes people searched the most on BettyCrocker.com and Pillsbury.com to comprise their list.
Maryland families, perhaps unsurprisingly, include crab cakes in their meal. More surprising is the fact that desert-dwellers in Arizona make shrimp dishes. People in Delaware and Georgia are fans of sweet potato casserole, while Vermont and Connecticut residents enjoy a cup of butternut squash soup with dinner.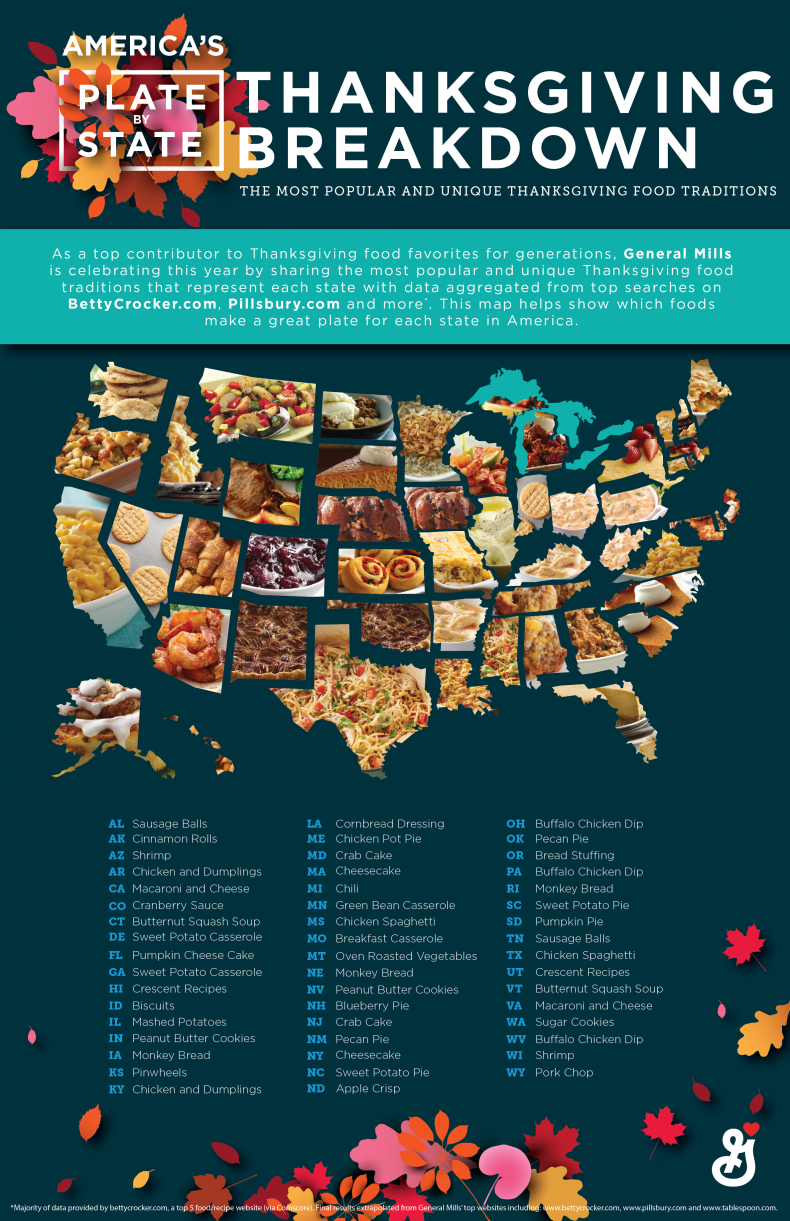 The data geniuses at FiveThirtyEight also compiled what people eat around the United States, using a survey from their readers, and below are highlights from their own digging:
Cornbread
From their findings, Texas, Oklahoma, Arkansas and Louisiana residents opt for cornbread as a side, with 40 percent of their respondents choosing it for the bread basket. This is compared to 28 percent of the country who eat cornbread with their turkey.
Mac and Cheese
According to FiveThirtyEight, the pasta dish is a mainstay for the Southeast, with 35 percent of the people in this area eating it on Thanksgiving, compared to 20 percent for the rest of the country. No word on whether it's from a blue box.
Pie That's Not Pumpkin
Pumpkin pie is popular throughout the United States, but apple pie is commonly eaten in New England and the Mid-Atlantic region. Pecan and sweet potato pies are common in the south, while the Midwest and West Coast residents like cherry.
Meanwhile travel publication Lonely Planet unearthed a few additional dishes:
Jell-O Salad
According to the publication, this wiggly concoction is native to Utah. Lime Jell-O is combined with a weird assortment of foods including cottage cheese, pineapple, celery, carrot, walnuts, mandarin oranges and maraschino cherries.
Creamed Onions
Pearl onions mixed with heavy cream and butter can be found on dinner tables in New England. As the publication writes, the onions aren't mixed with any other food item and are served as a stand-alone side dish.
Cranberries
West coasters prefer to make their own cranberry sauce, while northeastern residents put their own spin on it by creating a relish. Cranberry salad, made with celery, orange juice, pears and pineapple, is a favorite in the Midwest and Southern states.
Frog Eye Salad
Similar to the more well-known Ambrosia salad, this fruity concoction incorporates orzo pasta, eggs, whipped cream, marshmallows, mandarin oranges and maraschino cherries. According to food and recipe site, The Daily Meal, it's a popular West Coast side.
Of course, it doesn't matter whether you prefer stuffing made with wild rice (like those in the Midwest) or oysters (a Louisiana favorite), nearly everyone can agree on one thing: Thanksgiving is best spent in a food coma.