Mother Accidentally Buys 'F**K the Police' Frog and Toad T-Shirt for 3-year-old Daughter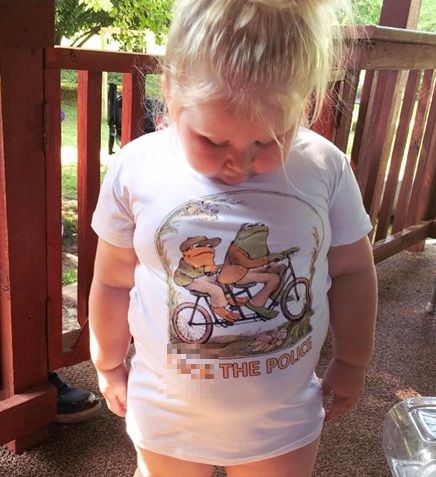 A mother has described her shock after she inadvertently bought a T-shirt for her 3-year-old girl with an expletive written on it.
Kelsey Williamson, of Benton, Illinois, thought she purchased a seemingly innocent T-shirt featuring Arnold Lobel's beloved children's book characters Frog and Toad from Chinese online store AliExpress.
However, the T-shirt that actually arrived through the post for the 3-year-old daughter Salem had the title of NWA's seminal hit single "F**k the Police" written across it.
"What I ordered VS what I received," Williamson wrote in a Facebook post that has since gone viral. "I f*****g love China. I cannot stop screaming. Who does this?"
The T-shirt's image appears to have been taken from an internet meme featuring Frog and Toad that has existed since around 2010.
"I literally did not know how to react so I just took a few moments to stare at it and try to process," Williamson told Buzzfeed News. "Of all the things they could have added, why that? On a children's-size shirt?"
The Facebook post of Salem wearing the obscene item of clothing has since been shared on the social network more than 30,000 times. Williamson said as a result she has received some negative comments, including people shaming her daughter over her weight.
"People were actually messaging me just to say mean things about her," she said. "A ton of people calling her fat, asking me what I feed her to make her so big, telling me the shirt I bought was too small."
She also addressed those who discussed her daughter's weight in a follow-up edit on her original Facebook post.
"She sees specialists for her weight. She can't help it," Williamson wrote. "I can't help it. My husband can't help it. It is out of our control. Just laugh at the funny shirt."
Speaking to Fox 5, Williamson also confirmed that Salem cannot read yet so wearing the shirt is not an issue. "She can't read so she has no idea that any of this is going on. I seriously can't even believe it's gotten this huge," Williamson said.
In another Facebook edit to her viral post, Williamson added: "I did not buy this. This is what I was sent. No, she won't wear it in public.
"'Why would you take a picture??' You would too, don't be a liar."
Williamson confirmed she will be keeping the T-shirt and will continue to shop at AliExpress.