A group of passengers aboard a Frontier Airlines flight on Sunday refused to wear a protective face mask, prompting the airline to cancel the flight and remove them.
On Monday, several photos and videos of the incident were posted to social media. In some posts, the airline was accused of removing the passengers only because an 18-month-old baby was not wearing a mask. Others suggested the airline was guilty of anti-Semitism, as the baby in question was part of a Jewish family.
But shortly after the videos were posted to Twitter, Frontier Airlines addressed the incident in a tweet that stated, "The issue did not stem from a child under 2."
In an emailed statement sent to Newsweek Monday, the airline wrote: "Yesterday, while flight 2878 from Miami to New York-La Guardia was preparing to leave the gate, a large group of passengers repeatedly refused to comply with the U.S. government's federal mask mandate. Multiple people, including several adults, were asked repeatedly to wear their masks and refused to do so."
In one of the video posts, Twitter user Solomon Wolf wrote: "This is @FlyFrontier. Traumatizing a family and their little kids because a 18-month-old baby, who is explicitly exempt, wasn't wearing a mask. Before flying Frontier again, ask yourself if you want any part of this vile behavior."
In the video, one person can be heard saying, "Everything because a 1-year-old didn't have a mask," as passengers can be seen grabbing their luggage and walking off the flight.
In another video posted to Twitter by the Orthodox Jewish Public Affairs Council, several passengers can be seen looking toward the back of the plane, where a family of Hasidic Jews are standing. The council wrote:
"Disturbing incident the last hour on a @FlyFrontier flight as staff told a Hasidic couple to get off because their 18 month old had no mask. Applause is heard as the couple started leaving. Travels say on camera that the applause came from staff who also cheered that 'we did it.'"
"An Orthodox Jewish person spoke up in defense of the Hasidic couple. Then the whole family siblings and in-laws started leaving the plane at which point the @FlyFrontier ordered everyone off of the airplane," the organization wrote in a subsequent tweet.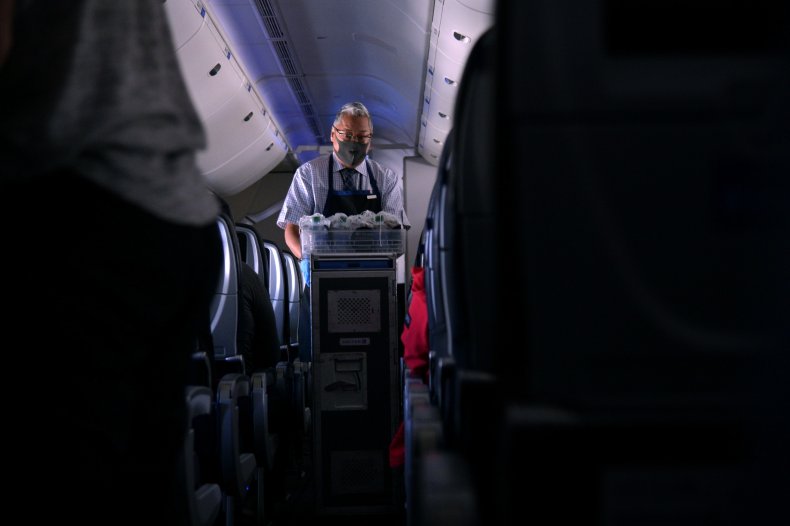 Frontier Airlines' email to Newsweek added, "Based on the continued refusal to comply with the federal mask mandate, refusal to disembark the aircraft and aggression towards the flight crew, local law enforcement was engaged. The flight was ultimately canceled. Frontier Airlines and U.S. government policy mandate that all passengers over the age of two, other than those with a recognized ADA disability that prevents them from wearing a mask, must wear a mask while onboard an aircraft."
While the age of the child shown in the videos is unclear, Frontier Airlines' COVID-19 policies state that children under the age of two are not required to wear face masks.