Terrified Frontier Airlines Passengers Record Plane Engine Cover Breaking Apart During Takeoff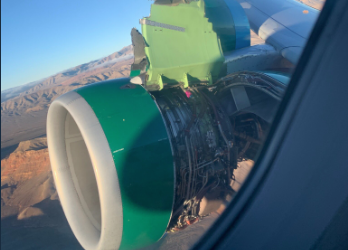 A Frontier Airlines flight was forced to make an emergency landing Friday after passengers began screaming and signaling to the pilot that the engine cover was breaking apart from the plane.
Dozens of the 166 passengers on the flight from Las Vegas to Tampa, Florida, began calling loved ones and screaming at flight attendants to alert the pilots, ABC News first reported. Several pictures and videos recorded onboard the Airbus 320 showed large sections of the green and turquoise plane exterior being ripped off as the plane accelerated down the runway and into the sky above McCarran International Airport.
No injuries were reported when Frontier Airlines Flight 260 landed back on the Las Vegas tarmac about 7:26 a.m., 15 minutes after takeoff. But passengers reported a chaotic scene as they frantically alerted the flight crew to inform the pilots.
"As the plane started to accelerate, to take off, there were engine pieces flying, and the engine had caught a slight fire," passenger Jazmin Pedraza told ABC News Friday. "One man started yelling and then everyone was yelling for assistance and pressing the buttons for [the crew] to stop the plane, but we had already started taking off.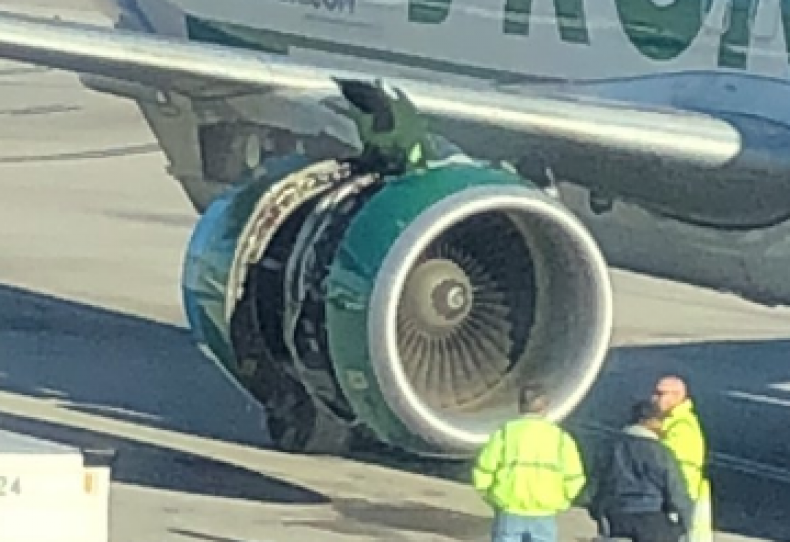 "Once we got the attention of the flight attendants, she came and looked out of our windows to see what was going on and then went to call the pilot and got the passengers under control. Everyone started making phone calls to their loved ones and crying and panicking. Then they announced 'we will be doing an emergency landing,' and we stayed in the air for about 10 to 15 minutes until we were able to safely land the plane."
Pedraza was able to capture video showing the moment large portions of the airplane's exterior began peeling off the exposed engine's mechanical parts.
Another passenger, identified on Twitter as C.J. Gunnerson, described the scene onboard the plane to a reporter at KXTV in Sacramento. "The hatch came up and ripped off during takeoff..[People were] jumping up screaming, slamming on the roof. Yelling 'stop.'"
The Federal Aviation Administration sent inspectors to the airport to check out the aircraft, and McCarran Airport officials said airfield staff reported debris spread out on and near the runway.